Larchmont, NY, mompreneurs and friends Heather Mahland and Kyle de Lasa opened You & Me Cookie in 2009, with a wholesome (high fiber, nut-free, preservative-free) recipe that's been passed down through the generations. We sat down with the duo to find out where their inspiration came from, how they got the business started, and what it's like to juggle work and family life.
Quick Stats: Heather Mahland and her husband of 14 years, Russell, have three children: Emily, 10, Matthew, 8, and Natalie, 5. Kyle de Lasa and her husband of 13 years, Andres, also have three children: Sebastian, 10, Gabriel, 8, and Oscar, 4. Both families live in Larchmont.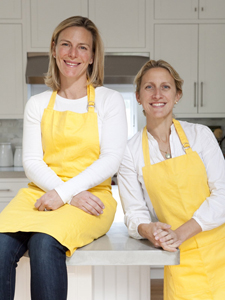 Rewind back to a bygone era: It's just post-World War II, and a generation of American women are spending lots of time in their kitchens - dishing out wholesome fare with fresh ingredients, making everything from scratch. Heather Mahland's grandmother Ida was baking batches of her special high-fiber, nut-free, preservative-free cookies (well ahead of her time). She used a recipe that would be passed down through the generations, and one Heather herself would bake for family and friends like Kyle DeLasa, whose son has a nut allergy.
About a year ago Kyle suggested that Heather start selling her cookies and continue her grandmother's legacy. The pair quickly teamed up to form You & Me Cookie. Shortly thereafter, Post® agreed to provide complimentary Grape-Nuts - one of the ingredients - as part of the company's initiative to support small business. Today their brand is sold in stores and restaurants throughout Manhattan, Brooklyn, Westchester County, NY, and Fairfield County, CT. Yes, Heather Mahland and Kyle DeLasa are bringing back old-fashioned, wholesome food, one cookie at a time.
How did you meet?
Kyle: We were very pregnant with our oldest children and we were sitting on a sofa at a Christmas party in Manhattan. I lived in Larchmont, and Heather was in the city, saying the only place she wanted to live was Larchmont. We had a very casual conversation and then, years later, on the corner of Larchmont and Willow Avenues, we met again. We came full circle.
Heather: Now our kids are in the same schools and we do a lot of family activities together, too.
How did the partnership come about?
Kyle: Heather is an incredible baker, and she was very generous and always made cookies for my son. I think it was when I said to Heather, 'You shouldn't be giving these away, you should sell them.' And she said, 'Well, then do it with me.'
We had that conversation the beginning of March. March 15 was our children's school auction. Five days into it, we figured out our name, we had a business card made, and a logo created. Within 15 minutes [at the auction], the bid sheet was full, our samples were all gone, and people were asking where they could buy the cookies. We went to our first vendor the next morning and they said, 'Bring us 24 bags tomorrow.' It's hard starting something, but when you have a good product and partnership, it becomes organic, and you have the confidence to do it.
Heather: It would be so lonely working by yourself, too. If you didn't have somebody to talk to and share it with, it would be a very lonely venture.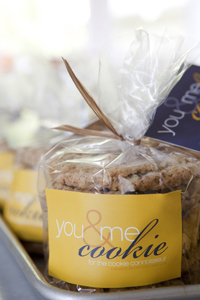 Where did you come up with the name?
Kyle: We were coming up with all these names, but then it was just like, 'It's all about you and me.' Also, because it was a recipe given to Heather by her grandmother, it gave me a wonderful feeling about the relationship between a grandmother and a granddaughter - it's that feeling of sharing something with somebody.
It seems as though you're trying to bring back that old-fashioned part of American life.
Kyle: Yes, it's about family and community and real eating. Our food is not processed. These cookies are meant to be opened and shared.
What were some challenges along the way?
Kyle: Distribution. As we got excited and started expanding, we weren't thinking about returning weekly to deliver our cookies. Also, we didn't think about if we wanted to be in specific stores, or if we even fit there. And so we have very graciously ended a few relationships. This is all part of our greater understanding of our brand, who our client is, and who's going to buy it.
What was the key to your success?
Kyle: The product, because it really sells itself. Once a week we get at least one email from someone we never spoke with before telling us how much they love the cookies.
What's the best part of your job?
Kyle: Making a connection to the community. It's wonderful to have parents and children love your product and [to know] that you're feeding them something good.
What have you learned about your relationship?
Heather: We work together beautifully and we really fall into our roles very naturally. I tell Kyle occasionally that I think we need a date night (laughs) because all we do is talk about work, whereas we used to go get a manicure or go have lunch.
What do you wish you would have known before you launched the company?
Kyle: In the beginning, we spent a lot of money that we didn't need to in terms of packaging costs. We didn't realize how quickly it would grow, and we would run out of labels and bags and we would pay to overnight them. We had no sense of our volume.
You were friends, but how did you know a business relationship would work?
Heather: We had no idea! We have very different skill sets that were very complementary.
How do you find time for your family and life?
Kyle: Thursday is our huge baking day, so we don't schedule doctors' appointments, and everyone has to have a play date! Because we bake one day, then package and distribute the following morning, we actually have a life.
There are a lot of cookies on the market. What do you think will make yours stand the test of time?
Kyle: Once you taste this cookie, you come back - and you tell five friends.
How did your relationship with Post® come about?
Heather: One of our good friends who works at Ogilvy& Mather was handling the advertising for Post®. She had a meeting and we gave her bags of cookies and they loved them.
What's next?
Kyle: Continue to build it regionally in the big markets and have a very strong name and following. Ultimately, it's to establish a very serious relationship with Post®.
To learn more about You & Me Cookie, visit www.youandmecookie.com.