"Zarkana" by Cirque du Soleil is a tantalizing, funny, and physically thrilling show that your kids will love just as much as you do.
A Tuesday afternoon, early summer 2012. I am standing in Radio City Music Hall flanked by acres of deep peach-colored seats—empty except for the occasional staffer passing through, absorbed in busy. Before me on the cavernous stage are a handful of the world's most skilled athletic performers—fearless, but not flawless; this is a rehearsal, after all.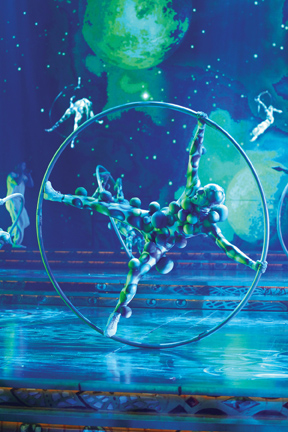 Upstage—on and around a ginormous spiderweb of a set—a handful of trapeze artists do their swing thing; downstage, a cluster of young guys with muscles for days toss and wave massive banners, stopping every so often for a sidebar with choreographer-trainer Masha Choodu (the show's resident juggler). And when these super-beings are not airborne or exchanging flags, they are stretching, experimenting, creating.
In my role as privileged interloper with notepad, I feel miniscule…smaller than small in this vast iconic theater for which Cirque du Soleil's Zarkana was created. And then someone hands me a program containing the intro:
"Locked in time—within the walls of an abandoned theatre—a dormant world springs to life."
And so it does, in so many fabulous ways.
The Music

Unlike any other Cirque du Soleil production to date, the music in Zarkana is not merely atmospheric. Rather, it's a rock opera score from composer/musical director Nick Littlemore. Musician Jacubu Griffin (drums) notes, "Compared to Cirque's other shows this one has a different feel…more contemporary but with elements of nostalgic classic rock."
"And more techno," Griffin continues. "Nick marries techno with retro. And there are other elements—different eras, different genres. So in the end what you get is something unlike anything you've heard before."
Griffin observes that while most of the cast comes from various parts of Russia, Europe, and China, the musicians are American and totally in love with the freedom Cirque allows them at each performance. "For one thing, the cast changes with injuries so we have to adapt to new people quite often," he says. And one can only assume, despite rigorous training, minor injuries must be fairly commonplace in a show filled with contortionists, aerial acts, and a little something called The Wheel of Death.
As for the female and male lead singers, Meetu Chiliana and Paul Bisson (Zark) are everything you could possibly ask for in vocal power and expressiveness.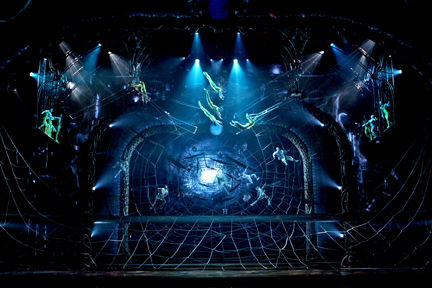 The show's trapeze act is a given crowd-pleaser
The Artists
Because Zarkana follows a dashing red-cloaked magician (Zark) who has lost the woman he loves in a seemingly empty theater, the characters he encounters in his quest to find her run the gamut from hysterically funny to mysterious to physically confounding.
Those first to appear in the arc of the storyline arrive pre-show: a cadre of eccentric, white-clad clowns sporting names like Mardi Gras, Rag Doll, Ti-Boss, and Kite. They flood the audience with the sort of disarming energy that outgoing little kids embrace, no questions asked, while shy ones bury their heads in their parents' shoulders, venturing frequent peeks at these fascinating creatures.
Popping up at various points throughout the show, these characters are led by two outstanding clowns of the Russian school of buffoonery (if you're familiar with Slava's Snow Show, you'll be right on target), only they're played by a couple of loopy Yanks: Daniel Passer and Wayne Wilson.
The acts themselves are, as always, eclectically awesome, meaning that when it comes down to a persnickety family dynamic, everyone in your party should find something to love. Trapeze and tightrope acts are given crowd-pleasers, and only here are they met with competition from the teams of Carole Demers and her partners Yuri Kreer and Johnny Gasser on the Russian Bars, and Dmitry Dvoreyskiy and Victoria Dvoretskaya's ladder act.
As for the biggest applause generators in this particular daredevil universe, the two-man Wheel of Death—resembling a seriously scary amusement park ride—becomes gasp-inducing beyond words when manipulated by Junior Delgado and Carlos Martin; while Anatoly Zalevskiy's seemingly straightforward "hand-balancing" is so much more when you consider his skeleton is most likely made of rubber.
Should you have a budding artist or two in tow, Erika Chen's sand painting—an original and brilliant skill—will enthrall them completely.
Naturally, the closing "Banquine" troupe holds its own as the male contingent catapults fearless females into the acrobatic ether.
The Visuals
More than any other Cirque show deposited in my memory bank, Zarkana is a masterpiece when it comes to capturing the scope of imagination through surreal imagery and creativity in terms of combining cutting-edge video with imaginative props, costumes, and human beings. Theatrical to the nth degree, the stage is almost constantly teeming with spellbinding, gloriously lit panoramas such as the spiderweb and the grand finale explosion of projected roses. But do keep in mind one of the most memorable of all the show's visuals is the baby—floating, pallid, and bearing arms: six of them.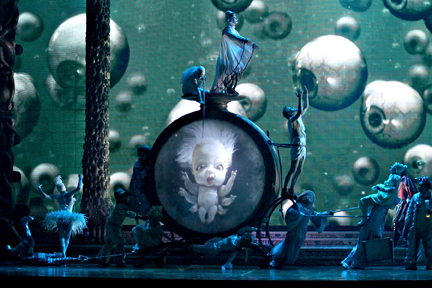 The Enticement
Montreal-native Ann-Marie Corbeil, Zarkana's artistic director, recognizes how instrumental a show like Zarkana can be to children and young adults whose lives still stretch before them. And while many of the show's European performers grew up in circus families—Ms. Choodu's mother was an acrobat, for example, whose professional career took off when she was only 14—others have discovered their own passion from the audience when a single Cirque performance sparked their own performing passion.
"Accessible and inspirational," Corbeil says, citing what she considers to be key Cirque qualities. "Kids laugh from their hearts… and it's so important to teach them early on that there are other things—other career options out there. That it's possible to have fun, travel the world, and make a good living as a performer. You don't have to be an accountant." Corbeil stresses how easy it is for some children to feel cast aside because they're not necessarily a standout in school. "Without access to other training, their potential is easily lost."
So she encourages parents to embrace the magic with their children when they come to Zarkana: "Everyone watching together…wonderful moments you see and share forever…this is what I want families to discover."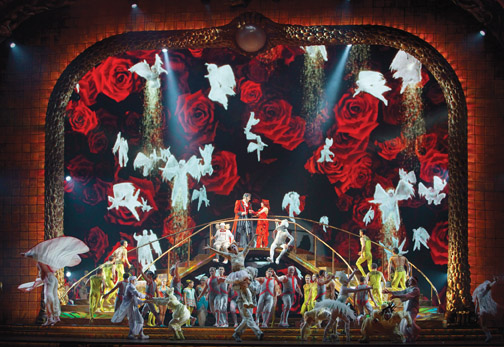 The entire cast of Zarkana takes over the stage at Radio City Music Hall during the finale.
About Cirque du Soleil
From a group of 20 street performers at its beginnings in 1984, Cirque du Soleil (Circus of the Sun) is now a major Quebec-based organization providing high-quality artistic entertainment. The company has 5,000 employees, including more than 1,500 performing artists from close to 50 different countries. Cirque du Soleil has brought wonder and delight to more than 100 million spectators in nearly 3,000 cities on six continents.
The Details
What: Cirque du Soleil's Zarkana, written and directed by François Girard, performed by 75 international performing artists
Where: Radio City Music Hall, Sixth Avenue at 50th Street, Manhattan
When: Now playing through Sept. 2: Tuesday-Friday at 8pm; Saturday at 3pm and 8pm; Sunday at 2pm and 7pm; Wednesday at 2pm. (Following its New York run, Zarkana will take up permanent residence at ARIA Resort & Casino in Las Vegas.)
Who: Ages 6 and older
Running Time: 90 minutes; no intermission
Tickets: $59-$125 with a limited number of prime and premium tickets available
To Reserve: Visit cirquedusoleil.com/zarkana, ticketmaster.com, or call 1-866-858-0008