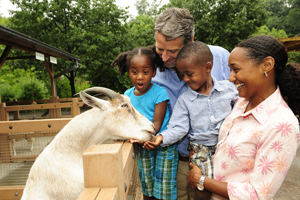 Embrace the warmer season by paying a visit to a zoo or nature center on Staten Island, many of which offer outdoor, nature-based activities for kids and adults alike. And while it might be true that April showers bring May flowers, there's already plenty in bloom at area botanical gardens, with sights and smells for all to enjoy. If you're looking for something less structured, leave your plans behind for the day, pack up the family, and head to the park where you can lay out a picnic, play a game of catch, or just soak in some rays (don't forget the SPF!) on the newly sprouted grass.
Our guide this month has all the information you need for a fun family outing to celebrate the great outdoors on Staten Island. So, if you've thawed out enough, put a spring in your step and hop to some seasonal fun at any one of the locations below.
Blue Heron Park and Nature Center
222 Poillon Avenue, Annadale
718-967-3542
Hours: Tuesday-Sunday 11am-4pm.
This about 250-acre park surrounds wetland ponds, swamps, and streams which drain into the Raritan Bay. View the bird feeding station at the edge of the woodlands (visible from the Nature Center), which attracts a wide variety of local birds. Visit the Nature Library and its nature themed collection of guidebooks, books, and magazines, open daily (except Mondays). Participate in nature based educational programs at the Nature Center, run by urban park rangers. Open to all school groups.
- Naturalist guided walks offered at 1:15pm and 2:15pm each Saturday and Sunday, but please call to verify availability.
718-667-2165
The Greenbelt consists of 2,800 acres of woodlands, wetlands, and meadows. It features four major foot trails, each marked on the trail maps (available online and at the nature center) with their length and difficulty; and includes three easy-to-moderate trails ranging in length from 3.8 to 8 miles. Hours: Dawn to dusk. Price: Free.
The Greenbelt Nature Center
700 Rockland Avenue at Brielle Avenue
718-351-3450
The center offers access to the hiking trails along with a variety of environmental education programs, summer camps, and other family friendly events and programs. Hours (April-October): Tuesday-Sunday 10am-5pm. Price: Free.
Snug Harbor Cultural Center and Botanical Garden
1000 Richmond Terrace
718-448-2500
Hours: Grounds open dawn to dusk; gardens open Tuesday-Sunday 10am-5pm; galleries open Wednesday-Sunday 12-5pm. Price: For gardens and galleries: $6; $5 students and seniors; free children under 12. Gardens only: $5; $4 students and seniors; free children under 5. Galleries only: $3; $2 students and seniors; free children under 12.
Snug Harbor's 83-acre park-like setting contains gardens, museums, theaters, educational opportunities, and seasonal festivals. It includes a Chinese Scholar's Garden, Tuscan Garden (9am-5pm; free), and several other gardens, each of which feature aesthetic and functional flora.
- Features regular educational programs for kids as well as group tours.
614 Broadway
718-442-3100
Hours: 10am-4:45pm daily; closed major holidays. Price: $8; $6 seniors; $5 children ages 3-14; free children under 3; free parking.
The zoo's mission is to instill in visitors, especially children, an understanding and appreciation of living creatures, through programs, camps, and various other events. Visitors can view small mammals, birds, reptiles, amphibians and tropical fish in the zoo's exhibits.
- Summer camp will be offered weekly from June 27 through August 26 for children ages 4 years old through 6th grade, with each week focusing on a different topic.
See our complete guide: Zoos, Nature Centers, and Botanical Gardens in the New York Metro Area