An accessible park in East Meadow on Long Island, New York opens with the help of Let All the Children Play to allow children of all abilities the chance to play on swings, go down slides, and hop on the merry-go-round.
Shouts of "higher!" come from the swings, and squeals of laughter spin out from the merry-go-round. You have to be quick to keep up with the kids who race to climb the monkey bars and forgo any concern about sand-filled clothes as preschoolers build their versions of sandcastles. It's just a typical day at the playground.
Except this is no typical play area. Let All the Children Play at Eisenhower Park in East Meadow on Long Island is an accessible playground, which means it's specially designed so that children with disabilities can play alongside their able-bodied siblings and friends.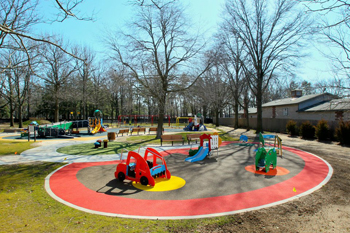 Courtesy Lifetime Photography
The project is the initiative of David Weingarten, whose adult son, Adam, has Down syndrome. Weingarten teamed up with Michael Alon, chairman and founder of LATCP, to establish the nonprofit organization in 2006. By collaborating with government officials, organizations, civic groups, and parents, they opened the 2-acre park to the public last May.
"My wife and I have always wished that there was a place where Adam could play with his more able-bodied peers in an inclusive environment," says Weingarten, vice chairman of LATCP. "This is an opportunity for all kids. Every child has a right to play. Without accessible play, children are denied access to a social circle of peers along with being denied the physical and cognitive benefits that play provides."
Equally important, Weingarten says, is that typical children can play with their special-needs peers so they can be comfortable together and learn acceptance. This is particularly important to Robert Pickus of Plainview. His 8-year-old son Noah has physical and cognitive disabilities that make it challenging for him to play with his 10-year-old sister Ashley.
"At a regular playground, the monkey bars are hard for him to negotiate without help. But at LATCP, Ashley and Noah are able to play together because the monkey bars are handicapped accessible," Pickus says. "The playground gives Noah more independence so he doesn't have to rely on us as much to play."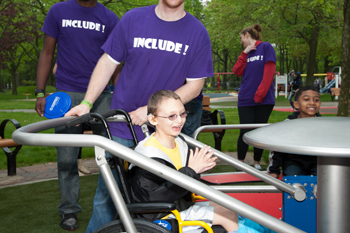 Noah Pickus, 8, of Plainview enjoys the wheelchair carousel. Courtesy of Let All the Children Play
Noah's favorite item is the merry-go-round, on which his wheelchair can be locked into place alongside benches for other kids to sit on.
Jean-Marie Smith, LATCP's director of operations, says the equipment exceeds the guidelines set by the Americans with Disabilities Act, and is designed to help children develop gross and fine motor skills and cultivate balance and spatial perception. There are three play areas: one for toddlers, a 2- to 5-year-old section, and another for children ages 5 to 12. Swings have harnesses, slides have gradual slopes, and the seesaw has a backrest on one side to provide more stability. The paths are wide enough for a wheelchair, and the surface is springy throughout. Sand and water play areas can be accessed with a wheelchair. The parking and amenities are nearby, and there are benches all around for comfortable supervision.
Smith estimates that, during good weather, about 2,000 children visit the playground each week. "It's a unique space in the heart of Nassau County where everyone can play together," she says. "Children of all abilities and ages play, and we've observed that they don't even seem to notice there are any differences between them."
For Lorraine Darcy of Merrick, whose 10-year-old daughter Grace has developmental delays, other playgrounds are a challenge. "Grace loves the swings, but no other park has one that can both accommodate a larger child and provide back support," Darcy says. "I also like the wide ramps so she doesn't have to navigate steps, and I can walk up with her and hold her hand."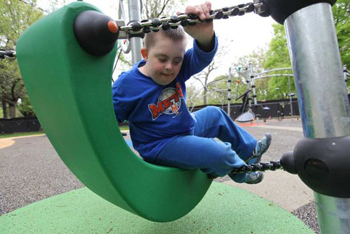 Shane Stepinski, 11, of West Hempstead hangs out on the jungle gym. Courtesy Let All The Children Play
Valerie Lynn of West Hempstead says her 11-year-old son Shane Stepinski, who has Down syndrome, asks to go the park almost every weekend. "He can't use a regular swing, but this park has one with support—and he has to go on a specific one, the blue one. He likes it so much I can't get him to come out," Lynn says. "Shane is very fearful of things, and at regular parks he can't keep up with the kids. Kids will complain he's taking too long on the slide and cut in front of him. Here he doesn't feel out of place and the kids are all accepting."
Lynn also appreciates an unexpected benefit. She says the park has become a source of networking for her as all the parents talk to each other about programs and support as they watch their children play.
Let All the Children Play is located at Field 4 in Eisenhower Park on Long Island. For more information, call 516-569-0648 or visit latcp.org.
Also see:
• First Playground for Kids of All Abilities Opens in East Meadow
• How to Help Your Child with Special Needs Make Friends