Black Violin, the dynamic duo that includes violinists Kev and Wil B, astounds audiences with a funky fusion of classical, jazz, hip-hop, and R&B. Catch a concert at Manhattan's New Victory Theater this November.
When Wilmer Baptiste was a sophomore in high school beating out rhythms on the lunchroom table, a security guard, zeroing in on a kindred spirit, took him aside and told him stories about his own history playing the saxophone. Inspired, Baptiste signed up for band. "And they put me in the wrong class," he recalls. "I'd never seen a violin up close before, and at the time it didn't strike me as cool—not like the sax."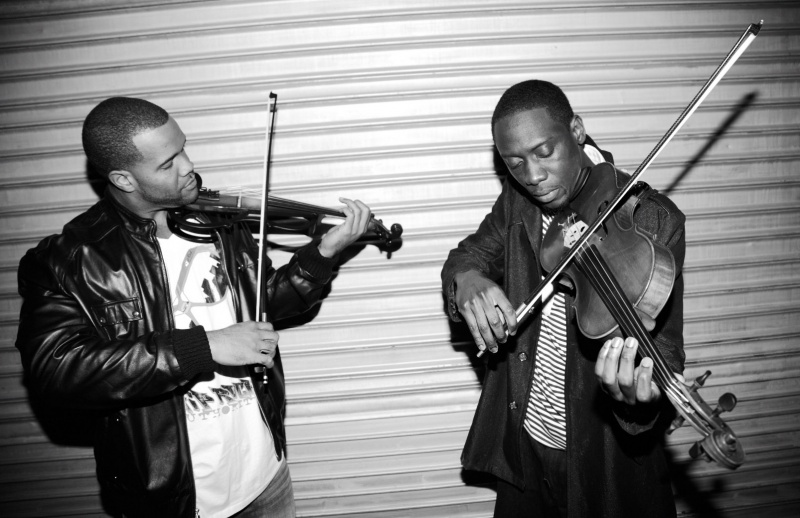 Still, astute kid that he was, Baptiste—or Wil B as he is now known—took advantage of the situation. It didn't hurt that he fell in love with the violin or that his growing passion would one day pay off professionally when he partnered with Kevin Marcus (Kev) to form the groundbreaking duo Black Violin.
Much like Wil B, Kev's intro to the violin evolved from an accidental encounter of the copacetic kind. "My mom put me in a Saturday morning music program when I was in middle school, but when I got there, the school year had already begun and all the cool instruments were taken," he says. "So I took up the violin."
By the time the two met up at Dillard High School of the Performing Arts in Fort Lauderdale, FL, their classical playing skills were strong but—bottom line—they were teenagers and hip-hop was as much a part of their musical lives as were Shostakovich and Bach. It was just a matter of time before the idea of melding hip-hop and R&B with longhair would start percolating.
Once they hit their respective college campuses (full musical scholarships!)—Kev to Florida International and Wil B to Florida State University—they had more than an inkling that their musical trajectory would be unique.
Stylistic influences were everywhere. And then one of Wil B's college professors turned him on to African American jazz violinist Stuff Smith, whose legacy included a 1965 album titled Black Violin. For Wil B and Kev, Smith's music—and album title—marked not only a major turning point for them, but also for their identity.
Momentum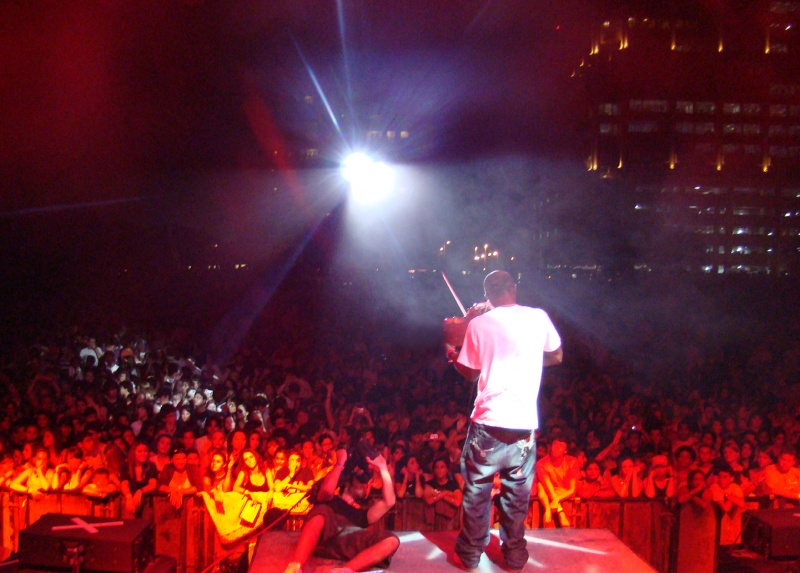 Fast forward: In 2004, the twosome's reputation soared when they accompanied Alicia Keys at the Billboard Awards and, a year later, when they scored Showtime at the Apollo's 2005 Legend title. Not surprisingly, a long list of high-profile artists recognized their talents and seized the moment.
"We've worked with a number of different musicians and composers," Wil B says, adding that Black Violin's singularity forms a natural bridge for diverse musical genres. "We can open a show for Lil Wayne or Aerosmith—we're so different in what we do that we can fit in anywhere, from hard-core hip-hop to rock to classical."
And fit in they have, in venues ranging from amphitheaters to Lincoln Center to kindergarten classes, never failing to win over the 5-year-old black kid at his or her first concert as well as the white AARP-er who isn't shy about admitting "I never really liked hip-hop, but I love this." (According to Kev, the key selling point to their sound is the "lushness of the strings in the classical music juxtaposed onto hip-hop, jazz, and R&B.")
The Short List
Black Violin has worked with:
• Sean Combs
• Kanye West
• 50 Cent
• Tom Petty
• Aretha Franklin
• The Eagles

The duo's 2012 highlights:
• In their third Super Bowl performance, they opened for Lenny Kravitz during the pregame show.
• In July they appeared with Gym Glass Heroes on VH1 Unplugged.
• In August they were front and center at the U.S. Open's opening ceremony.
• In October, they launched their new album Classically Trained.
Having grown up in South Florida apart from the silver-spoon crowd—or even the musical middle class most commonly identified with studying the classical violin—it's not surprising that Wil B and Kev take their responsibility as role models for youngsters seriously.
"We're all about inspiring kids—about doing something cool for them," Wil B says. Kev adds: "Obviously we want to broaden and enrich kids' thinking, but at the same time help them become innovators and forward thinkers." And they do it via mind-blowing performances in which two vastly different musical worlds spontaneously coalesce: Talk about having a blast at a concert!
What you can expect:
• Awe: They spellbind with technique, talent, energy, and openness.
• The Unexpected: Kids (and adults for that matter) come to the concert anticipating one thing and are surprised at every turn.
• Freedom: The audience is encouraged to move with the music, dance, and get caught up in the moment.
• Information: Frequent post-performance talks or, as in the case at New Victory Theater, an opportunity to meet Kev and Wil B after the show for autographs and one-on-one questions.


Back By Popular Demand
While Wil B and Kev are redefining what we've come to expect from violin performances by turning them into celebrations of the instrument's heritage, versatility, and yes, newfound, extreme coolness, they love the fact that the New Victory Theater, where they played to sold-out houses in 2009, will be their home-away-from-home for a good portion of November.
They'll be sharing the stage with "DJ TK" on the turntables, "Beatdown" on the drums, and "Joe Cello" on the…duh!
As for content, this round of shows will feature new compositions, classic favorites, and pop cover tunes. In short, as the promos state, they'll be offering the ultimate "funky fusion of classical, jazz, hip-hop, blues, and R&B"—or, as Kev puts it, "Our show is basically a rock concert for everyone—one that makes people not only think, but think outside the box."
Show Details
What: Black Violin concert
Where: The New Victory Theater, 209 W. 42nd St., Manhattan
When: Nov. 9-25: Fridays at 7pm; Saturdays at 2pm and 7pm; Sundays at 12pm and 5pm. Call or visit website for variations in playing schedule.
Who: Ages 6 and older
Running Time: 60 minutes, no intermission
Tickets: $9-$25 for members; $14-$38 for non-members. Prices based on seat locations.
Contact: 646-223-3010; newvictory.org
Get a Preview of the Show
Before you go, watch these videos of Black Violin performing to get a sense of just how amazing Kev and Wil B truly are:
Black Violin on Billboard "Underground" as emerging artists
Black Violin on VH1's "Unplugged" with Gym Class Heroes
A short documentary about Wil B, Kev and their journey into the spotlight
Black Violin's 2009 performance at the New Victory Theater
Black Violin's YouTube channel