Broadway's "Bring It On: The Musical" is a pep rally with heart, humor, and backflips that teens and tweens will love. It's a must-see for kids who love cheerleading and a fun ride for the whole family.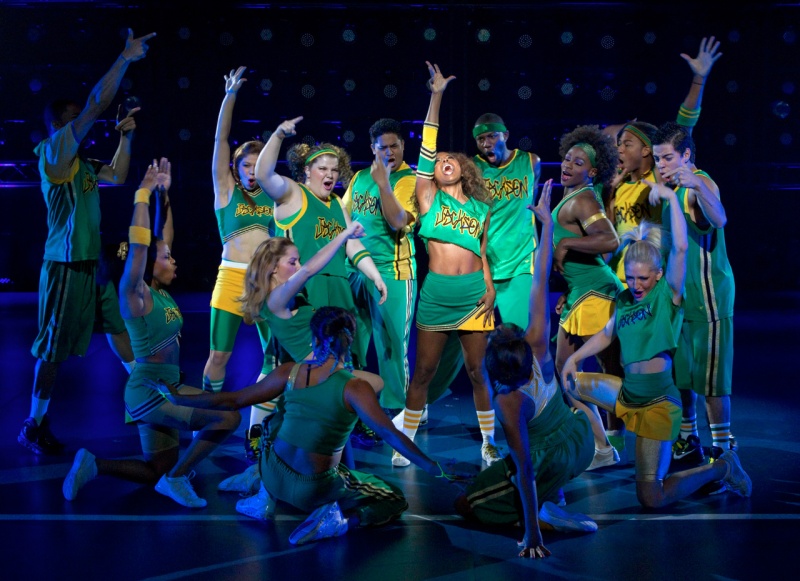 Spoiler Alert: Even though Broadway's spirit-infused new hit Bring It On: The Musical is about two high school cheerleading squads going head-to-head for the ultimate "Rah," there are no actual high schoolers in the company. Not a deal breaker, though—i.e., no need to "gimme an 'awww'!"—as the polished, acrobatic stunts that fuel this flip-ilicious show are served up by a cast of fearless pros (median age: 23) who deliver the cheerleading goods without sacrificing all those way-too-familiar, multi-layered high school attitudes, from eye-rolling and smart-mouthing to mean-girl machinations and the harsh reality of "just fitting in."
It's tough to be a teenager. It's even tougher when competition is a major part of the mix, which explains why teens and preteens are identifying with Bring It On's theatrical slice of cheerleading life and scooping up seats at the St. James Theatre as fast and as often as their little wallets (or parental credit cards) will allow.
The Show
Key to the production's success is its ability to get theatergoer adrenaline pumping (yes, grownups included). No wonder: The company, made up of equal parts actor/dancers and cheerleading vets, got their Broadway bearings from a creative team helmed by a confluence of Tony-winners, including director/choreographer Andy Blankenbuehler (In the Heights), co-composers Tom Kitt (Next to Normal) and Lin-Manuel Miranda (In the Heights), and librettist Jeff Whitty (Avenue Q). Also in the mix is co-lyricist Amanda Green (High Fidelity), daughter of the legendary Adolph Green.
Sample lyrics:
"You never met me face to face
If you think cheerleaders are a waste of space—
We work, and we fight, and we train, and we hustle,
We get mani-pedis, but we're made of muscle."
Talk about your kid culture comfort zone vernacular: The audience response from the teen set was mind-blowing.
The Cast
Taylor Louderman, who rocks the lead role of Campbell—the "it" girl with the looks, the personality, the guy, and the desire to be the new cheerleading captain of the Truman High Buccaneers—says that the night of the show's first preview on Broadway, the crowd was roaring after the opening number. "I remember thinking, 'I wonder if this is what it feels like to be Beyoncé!'," she says.
I should mention that Louderman, along with 29 of her fellow cast members, are making their Broadway debuts in Bring It On—although you'd never know it watching their slam-dunk performances. And while it might not be an official "for the record books" tally—I recall a supersized marching band at the Broadway Theatre several years ago—30 newbies out of a cast of 36 is darn impressive.
Among this count are several handpicked all-star cheerleading team members and championship trophy winners recruited to execute the gasp-inducing acrobatics that put a show like this over the top. Still, all of the actors who play the musical's leading characters managed to land their roles with zero cheerleading know-how. In fact, when polled on their experience in the gym or on the field, their responses ranged from "none" to "n/a" to "lol."
And while it's true you won't be seeing Bring It On's lead actors doing heart-stopping aerodynamic backflips off the top of a pyramid, they dazzle just fine, meshing their well-honed athleticism with Blankenbuehler's explosive cheerleading calisthenics and freestyle dance crew moves.
The Plot
Our heroine Campbell is looking forward to her senior year as captain of Truman High's cheerleading squad (the cool school favored to win Nationals). Along with her team cohorts, boyfriend Steven (Neill Haskell) and best frienemies—Skylar (Kate Rockwell) and her Mini-Me protégé Kylar (Janet Krupin)—she holds tryouts. Rejecting the plump Bridget (Ryann Redmond) due to peer pressure, she chooses sweet, innocent, uber-bubbly freshman, Eva.
The Crisis: Campbell learns that due to redistricting, her last year of high school will be spent at Jackson (the "scary" school with no cheerleading squad!).
The Upshot: Both Campbell and Bridget are exiled from Preppyville to hip-hop-street-savvy Jackson, where former misfit Bridget's uniqueness rates her in-crowd status as Campbell struggles for acceptance from the "all that" dance crew (the closest thing Jackson has to a cheerleading squad) led by the outspoken Danielle (Adrienne Warren).
Cutting to the Chase: Back at Truman, "All About Eva" has sideswiped Skylar and Kylar to take over as squad captain while hitting on Steven. Two-faced doesn't even begin to describe Eva's unmasked villainous vibe.
Campbell, meanwhile becomes BFFs with Bridget, redeems herself in a leprechaun mascot costume featuring a surreally giant head (the show's most bizarre must-see number), lands a new boyfriend (Randall, played by Jason Gotay), joins the crew, and convinces Danielle and her posse to "cross over":
Campbell:? So, what we're doing is really athletic and dance-oriented and made, you know, to get audiences all fired up. So I was thinking, you know, we could make a squad.
Danielle: Define "squad."
Campbell: Instead of a "crew," we'd be a "squad." (very quietly) A cheerleading squad.
This exchange is followed by a heavy-duty persuasion embellished by some serious exaggeration.
Bottom Line: It's Jackson vs. Truman in the Regional and National Competitions, where the big cheerleading guns come out and all is eventually resolved with the upbeat mantra: "I got you."
Good To Know
• The musical, inspired by the 2000 film of the same name starring Kirsten Dunst, is not a carbon copy—not even close—even the characters' names are different.
• Bring It On arrived on Broadway following a 13-city national tour.
• Due to its popularity, the musical was recently extended through Jan. 20.
• This is not a show for really young kids or super-prudes.
• Expect trash talk: mildly profane, but not excessive—everything is in keeping with the characters and settings and the language is no more offensive than contemporary kids are exposed to in school, on TV, in the movies, or online.
• Veers far more to teen romance vs. anything sexual or even suggestive.
• There is a transgender character, La Cienga (Gregory Haney), but aside from his baritone voice and masculine physique, there is no mention of his sexuality (again, no surprises here for today's media-savvy kids, but those younger than 8 might have a question or two).
• As far as life lessons, Bring It On is terrific in terms of tolerance, winning and losing, friendship, and overcoming obstacles.
• An absolute must for kids who love cheerleading. During intermission, I met one mom who had brought her deliriously happy 11-year-old whose cheerleading age group took No. 1 in the nation.
• In terms of souvenirs, the bestseller is a twofer: official Bring It On shorts and tank top for $55.
The Details
What: Bring It On: The Musical
Where: Broadway's St. James Theatre, 246 W. 44th St., Manhattan
When: Monday-Tuesday at 7pm; Wednesday at 2pm and 8pm; Friday at 8pm; Saturday at 2pm and 8pm; and Sunday at 3pm.
Who: Parental discretion for the younger set (no one younger than 4 is admitted); I would suggest 9 and older, except in cases where 7- and 8 year-olds are big cheerleading buffs.
Running time: 2½ hours with one intermission.
Tickets: $39-$135; to purchase, visit the website or call 212-239-6200
Rush tickets: A limited number of $35 rush tickets (price includes $2 facility fee) is available for every performance and can be purchased the day of the performance at the Box Office only beginning at 10am. These rush tickets are available to all patrons and are cash only. There is a limit of two tickets per person.
Preview: For videos, photographs, and cast bios, visit bringitonmusical.com.