Our guide includes carousels and merry-go-rounds in New York City, including Manhattan, Brooklyn, Queens, the Bronx, and Staten Island. You'll find details on each carousel, including its location, hours it's open, price per ride, and a description.
Manhattan Carousels
Friedsam Memorial Carousel (The Central Park Carousel)
Central Park (mid-park at 64th Street)
212-439-6900 x12
Hours: April–October: 10am-6pm daily. November–March: 10am-4:30pm weekends. (Hours are weather permitting.)
Price: $2.50 per ride (cash only)
Located in the heart of Central Park, this handcrafted carousel's 57 horses run laps to vintage organ music. Note: Especially in the summer, there is often a long line to ride.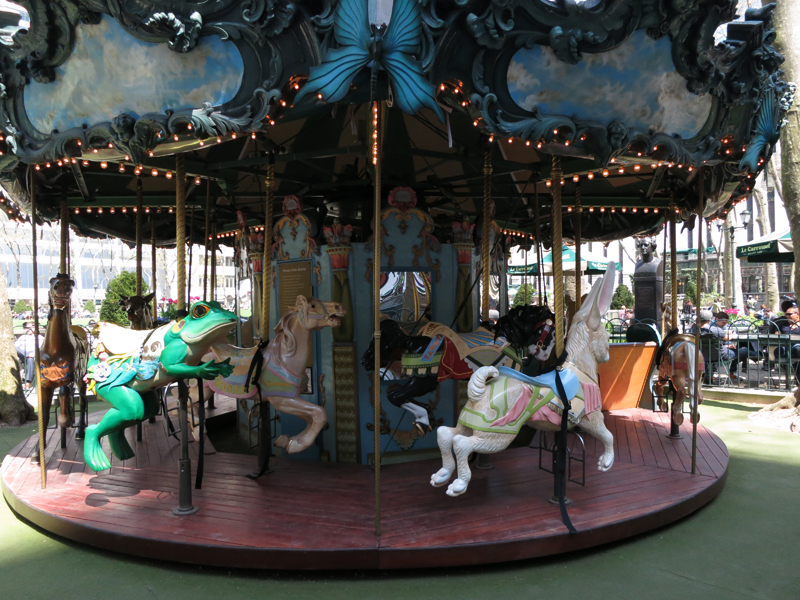 Le Carrousel
Bryant Park, West 40th Street between Fifth and Sixth avenues, Midtown
212-768-4242
Hours: June–October: 11am-8pm daily
Price: $2 per ride; $15 for 10 rides
Hear the sounds of Paris and the French Cabaret as you ride one of the 14 prancing animals. During the summer, Flaubert Frog tells stories and plays games with kids on Saturdays from 1-2pm, and roaming magicians can be seen performing tricks on Sundays.
Pier 62 Carousel
Hudson River Park, Pier 62, between West 22nd and 23rd streets, Chelsea
212-344-3491
Hours: 11am-7pm daily (weather permitting; closed in winter)
Price: $2 per ride; free for parents assisting children shorter than 42 inches
Ride on animals ranging from unicorns to raccoons, or pretend to be King Trident as you ride the oyster chariot. This carousel can accommodate children in wheelchairs. Restrooms located at Pier 61.
SeaGlass Carousel
Battery Park (entrance across from 17 State Street), Lower Manhattan
212-344-3491
This aquatic-themed carousel, to be made entirely of glass and steel, will feature 30 sea creatures under LED lights. A grand opening is slated for September. At press time, hours of operation and ticket prices were not yet determined. More information will be available by mid-summer; call or visit the website for updates.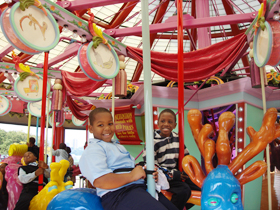 Totally Kid Carousel
Riverbank State Park, Riverside Drive at 145th Street, Upper Manhattan
212-694-3633
Hours: June–October: Wednesday-Thursday 11am-3pm; Friday and Sunday 1-6pm; Saturday 1-8pm
Price: $1 per ride
This funky carousel, opened in 1997, was designed using children's drawings of animals.
Brooklyn Carousels
B&B Carousell
Steeplechase Plaza, Coney Island
212-312-4233
This historic carousel, built in 1919 and featuring 40 wooden horses, has been completely restored and moved to the Steeplechase Plaza. At press time, a grand re-opening was slated for Memorial Day weekend. Hours of operation and ticket prices were not available. See the website or call for updates.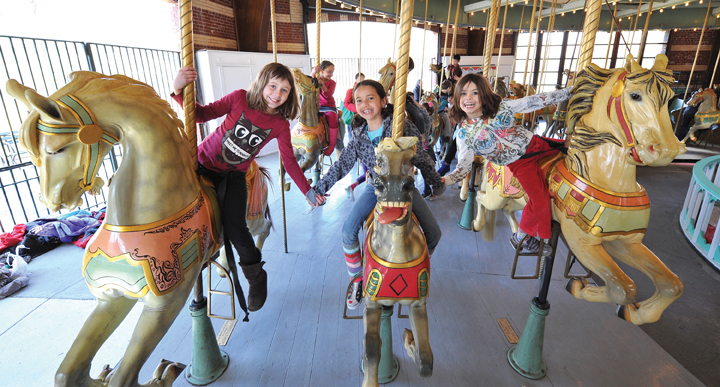 Prospect Park Carousel
Children's Corner (Wilink entrance), Ocean Avenue and Empire Boulevard, Prospect Heights
718-965-8951
Hours: Through June 30: Thursday-Sunday and holidays 12-5pm. July 4–Sept. 2: Thursday-Sunday and holidays 12-6pm
Price: $2 per ride; $9 for five rides
Located next to Lefferts Historic House and the Prospect Park Zoo, this 100-year-old carousel was hand-carved by designer Charles Carmel and features horses as well as two dragon-pulled chariots. It is wheelchair accessible.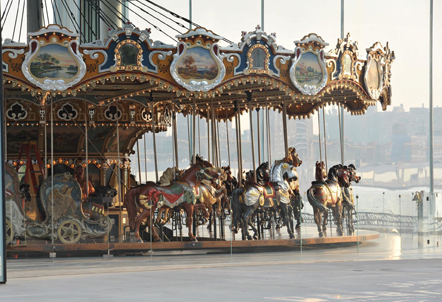 Jane's Carousel
Brooklyn Bridge Park at the East River, DUMBO
718-222-2502
Hours: Through Oct. 18: Wednesday-Sunday 11am-7pm
Price: $2 per ride; $20 for 12 rides
Named after artist and DUMBO resident Jane Walentas, the 1922 structure was refurbished and reopened in 2011. There are 1,200 lights and the carousel is settled into a pavilion designed by award-winning architect Jean Nouvel.
Queens Carousels
Flushing Meadows Carousel
Flushing Meadows-Corona Park, 111th Street at 55th Avenue, Flushing
718-788-2676
Hours: June 9-10 and 16-17: 11am-7pm. July–September: Monday-Friday 11am-7pm; Saturday-Sunday 11am-8pm. October: Saturday-Sunday 11am-6pm.
Price: $3 for three tickets (one ride); $10 for 12 tickets; $20 for 25 tickets; $38 for 50 tickets
Moved to Queens from Coney Island for the 1964 World's Fair, this classic carousel is located next to the Queens Zoo and about a two-minute walk from the New York Hall of Science.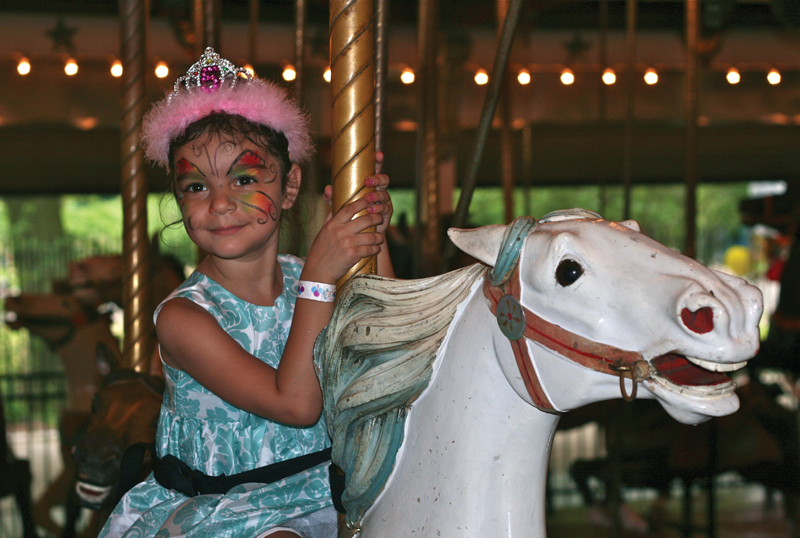 Forest Park Carousel
Northwest Entrance (Woodhaven Boulevard and Forest Park Drive), Forest Park
718-788-2676
Hours: Daily through Sept. 8, weekends and holidays through Oct. 27. Hours vary; see the full schedule online.
Price: $1 per ticket (three tickets needed to ride); $5 for six tickets; $15 for 20 tickets
This merry-go-round reopened last year and is undergoing a refurbishment process that will keep it turning for future New Yorkers. Take a spin on one of the 49 horses or ride in a chariot as you listen to vintage organ music.
Bronx Carousels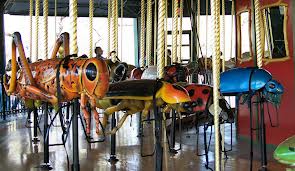 Barbara Hrbek Zucker Bug Carousel
Bronx Zoo, 2300 Southern Blvd. (at Fordham Road)
718-220-5100
Hours: April–October: Monday-Friday 10am-5pm; Saturday-Sunday 10am-5:30pm. November–March: 10am-4:30pm daily
Price: $3 per ride plus general zoo admission: $16.95; $14.95 seniors; $11.95 children ages 3-12. Free with total experience ticket: $33.95; $28.95 seniors; $23.95 children ages 3-12.
Added to the zoo in 2005, this carousel is composed entirely of bugs and butterflies and is located next to the Butterfly Garden, where you can see live butterflies in flight and flowers in bloom.
Staten Island Carousels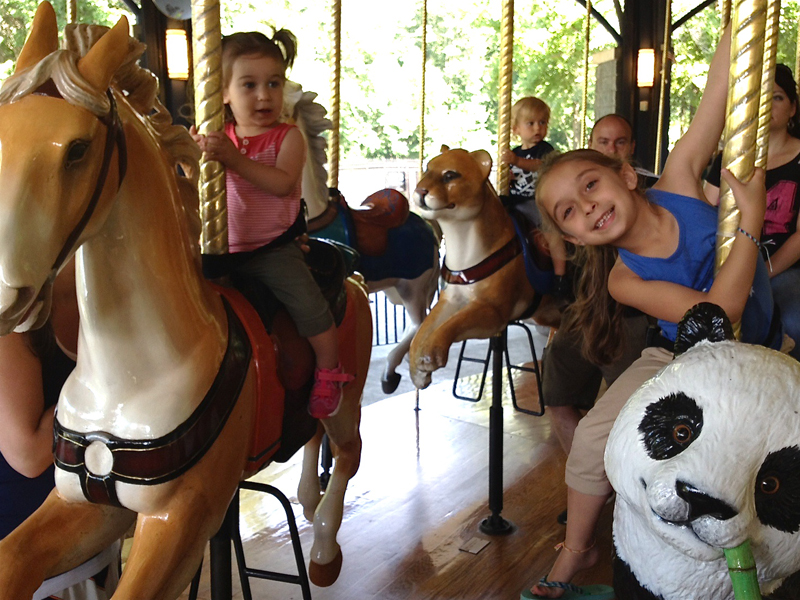 Carousel for All Children
Willowbrook Park, Eton Place at Richmond Avenue
718-477-0605
Hours: May and September-October: Friday-Sunday 11am-5:45pm. June: Wednesday-Sunday 11am-5:45pm. July–August: Monday-Friday 11am-5:45pm. (Hours are weather permitting.)
Price: $1.50 per ride; $25 for 20 rides
Choose your steed from the 51 hand-carved and colorfully painted animals that adorn this Victorian-style wooden merry-go-round, located next to the duck pond. The carousel is accessible for those with physical challenges.
Find More Carousels in the NYC Area:
Rockland and Westchester Counties