In Rodgers and Hammerstein's Cinderella on Broadway, the beloved fairy-tale princess makes her debut (in glass slippers, of course) in a musical filled iconic songs, loveable characters, and a few modern surprises.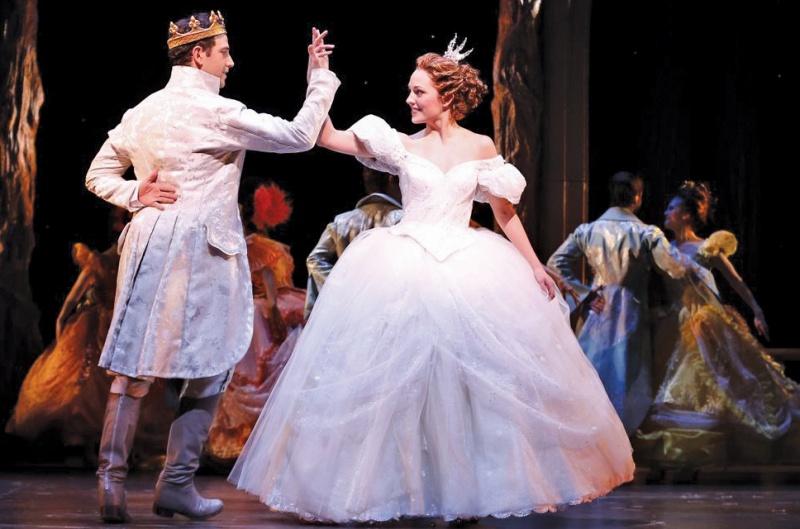 After a brilliant on-stage costume change, Cinderella (Laura Osnes) meets Prince Topher (Santino Fontana) at the ball.
Tulle to the left of me…tiaras to the right…glitter from sparkly shoes and starry headbands shimmering up from the aisle carpet…and suddenly I so want to hop into Mr. Peabody's Wayback Machine and become 7 years old again.
It's 10 minutes to curtain time at the Broadway Theatre, which is currently home to Rodgers & Hammerstein's Cinderella. And even though the ratio is pretty much 4-to-1 in favor of adults, the kid contingent rules—mostly little girls who are beyond psyched to finally see their favorite storybook heroine through the prism of Broadway grandeur, laced with 21st-century pyrotechnics.
Without question, Cinderella has been the gold standard in fairy-tale princesses ever since Charles Perrault introduced her to the general public in the late 17th century in his Contes de a mere l'Oye (Mother Goose Tales), spawning a parade of variations on the tale as well as countless rags-to-riches spin-offs subtitled: "A Cinderella Story."
I am sitting next to a pretty 6-year-old named Zoe, her brother Jack (I'd guess 8-ish), and their mom. Considering the general flurry from the booster-seat brigade, these two are low-key, which is not to say they aren't excited to take in the first Broadway mounting of this legendary work written expressly for television a staggering 56 years ago. Little do they know, or care, that the current version by Douglas Carter Beane (Sister Act) cuts a fairly wide swath away from Rodgers and Hammerstein's 1957 script.
The score, however, remains untouched. The music is timeless, enchanting every kid in the house, their "I'm hooked" expressions saying it all even as the lights come down and the overture begins.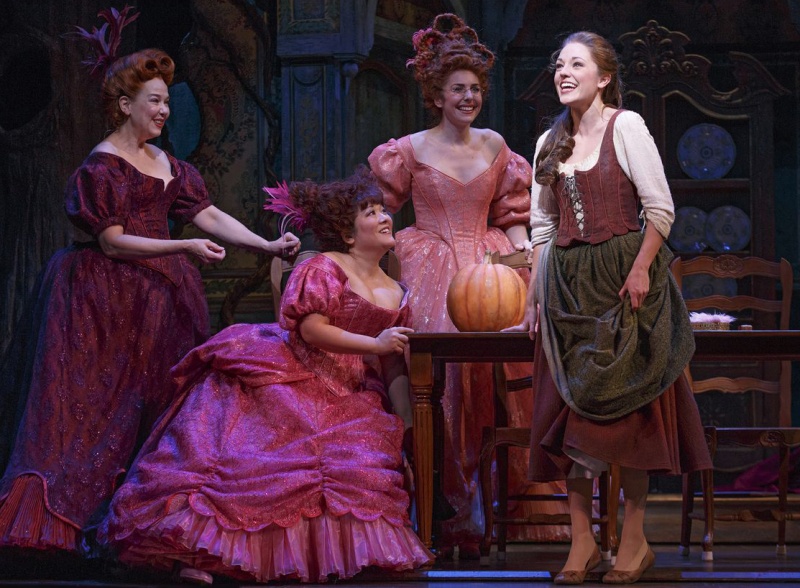 Cinderella (right) finds an unexpected friend in her stepsister Gabrielle (center right) and ultimately forgives her stepmother and other stepsister Charlotte for their cruel treatment.
The On-Stage Magic of 'Cinderella'
No wonder, since besides the music, this lavish production literally overflows with amazing visuals ranging from fantasy sets to colorful ball gowns that dazzle the eye. And then, of course, there are any number of magical transformations—Fairy Godmother Marie's is astonishing, as are Cinderella's (she has two). The unexpected crowd pleaser that had little jaws dropping was when the raccoon and fox suddenly became footman and coach driver, respectively. (Yes, the coach is a stunner, as are the glass slippers conjured by Marie—who, by the way, levitates and sings while airborne.)
In fact, the show casts its spell on theatergoers almost immediately. We are transported to Once Upon a Time in a grabber of an opening scene in which we get a brief glimpse of Cinderella just before a gaggle of knights battle a giant tree monster. (P.S. The tree monster is a favorite with the boys—very Tolkien, very cool.)
Then comes Topher's post-battle speech: "I just wish I was doing something more important with my life." Clearly this guy—on the cusp of becoming king (his parents are recently deceased)—is conflicted, introspective, and borderline goofy. And in the capable hands of Santino Fontana, he is majorly appealing: The smattering of boys in the audience instantly identified with him, while the girls in their pre-adolescent way almost, well, swooned.
The scene shifts to the cottage where Cinderella lives with her snarky stepmother (Tony Award-winner Harriet Harris) and two stepsisters—self-centered Charlotte (Ann Harada) and geeky Gabrielle (Marla Mindelle). These characters, with the exception of the stepmother, are a long way away from the harridans usually portrayed.
And then, of course, there's Cinderella herself, played by the lovely Laura Osnes. In her we get not only the usual belittled servant transformed to glamorous princess, but also an outspoken young woman who is as committed to her fellow citizens as she is to her own happily ever after.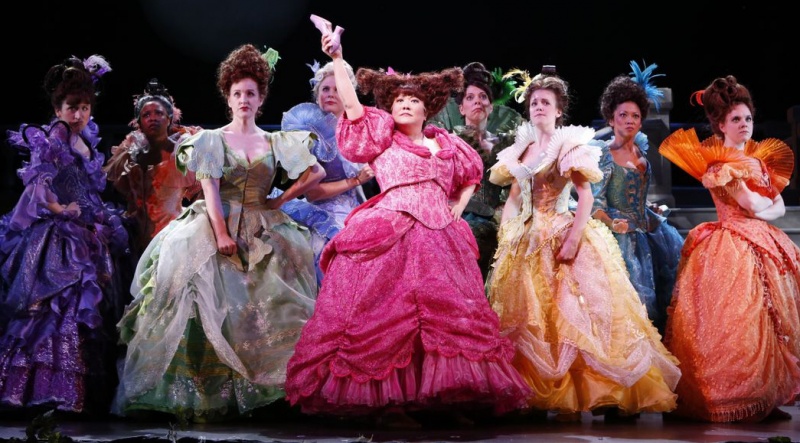 "The Stepsisters' Lament" is performed by just one of Cinderella's stepsisters in this version of the tale, but it retains all the humor of Rodgers and Hammerstein's original.
A Modern Message
Beane's update, while keeping the classic fairy tale magic intact, manages to tackle issues as relevant today as they were when the story was written. This bit of dialogue between Ella and Topher near the end of the show illustrates Beane's commitment to enlighten as well as entertain.
Topher: I've been thinking of what you were saying about the people having their homes taken away. The court tells me I should just ignore such talk, but—
Cinderella: But you know that if you're going to be king, you have to pay attention to things that people tell you to ignore.
Topher: Yes, yes. I want to meet all of my people…
And of course he does. A free election is held, Cinderella and Topher get married (that last part you know), and the entire ensemble hits the curtain call singing the chorus of "Impossible."
When you think about it, being unafraid to tackle the impossible is the perfect message for even the youngest of theatergoers—a fitting hymn to hum as they march out into the real world. Because really, "Impossible things are happening every day!"
Details on the Show
What: Rodgers & Hammerstein's Cinderella
Where: Broadway Theatre, 1681 Broadway (between 52nd and 53rd streets), Manhattan
When: Tuesday and Thursday at 7pm; Wednesday at 2pm and 7:30pm; Friday at 8pm; Saturday at 2pm and 8pm; Sunday at 3pm
Tickets: $45-$147; call 212-239-6200 or go to telecharge.com. Monday-Thursday: Limited $32 student rush tickets are available the day of the performance at the box office only.
Running time: 2½ hours, one intermission
Ages: 4 and older; children younger than 4 are not permitted in the theater. No strollers.
Party packages: Princess parties: Before the show, little girls receive their own tiaras, enjoy the finest tea and cookies in all the kingdom, and get their photos taken with Cinderella (minimum of 20 princesses). Family four packs: Choose from four packages starting at $150. To book party packages, call 888-701-3000.
More info: cinderellaonbroadway.com