This classic Italian recipe for spaghetti and meatballs (or "spaghetti e polpette") comes from the cookbook Recipes to Remember: My Epicurean Journey to Preserve My Mother's Italian Cooking from Memory Loss by Yonkers native Barbara Magro.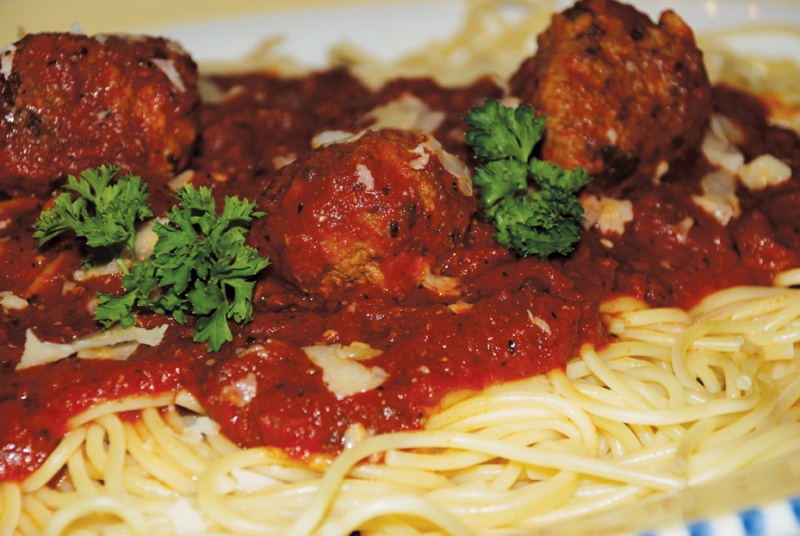 This was a Sunday favorite and as kids, we always tried to sneak a meatball before Mom added them to the gravy. Dad still does this. Somehow they taste so much better when you are sneaking one hot off the stove!
Serves 4 (makes 12-14 meatballs)
For the meatballs:
2 pounds lean ground beef
2 eggs, beaten
1 teaspoon garlic powder
½ loaf of day-old Italian bread
3 tablespoons dry parsley
? cup freshly grated Parmesan
Pre-made gravy (see Magro's cookbook for a classic recipe, or use your favorite version)
1. Place the ground beef into a large bowl and add the eggs. Sprinkle in the garlic powder.
2. Trim the crust off the bread and soak it in water. Squeeze excess water out and add to the mixture. Add the parsley and Parmesan. Mix with your hands until all the ingredients are blended together. Shape into 2- to 3-inch balls.
3. Heat a large skillet and cook the meatballs. Turn after 5 minutes, cover and let them cook for another 10 minutes. Continue to turn the meatballs until they are browned on all sides.
4. Add to the pre-made gravy and let simmer for 10-15 minutes to absorb flavors.
For the pasta:
Salt
1 tablespoon olive oil
1 pound of spaghetti
4 cups of meat sauce
1. Bring lightly salted water to a boil and add a tablespoon of olive oil. Stir in the spaghetti and cook until it is al dente. Drain the spaghetti and place it in a large serving bowl. Add several ladles of pre-made meat sauce.
2. Add a few meatballs on top and put remaining meatballs in a separate serving dish. Put extra sauce in a gravy boat and serve on the side.
3. Serve grated Parmesan on the side.
Note: The meatballs can be added to gravy or eaten as is. You can also substitute the ground beef with ground turkey or chicken for a low-fat option.
Recipes to Remember
The above recipe was excerpted with permission from Recipes to Remember: My Epicurean Journey to Preserve My Mother's Italian Cooking from Memory Loss (AuthorHouse, 2011) by Barbara Magro. For more information or to purchase the cookbook ($28), visit recipestoremember.net. The book is also available on amazon.com. A percentage of proceeds from book sales is donated to the Alzheimer's Association.