New York state health insurance provider Fidelis Care recently opened a community office in Ridgewood. Fidelis Care aims to make its services accessible to the communities it serves.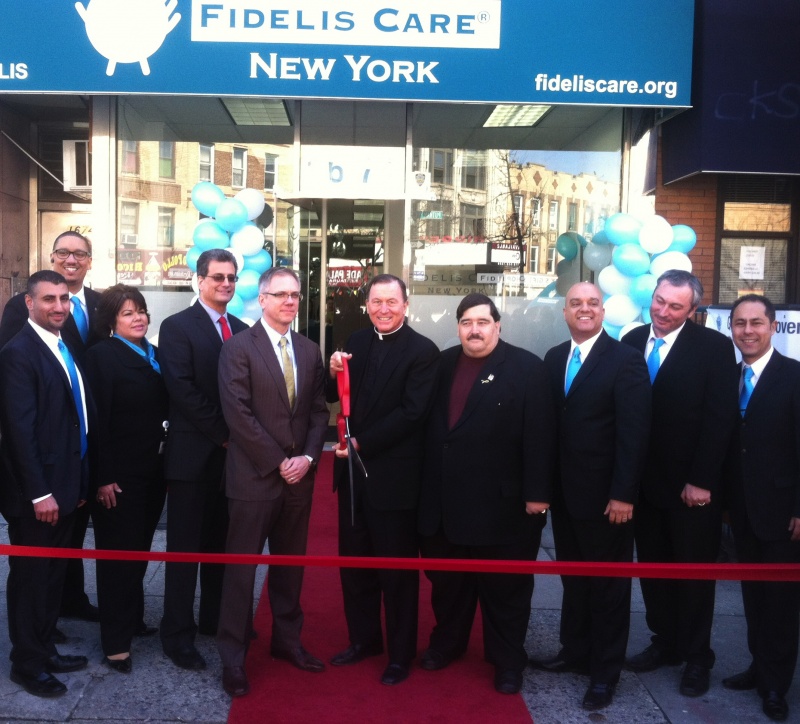 From left: Abdo Almasmary, outreach specialist; Max Luna, health insurance program specialist; Lori Vavrinec, director of marketing; Mark Sclafani, vice president of marketing; David Thomas, executive vice president and chief operating officer; Rev. Patrick J. Frawley, president and CEO; Assemblyman Mike Miller, Assembly District 38; Humberto Trimino, marketing manager; Yevgeniy Kupin, marketing supervisor; and Pablo Rendon, marketing supervisor at the ribbon cutting ceremony on March 21.
Fidelis Care is a nonprofit that aims to offer medical care assistance and insurance to the underserved in a caring and compassionate manner. "We've always taken a very grassroots approach to how we enroll members," marketing director Lori Vavrinec says. "We work with community organizations, catholic charities, and school districts to outreach to people in communities that are not always the first line for some insurances companies."
Over the past year, Fidelis Care has been making a major effort to ensure its services are accessible to the communities it serves, according Vavrinec. After opening community offices in the Bronx and Flushing, Fidelis Care opened an office in Ridgewood and held its ribbon cutting ceremony on March 21.
The community office is accessible by train and bus, and allows potential members to visit after work or on a Saturday to learn about Fidelis Care's health plans and enroll in plans such as Medicaid, Medicare, Child Health Plus, and products available through New York State of Health: The Official Health Plan Marketplace.
Vavrinec says that Fidelis Care sees many adults who go without health insurance, but want their kids have good coverage. "With programs like Child Health Plus, parents have a very cost-effective way of making sure their children are insured and get the care they need," she says. "Most programs also have an income component, where members may get some assistance with the premium."