Looking for fun and low-cost things to do with your dad on Father's Day in Long Island? Our guide includes 11 family-friendly events in Baldwin, Cold Spring Harbor, Floral Park, Old Bethpage, Oyster Bay, Riverhead, and Rockville Centre.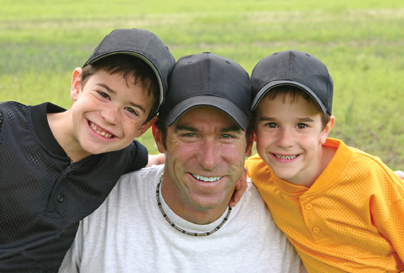 There are many ways you can make Dad feel special on Father's Day. Here are a few ideas close to home:
Make a Gift for Dad
June 4: At Floral Park Library, preschoolers ages 3-5 (and their caregivers) can make a Father's Day Craft for dear old Dad at 1pm, while kids in grades K-6 get their turn at 4pm. FREE!
June 7: Also at Floral Park Library, older kids in grades 6-12 are invited to whip up some Father's Day Treats, including brownies and BBQ cupcakes. FREE!
June 8: The Hallockville Museum Farm in Riverhead invites children ages 6-10 with a guardian to Kids Craft a Gift for Father's Day, where they'll make handmade birdhouses. Instruction and all materials are provided. Registration required.
June 11: Join a two-hour Father's Day Picnic workshop at What's Cooking? in Oyster Bay and thrill Dad's appetite by creating tasty treats including BBQ sliders, oven-baked steak fries, cornbread, sports-themed sugar cookies, root beer floats, and a take-home Dad's Day Dessert Tie.
June 11: At Baldwin Public Library, listen to a story and make a gift for Dad or Grandpa during a Father's Day Story and Craft event designed for children in kindergarten through third grade. Registration required. FREE!
June 15: At Safari Adventure's Father's Day Craft Event in Riverhead, Safari Adventure teams up with Macaroni Kid to give children the opportunity to make a gift for their dads.
Free Admission for Fathers
June 16: Dads get in free to the Cold Spring Fish Hatchery and Aquarium during Father's Day at the Hatchery.
Fathers also get free admission during Father's Day at Cold Spring Harbor Whaling Museum.
Family Activities for Father's Day
June 15: Honor your dad at a Father's Day Brunch, a celebration that recognizes local fathers for the work they do all year long making Nassau County a better place to live, work, and raise a family. Held at The Barn at Old Bethpage Village Restoration in Old Bethpage.
June 16: Spend some time with your dad and build a rocket together at the Third Annual Daddy and Me Rocket Building event at Center for Science Teaching and Learning in Rockville Centre. Launch it and watch it soar into the sky.
Take Dad Out to the Ball Game
Check out our list of minor league ball parks (which boast more family-friendly fun and prices than the major leaguers!) at nymetroparents.com/ballparks.
More Fun
Search for more fun family activities on Long Island and the NYC area in our full calendar of events