From The Braces Cookbook, these two recipes are for foods that area easy to eat with braces, including a crustless quiche and a cranberry splash punch. Keep these handy for the next time your child gets his wires tightened at the orthodontist.
Crustless Quiche
This super-quick recipe calls for just six ingredients, but it produces a beautifully sliceable egg-and-cheese quiche. Pre-shredded cheese and a packaged biscuit-mix make it extra easy and very light.

Servings: 6-8

Ingredients
3 eggs
3 tablespoons vegetable oil
1½ cups milk
½ cup packaged dry biscuit mix
1½ cups shredded Swiss cheese
1 (6-ounce) can crab meat, drained and flaked apart

Directions
1. Preheat oven to 350 degrees.
2. Grease or spray a 9-inch or 10-inch pie pan or quiche dish.
3. In a large bowl, with a whisk or fork, beat the eggs, vegetable oil, and milk. Stir in the biscuit mix (it doesn't have to be perfectly smooth). Pour mixture into pan.
4. Sprinkle on and stir in the cheese and crab meat.
5. Bake at 350 degrees: 60 minutes for a 9-inch pan or 50 minutes for a 10-inch pan; top should turn a golden brown. Let stand 10 minutes before cutting.

Variation: Substitute mild cheddar cheese for the Swiss and ½ cup crumbled cooked bacon or shredded deli ham for the crab. You can also add ½ cup thawed chopped spinach. All versions freeze well.
Cranberry Splash Punch
This hits the spot when your teeth are sore and you need a little sparkle!
Servings: 1
Ingredients
4 ounces ginger ale (chilled)
4 ounces cranberry, cran-grape, cran-cherry, or cran-raspberry juice (chilled)
½ teaspoon lemon juice
Ice cubes
(Optional: lime slices)
Directions
1. In a tall drinking glass, combine ginger ale, cranberry juice, and lemon juice.
2. Add a few ice cubes and stir well to chill.
3. Float optional lime slices for decoration.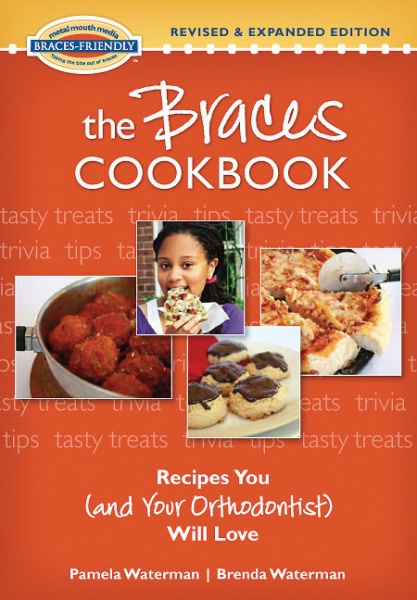 These recipes were excerpted with permission from The Braces Cookbook: Recipes You (and Your Orthodontist) Will Love (Metal Mouth Media; $14.95), by Pamela and Brenda Waterman.


Also see: 6 Mouth-Soothing Tips for Kids with Braces