H&M LAUNCHES KIDS' COLLECTION WITH DRESS-UP ITEMS FOR HALLOWEEN
Related:
h&m children's collection
,
unicef
,
h&m halloween costume
,
kids clothes at h&m
,
kids halloween costume
,
H&M plans to launch a special children's collection just before Halloween that features fun fashion and playtime dress-up pieces for boys and girls, and a portion of proceeds will benefit UNICEF.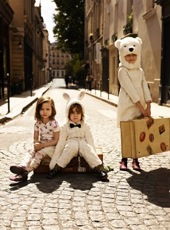 On Oct. 18, H&M will launch its new All for Children collection, which features fashionable clothing and dress-up pieces for both boys and girls. H&M will donate 25 percent of sales from the collection to UNICEF to support its education and protection programs that work to improve the lives of children in vulnerable communities.
What's in the Collection
The All for Children collection is filled with costumes and fantasy items for girls, such as charming dresses, skirts, and overcoats. For boys, the collection offers everything from blazers and matching pants to sweaters and knits with familiar characters. For dressing up, there are wizard hats, capes, magic wands, a rabbit suit, and polar bear, rabbit, and flamingo heads. Accessories, wall stickers, lamps, and a playbook are also part of the collection.
Where to Find It
The All for Children collection will be available in store beginning Oct. 18 at about 300 H&M locations worldwide. For store locations and more information, visit hm.com.
Contribute to the Cause
Since 2004, H&M's partnership with UNICEF has resulted in more than $15 million in donations to support educational and other programs for millions of children in Bangladesh, Cambodia, China, India, Madagascar, and Uzbekistan. For more information on UNICEF and its programs, visit unicef.org.
More Halloween Fun
For more Halloween ideas, including cute costumes, ghoulishly good recipes, and spook-tacular events, plus tons of awesome Halloween-themed giveaways, head to nymetroparents.com/halloween.
---
Get Your FREE Indoor Activity eGuide!
---
More Halloween Articles Articles
7 Tips for Trick-or-Treating with Your Toddler
New Book Encourages Kids to Give Up Halloween Candy
Halloween Activities in Bucks County, PA
DIY Alien Monster Egg Halloween Decoration
Toddler-Friendly Halloween Events in Fairfield County, CT