Now that the kids are out of school, you may be looking for fun day trips that will keep them learning. We've compiled a chronoligical list of 16 historic places in the New York metro area that offer plenty of fun while keeping the kids engaged.


Historic Richmond Town
441 Clarke Ave., Staten Island
718-351-1617
historicrichmondtown.org
Hours: 1-5pm Wednesday-Sunday
Guided Tours: 2:30pm Wednesday-Friday; 2pm and 3:30pm Saturday-Sunday
Admission: $8; $6 seniors and students ages 12-17; $5 children ages 4-11; free for children younger than 4
Richmond Town was settled in the late 16th and early 17th centuries as a crossroads settlement among the scattered farms of Staten Island. Now a living history village, the site covers 50 acres and features more than 30 historic structures, including homes and commercial and civic buildings, as well as a historical museum. All buildings are original and more than half of them remain in the same spot they were built. (One home is 350 years old!) At Decker Farm, the oldest continually operating farm in New York, take a self-guided tour and enjoy the organic, seasonal produce sold at the farm stand.
Queens County Farm Museum
73-50 Little Neck Parkway, Floral Park
718- 347-3276
queensfarm.org
Farmhouse tours: 11am-4pm Saturday-Sunday, year-round
Outdoor visiting: 10am-5pm daily, year-round
Admission: FREE
The museum occupies the largest remaining tract of undisturbed farmland in the city (47 acres) and is the longest continuously farmed site in New York state. The site includes historic farm buildings, livestock, farm vehicles, and an orchard and herb garden.
Lefferts Historic House
Prospect Park, Brooklyn
prospectpark.org
Hours: April-June: 12-5pm Saturday-Sunday. July-August: 12-6pm Thursday-Sunday. September: 12-5pm, Thursday-Sunday.
Admission: $3 suggested donation; free for children ages 16 and younger
This home is located in the park's Children's Corner, near the carousel and the Prospect Park Zoo. Families learn about life in colonial times through the homestead's working gardens, historic artifacts and documents, period rooms, and exhibits. Visitors can try using traditional tools, churn butter, make candles, and play with old-fashioned toys.
Bush Holley House
39 Strickland Road, Cos Cob, CT
203-869-6899
hstg.org
Hours: 12-4pm Wednesday-Sunday; docent-led tours at 1pm, 2pm, and 3pm.
Admission: $10; $8 students; free for children younger than 7
Prosperous merchants built this home in 1730; it was later used as a boarding house and gathering place for prominent American artists and arbiters. A National Historic Landmark, it is one of 18 museums participating in the Connecticut art trail.
Philipsburg Manor
381 N. Broadway, Sleepy Hollow
914-631-3992
hudsonvalley.org
Hours: May 4-Nov. 11: Wednesday-Sunday and holidays, admission by timed tours only: 10:30am, 12pm, 1:30pm, and 3pm.
Admission: $12; $6 children ages 3-17; free for children younger than 3
Take a guided tour of the 300-year-old manor house, barn, and gristmill to experience what life was like for Dutch farmers living in the 18th century. Visitors learn how to thresh wheat, see how the rushing waters of the nearby river worked the mill, and learn
The 1750 Ogden House & Gardens
1520 Bronson Road, Fairfield, CT
203-259-1598
fairfieldhistory.org
Guided tours: June 2-Sept. 29, Sundays 1-4pm; $3
This mid-18th-century farmhouse provides a glimpse into the life of a middle-class colonial family. David Ogden built the house in 1750, and various members of the Ogden family lived there for the next 125 years. The Fairfield Museum and History Center, which operates the Ogden House, is located at 370 Beach Road (about a 10-minute drive).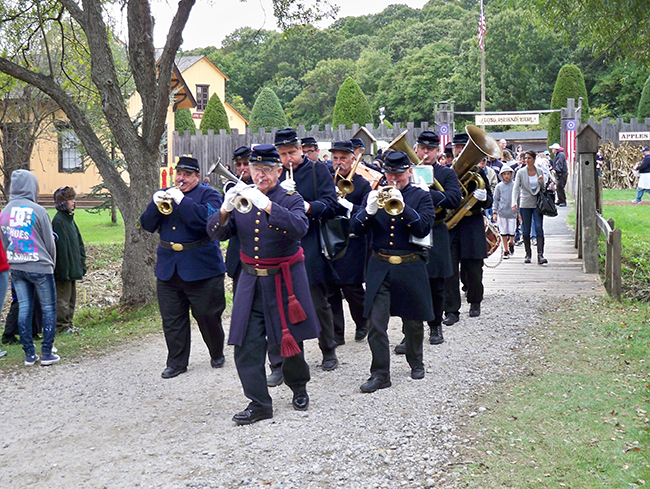 Old Bethpage Village Restoration
1303 Round Swamp Road, Old Bethpage
516-572-8400
nassaucountyny.gov
Hours: 10am-4pm Wednesday-Saturday; 11am-5pm Sunday
Admission: $10; $7 children ages 5-12; free for children younger than 5
This 209-acre recreated village allows visitors to experience a typical, rural Long Island farm village complete with homes, farms, and businesses. The site hosts old-time "base-ball" tournaments throughout the year.
Fort Montgomery State Historic Site
690 U.S. 9W, Fort Montgomery
845-446-2134
palisadesparksconservancy.org/
historic/18
Hours: Mid-April through Oct. 31: 9am-5pm Wednesday-Sunday
Admission: FREE; $2 per person for group tours
This scenic spot overlooking the Hudson River was the site of a revolutionary battle fought on Oct. 6, 1777. American Patriots, outnumbered 3-to-1, lost the battle to the British. Visitors learn more about this military post at the site's museum, which displays artifacts, weapons, and large-scale models of the fort and the attack as well as a 15-minute movie recreating the battle.
Dyckman Farmhouse
4881 Broadway (at 204th Street), Inwood
212-304-9422
dyckmanfarmhouse.org
Hours: 11am-5pm Friday-Sunday
Admission: $1; free for children younger than 10; free admission to the garden
In the children's book The Little House by Virginia Lee Burton, a home in the country watches over time as a city is built around and above her. The little pink farmhouse is eventually picked up and moved out into the country again. The Dyckman Farmhouse also witnessed a transition from farmland to city but amazingly survived the wrecking ball, becoming a museum in 1916. Visitors can now take a self-guided tour of this Dutch Colonial-style farmhouse and learn who lived there and how it survived when others houses of its time did not. Guided tours for groups of 10 or more are available by appointment only.
Van Cortlandt Manor
525 S. Riverside, Croton-on-Hudson
914-631-8200 (914-271-8981 on weekends)
hudsonvalley.org
Guided tours: July 6-Aug. 25: Saturday-Sunday. Admission by timed tours only: 10:30am, 12pm, 1:30pm, 3pm. Schools and groups by reservation.
Admission: $12; $6 children ages 3-17; free for children younger than 3
Visit the home of a prominent New York family that settled here after the American Revolution. In addition to seeing period furnishings, you can watch costumed guides demonstrate old-fashioned trades such as blacksmithing, bricking, open-hearth cooking, spinning, weaving, and other crafts of the period. Visit the Ferry House, built before 1750, to see what a rural tavern was like for travelers during the late 18th to early 19th centuries. The tour also addresses social issues such as religion and slave emancipation.
Boscobel House & Gardens
1601 New York 9D, Garrison
845-265-3638
boscobel.org
Hours: April 1-Oct. 31: 9:30am-5pm daily, except Tuesday; Nov. 1-Dec. 31: 9:30am-4pm daily, except Tuesday. Guided tours offered 9am-2:30pm.
Admission: $17; $8 children ages 6-14; free for children younger than 6; purchase tickets online to get one child's ticket (ages 6-14) free with the purchase of two adult tickets.
This Federal-style home with scenic views of the Hudson River was conceived by States Morris Dyckman, a Loyalist who made his fortune working for British quartermasters during the Revolutionary War. The home was completed by his wife Elizabeth after Dyckman died in 1806. Boscobel was originally built 15 miles away in Montrose but, to avoid demolition, was taken apart and painstakingly put back together in its present location.
Walt Whitman Birthplace
246 Old Walt Whitman Road, West Hills
631-427-5240
waltwhitman.org
Hours: Winter through June 15: 1-4pm Wednesday-Friday; 11am-4pm Saturday-Sunday. June 15-Labor Day: 11am-4pm Monday-Friday; 11am-5pm Saturday-Sunday. Group tours by appointment (call two weeks in advance).
Admission: $6; $5 seniors, veterans, and groups; $4 students; free for children younger than 5
Legendary poet Walt Whitman was born in 1819 at this Long Island farmhouse, which is now the only New York State Historic Site listed on the National Register of Historic Places. It contains many portraits of Whitman as well as his original letters, manuscripts, artifacts, and a rare recording of his voice. The house hosts poetry readings, lectures, concerts, and other special events throughout the year.
Washington Irving's Sunnyside
3 W. Sunnyside Lane, Irvington
914-591-8763
hudsonvalley.org
Guided tours: May 4-Nov. 11: Wednesday-Sunday and Monday holidays at 10:30am, 12pm, 1:30pm, and 3pm. Group tours by reservation through December.
Admission: $12; $6 children ages 3-17; free for children younger than 3
A costumed guide leads a tour through the home of the man who wrote The Legend of Sleepy Hollow and Rip Van Winkle. Many of the furnishings in the house are original, making it one of the more authentic examples of 19th century life nearby.
Bartow-Pell Mansion Museum
895 Shore Road, Bronx
718-885-1461
bpmm.org
Hours: Mansion: 12-4pm Wednesday and Saturday-Sunday, year-round. Guided tours at 12:15pm, 1:15pm, 2:15pm, and 3:15pm.
Admission: $5; $3 students; free for children younger than 6
Thomas Pell bought this land from Native Americans as part of a 9,000-acre tract. The estate was reduced to 200 acres and eventually bought by Robert Bartow in 1836. The Grecian-style home with Greek Revival interiors became a museum in 1946. It is the last surviving architecturally important house overlooking Long Island Sound, out of more than a dozen that once existed.
Lockwood Mansion Museum
295 West Ave., Norwalk, CT
203-838-9799
lockwoodmathewsmansion.com
Guided tours: April-January, Wednesday-Sunday at 12pm, 1pm, 2pm and 3pm
Admission: $10; $8 seniors; $6 for children ages 8-17; free for children younger than 8
This Second Empire-style mansion with Victorian-era furnishings and interiors was once home to the Lockwood family and, several years later, the Mathews family. Now a National Historic Landmark, it has survived threats from bankruptcy, demolition, and I-95, and it stands today adjacent to the Stepping Stones Museum for Children.
Old Westbury Gardens
71 Old Westbury Road, Old Westbury
516-333-0048
oldwestburygardens.org
Hours: April 29-Oct. 31: 10am-5pm daily (except Tuesdays); house opens at 11am. Guided tours (free with admission) are given every half hour (based on volunteer availability). Garden tours are given every day the grounds are open at 11am and 2pm (Sundays at 1pm and 2pm).
Admission: May-September: $10; $5 children ages 7-17; free for children younger than 7. April and October: $8; $3 children ages 7-17; free for children younger than 7
This Gold Coast mansion, located on the North Shore of Long Island, was occupied by the Phipps family for more than 50 years. It sits on 200 acres of formal gardens and is now a cultural destination spot for family programs and events, summer pop concerts, the annual Scottish Games, and educator-led talks and tours.
For special events at these historic locations, visit our calendar.