A registered dietician offers advice on how to help your child stick to a healthy diet during the holiday season when temptation abounds.
Your child is on a diet, but the holidays bring many sweet and sugary foods along with relatives who want to "spoil" him. Here, Tricia Polenz, a registered dietician who practices in Westchester County, offers advice on how to keep your child eating healthy during the season of temptation and diet sabotage.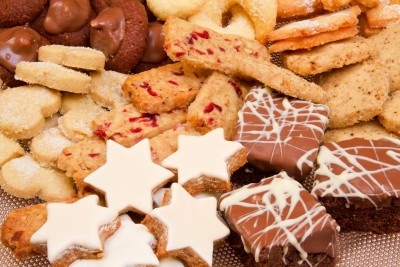 "First, let's make sure your child should actually be on a diet. Calorie restriction for weight loss among children can negatively impact healthy growth and development and should be approached with caution. A good way to start assessing your child's weight is by downloading a "BMI for age" chart from the Centers for Disease Control and Prevention website. The chart includes the standard formula for calculating your child's BMI, a measure of body fat based on height and weight. Although not a perfect measure of body fat, the BMI is an easily accessible and reliable indicator of whether or not your child is a healthy weight. The growth chart also allows you to determine where your child's BMI falls relative to children of the same age and gender in the United States. If your child's BMI falls between the 5th and 85th percentiles on the growth chart, he is at a healthy weight. If his BMI is above the 85th percentile he is overweight, and if his BMI is above the 95th percentile, he is obese.
"Whether or not your child is overweight, do your best to encourage a nutrient-rich diet that supports healthy growth and development. As a general rule, this means consuming as many whole, unprocessed foods as possible and limiting beverages with added sugar.
"Encouraging a healthy diet for your child also includes being realistic. Telling your child he cannot enjoy holiday treats may make him feel deprived, crave the "forbidden foods" even more, and cause resentment toward you. Also, asking relatives not to offer treats to your child can cause hurt feelings. None of these potential outcomes are what anyone wants over the holidays. Therefore, unless your child has health issues that necessitate certain dietary restrictions, he should do what we all should do over the holidays, which is to indulge sensibly. For instance, if there are several desserts on the holiday table, suggest choosing two favorites and enjoying a sensible slice of each. Or let your child have a forkful of several desserts. Remind him there is always tomorrow to have another taste. If your child still wants to eat more, take a big picture view of the scenario. One or two days of indulging will not "weigh in" over time. Remember, enjoying the holidays should be one of your child's great pleasures—and one of mom's too!"
Tricia Polenz MS, RD, CDN, is a registered dietician and the founder of Westchester Weight Loss & Wellness.