HALLOWEEN TREATS: EYEBALL CAKE POPS, MONSTER 'TOES,' AND 'ROTTEN' APPLE PUNCH
Related:
halloween recipes
,
how to make eyeball cake pops
,
rotten apple punch recipe
,
how to make monster toes
,
Get step-by-step directions on how to make three cool treats for Halloween, including creepy cake pops that look like eyeballs, pigs in a blanket that look like monster toes, and "rotten" apple cider punch.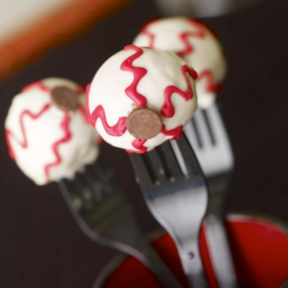 Forked Eyeballs
What you'll need:
2 (11-ounce) bags white chocolate chips
12 doughnut holes
Semisweet chocolate chips
Tube of red decorator frosting
2 tablespoons vegetable oil
Directions:
1. To coat a dozen doughnut holes, melt the white chocolate chips with the oil over low heat (and keep the chocolate warm while you work). With a fork, spear each doughnut hole and submerge it in the melted chocolate to coat it, then gently tap off any excess.
2. Stick a semisweet chocolate chip with its point cut off onto each doughnut hole, cut end first. Place the forks (handle side down) in a mug and allow the chocolate coating to harden.
3. Use a tube of red decorator frosting to add squiggly veins radiating out from the pupils.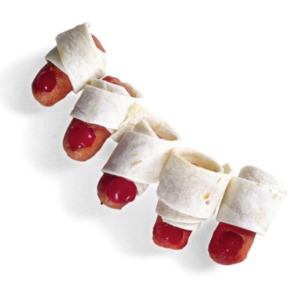 Monster Toes

Ingredients:
Cocktail wieners
6-inch tortillas
Ketchup or mustard
Toothpicks
Directions:
1. Heat the oven to 350 degrees. Cut a wedge into the end of each cocktail wiener to make a "toenail."
2. Cut the tortillas into strips about 4 inches long and 3/4 inch wide. Discard the ends.
3. Soften the strips in the microwave between damp paper towels for 10-30 seconds.
4. Roll each wiener in a tortilla strip and secure with a toothpick.
5. Bake for 7-8 minutes. Remove them from the oven, then fill the toenail with ketchup or mustard. Remove the toothpicks before serving.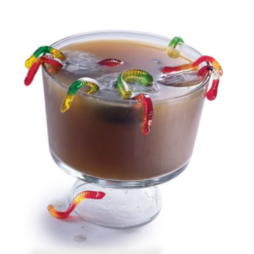 Rotten Apple Punch
What you'll need:
Apple cider (adjust the amount for the number of people you plan to serve; we suggest at least 1 gallon)
Five 1/2-cup containers (we used Pyrex glass dishes; other small containers or cups will also work)
Red and green food coloring
10 to 15 gummy worms
Punch bowl
Helpful Tip: Do steps 1 and 2 the day before serving the punch.
Directions:
1. Pour apple cider into all 5 small dishes, stopping about 1/2 inch from the top. Add 2 drops of red and 1 drop of green food coloring to each dish and stir until the colors have blended.
2. Hang 2 or 3 gummy worms around the edge of each dish and place the dishes in the freezer. If you use more than 3 worms, the rotten apples won't float as well. Freeze until the rotten apples are solid.
3. Just before serving, slip the frozen wormy apples out of the dishes by setting them briefly in a few inches of warm water in your sink.
4. Float the rotten apples in a large punch bowl filled with untinted cider. For added creepiness, drape the gummy worms over the edges of your serving bowl.
Recipes courtesy of Spoonful.com.
More Halloween Recipes
More Food & Nutrition Articles
Easy Holiday Dessert: Frozen Pumpkin Pie with Graham Cracker Crust
Witches Brew Recipe for Halloween by MOMables
Halloween Treats: Eyeball Cake Pops, Monster 'Toes,' and 'Rotten' Apple Punch
5 Tips for Cooking with Kids Who Have Special Needs
Easy Recipe for New Cooks: Creamy Tomato and Rice Basil Soup