Jif's 12th annual Most Creative Sandwich Contest offers culinary kids a chance to win a $25,000 college fund. Enter your child chef's sandwich recipe featuring Jif Peanut Butter or any other Jif products through Nov. 8.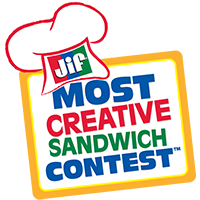 One creative kid's unique sandwich recipe could help put them on the road to college. Now through November 8, 2013, the makers of Jif® Peanut Butter invite families to ignite their culinary creativity in the kitchen and create an original sandwich recipe for the 12th Annual Jif Most Creative Sandwich Contest™. Parents of children between ages 6 and 12 are able to submit their child's original recipe for a chance to win a $25,000 college fund and a trip to New York City.
From giving the classic peanut butter sandwich a makeover using Jif Peanut Butter to whipping up a unique sandwich recipe featuring Jif Hazelnut Spreads, Jif Whipped Peanut Butter Spreads, Jif Almond Butter or Jif Cashew Butter, the possibilities for kids to get creative and incorporate new flavors and varieties into their sandwiches are endless!
"Throughout the history of the contest, we have received so many delicious and creative recipes from young chefs and their parents," said Maribeth Burns, Vice President, Corporate Communications, The J.M. Smucker Company. "This year, we're excited to feature an even bigger portfolio of Jif products in the contest, providing an endless number of possibilities for truly unique, culinary creations."
Last year, 10-year-old Jacob C. from Morganton, NC took home the grand prize for his creative recipe, the Magnificent Mole Chicken Torta. Jacob's unique use of Jif Chocolate Flavored Hazelnut Spread in a savory mole sauce earned him a $25,000 college fund.
About the Contest
From August 20, 2013 at 12:00 Noon ET through November 8, 2013 at 11:59 a.m. ET, parents can submit their child's innovative recipe online at Jif.com by completing the contest entry form.
Sandwiches will be judged on the following criteria: creativity, taste, visual appeal and ease of preparation.
Each original sandwich recipe submitted must contain at least two tablespoons of Jif Peanut Butter, Jif Hazelnut Spread, Jif Whips Spreads, Jif Almond Butter or Jif Cashew Butter.
Entries must be submitted online by 11:59 a.m. ET on November 8, 2013.
Ten online finalists will be chosen in November, 2013 and will participate in a nationwide online vote beginning January, 2014. Five finalists will then attend an event in New York City, where the contest grand prize winner will be announced.
For complete details, Official Rules and to complete the entry form for the contest, visit Jif.com. The Jif Most Creative Sandwich Contest is open to legal residents of the 50 United States and D.C. between six and 12 years of age by November 8, 2013. Void where prohibited.
Find Jif on Facebook, Twitter and visit jif.com for more information, tips, recipes, contests and promotions.
About The J.M. Smucker Company
For more than 115 years, The J.M. Smucker Company has been committed to offering consumers quality products that bring families together to share memorable meals and moments. Today, Smucker is a leading marketer and manufacturer of fruit spreads, retail packaged coffee, peanut butter, shortening and oils, ice cream toppings, sweetened condensed milk, and health and natural foods beverages in North America. Its family of brands includes Smucker's®, Folgers®, Dunkin' Donuts®, Jif®, Crisco®, Pillsbury®, Eagle Brand®, R.W. Knudsen Family®, Hungry Jack®, Café Bustelo®, Café Pilon®, White Lily® and Martha White® in the United States, along with Robin Hood®, Five Roses®, Carnation® and Bick's® in Canada. The Company remains rooted in the Basic Beliefs of Quality, People, Ethics, Growth and Independence established by its founder and namesake more than a century ago. For more information about the Company, visit www.smuckers.com.