Get the recipe for these Hanukkah gingerbread cookies, a delicious nut-free parve dessert for your holiday table, taken from "The Holiday Kosher Baker" by Paula Shoyer.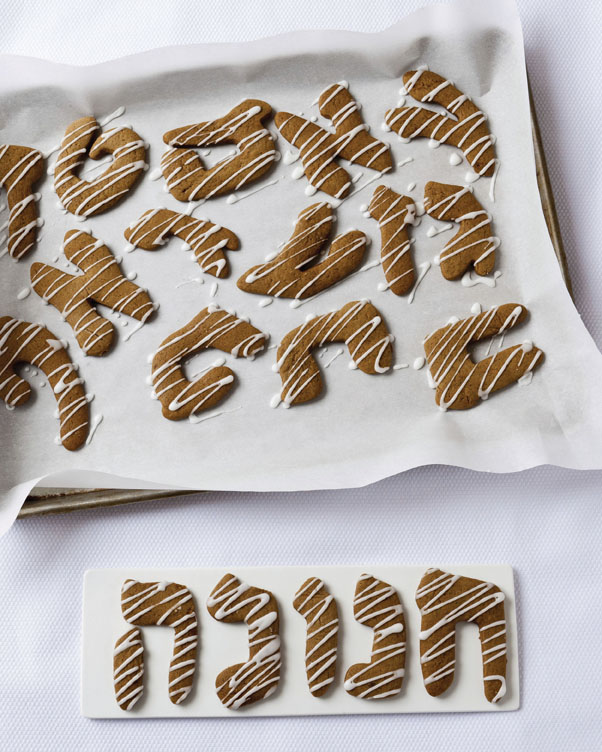 I thought this recipe would be easy to develop, but after two different friends tested the recipe and both pronounced it not spicy enough, I worked hard to create a full-flavored gingerbread cookie. The aleph-bet cookie cutters shown here are from thekoshercook.com.
Makes 30 three-inch cookies
Ingredients
For the dough:
¾ cup (1½ sticks) margarine
¾ cup dark brown sugar, packed
1 large egg
½ cup unsulfured blackstrap molasses
1 teaspoon pure vanilla extract
3 cups all-purpose flour
1 teaspoon baking soda
¼ teaspoon salt
1 tablespoon cinnamon
4 teaspoons ground ginger
1 teaspoon ground nutmeg
½ teaspoon ground cloves
¼ teaspoon ground allspice
For the glaze:
½ cup confectioners' sugar
1 tablespoon boiling water
Directions
1. Place the margarine and brown sugar in a large bowl. Beat with an electric mixer or by hand with a wooden spoon until creamy. Add the egg, molasses, and vanilla and beat until mixed in.
2. Add 2 cups of the flour, baking soda, salt, cinnamon, ginger, nutmeg, cloves, and allspice and mix with a spatula or wooden spoon; if you are using an electric mixer, mix carefully so the flour does not dust your face. Add the last cup of flour and mix until combined. The dough will be gooey.
3. Place two large pieces of plastic wrap on your counter. Place half of the dough on one piece of plastic and the remaining half on the other. For each half of the dough, fold the plastic over the dough and then flatten it into a pancake, about ½- to 1-inch thick. Freeze overnight.
4. Preheat oven to 350°F.
5. Remove one disc of dough from the freezer and let it sit for 5 minutes; you want to roll it out while it is just barely soft enough to roll. You will need to bake in batches. Take two pieces of parchment and sprinkle a little flour on one, place dough on top and then dust with a little more flour. Place the second piece of parchment on top of the dough and roll on top of the parchment to roll out the dough until it is a little thicker than ¼-inch thick; do not roll too thin. Every few rolls, peel back the top parchment and sprinkle a little more flour on the dough from about 10 inches high, so you do not get big white spots on the dough. Remove the top parchment and use it to line a cookie sheet. Line another cookie sheet with fresh parchment.
6. Use cookie cutters to cut out cookies and then use a metal flat-blade spatula to lift the cookies and place them on the prepared cookie sheets. Use a pastry brush on the cookies to dust off any excess flour. Reroll any scraps and cut more cookies, adding a little flour each time, taking care not to roll the scraps too thin. If the dough becomes too soft and gets stuck to the bottom parchment, put it in the freezer until it hardens slightly. Repeat with the second disc of dough.
7. Bake for 9-11 minutes, or until the cookies are set. When they are done, you should be able to press into them slightly. Slide the parchment off the cookie sheet onto a wire rack and let the cookies cool for 1 minute, and then use a spatula to lift the cookies onto the rack.
Tip: Bake 9 minutes for very chewy cookies, 10 minutes for medium chewy, and 11 minutes for crispy.
To make the glaze:
Put the confectioners' sugar into a small bowl. Add the boiling water and whisk well. Let the mixture sit for 5 minutes, and then drizzle onto the cookies. Once the glaze has dried, store the cookies in an airtight container for up to six days or freeze for up to three months.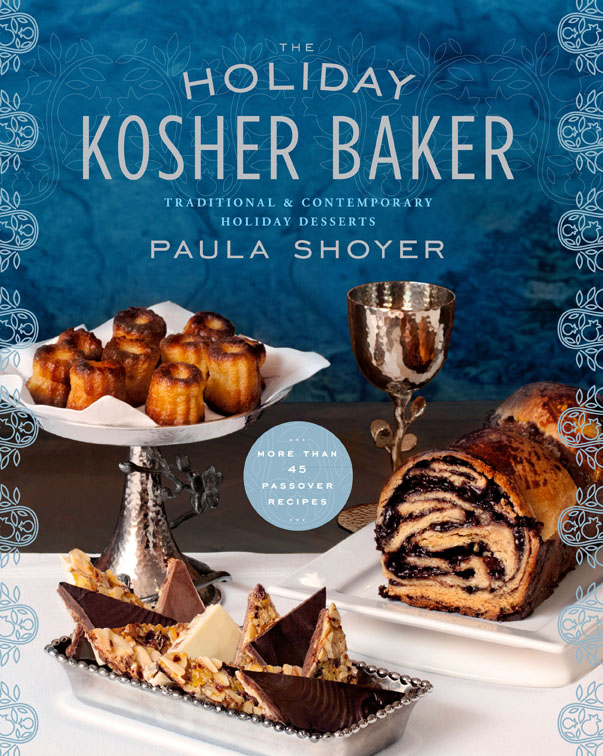 This recipe was reprinted with permission from The Holiday Kosher Baker by Paula Shoyer (©2013 Sterling Publishing Co., Inc.), which includes dozens of low-sugar, gluten-free, and nut-free treats to enjoy all year.