This original kosher recipe, from the cookbook "Passover Made Easy," calls for stuffed chicken thighs wrapped in oven-fried eggplant. It serves 4 to 6 people, making it a great meal for families during Passover.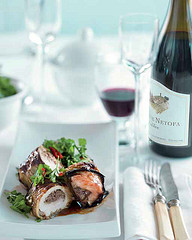 Servings: 4-6
Wine Pairing: Domaine Netofa Red
INGREDIENTS
Eggplant:
1 tall eggplant
½ cup oil
¼ teaspoon salt
Pinch of coarse black pepper
Meat Mixture:
3 tablespoons oil
1 onion, diced
2 garlic cloves, minced
½ lb. ground meat
½ teaspoon salt
½ teaspoon garlic powder
Chicken:
6 boneless skinless chicken thighs
¼ teaspoon salt
Pinch of course black pepper
DIRECTIONS
1. Preheat oven to broil. Grease a baking sheet. Cut eggplant lengthwise, ¼-inch thick, to get 6 or 7 slices. Reserve remaining eggplant scraps. Place eggplant slices on prepared baking sheet. Brush slices with oil and season with salt and pepper. Broil 5 minutes per side, until second side is beginning to brown. The slices should appear as if they were fried. Remove and set aside.
2. Preheat oven to 350°F.
3. Peel and finely dice remaining eggplant to obtain ½ cup diced eggplant. Heat oil in a sauté pan over medium heat. Add onion, garlic, and diced eggplant and sauté until soft, about 5-7 minutes.
4. In a small bowl, combine onion mixture with ground meat. Season with salt and garlic powder.
5. Season chicken thighs with salt and pepper. Place a tablespoon of the meat mixture into each thigh and roll up to close. Roll an eggplant slice around each stuffed chicken thigh. Place, seam side down and close together, in a baking pan. Cover and bake for 2½ hours.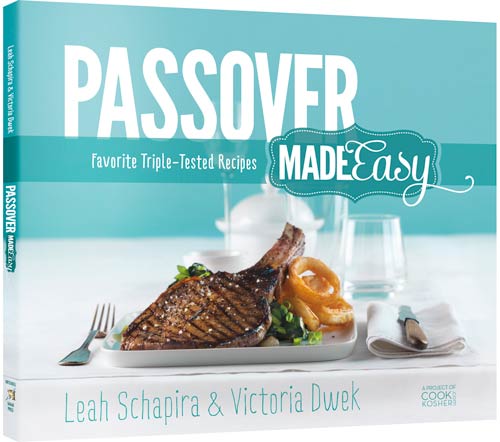 This recipe is from Passover Made Easy by Leah Schapira and Victoria Dwek (February 2013; $15.99), which features 60 easy-to-make kosher recipes, plating and serving tips, and a wine-pairing guide.
Also see: Recipe for 'Matzaroni' and Cheese

About the Authors
Leah Schapira is the co-founder of CookKosher.com, a popular online kosher recipe exchange, and the author of the bestselling Fresh & Easy Kosher Cooking. Schapira expresses her love of cooking through her food articles, her busy food website, and her exciting cooking demos and classes. Leah resides in New Jersey with her husband and family.
Victoria Dwek is the managing editor of Whisk, a popular kosher food magazine published weekly by Ami Magazine. Her feature articles take readers behind the scenes to learn from chefs and other professionals in the kosher food world. An experienced journalist and avid hostess, Victoria's work combines her passions for good food and good writing. She lives in Deal, New Jersey with her husband and children.