A Long Island family dedicates time to bring happy birthday parties to the homeless children on Long Island through Birthday Wishes, a nonprofit organization founded in Massachusettes in 2002.
Six-year-old Geanna presses her nose against a cold living room window pane in Huntington as she eagerly waits for her birthday party to arrive. The party-givers are late because their school bus is stuck in traffic. But, taking it all in stride, Jamie Rapfogel, MSW, keeps Geanna and the other young party guests busy with rub-on tattoos. Rapfogel has learned that when you're throwing a party in any one of the 23 family shelters she works with on Long Island, you have to be flexible.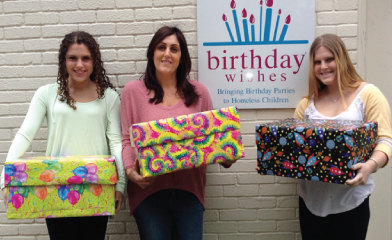 Jamie Rapfogel (center) with twin daughters Nicole (left) and Jessica outside the Birthday Wishes office.
Courtesy Jamie Rapfogel
Rapfogel is the Long Island coordinator of Birthday Wishes, a nonprofit organization founded in Massachusetts in 2002 that provides birthday parties for homeless children. Local chapters of Birthday Wishes throw monthly birthday parties at area homeless shelters for the children living there, which include games, goodie bags, cake, and gifts.
And for children whose families may have moved to permanent housing but are still struggling financially, the organization provides something called Birthday in a Box—a wrapped carton containing party decorations, paper goods, party games, presents, and, if the family has a kitchen, ingredients for a birthday cake.
How the Nonprofit Birthday Wishes Aids the Long Island Community
Currently there are about 150 families in Nassau County and 450 in Suffolk County on Long Island who are living in emergency housing, says Rosemary Dehlow, LMSW, CASAC, chief program officer of Long Island Community Housing Innovations, Inc., in Patchogue. Most are single-mother households facing a variety of circumstances that have lead to their lack of affordable housing. Dehlow says that the preferred term for their temporary homes is "supervised family residences." The goal is to get them into permanent housing, but until that happens, she says, one of the bright spots is the parties that Rapfogel brings to the children.
LEARN MORE ABOUT BIRTHDAY WISHES
at birthdaywishes.org, and on
the Long Island chapter's
Facebook Page.
You can also email Rapfogel at [email protected] to find out how you can help. She says there's always a need for donations of party goods, gifts, and helping hands.
"Jamie is one of the most successful volunteers I have ever seen. She brings tremendous joy to people," Dehlow says. "When she first came to me and asked if she could bring in the Birthday Wishes program, she said she wanted to stay close to her home [in Woodbury]. But that didn't last. She soon was doing parties all the way out in Hampton Bays."
Rapfogel says that's because once she saw the effect the parties had on the kids and their parents, she wanted to bring the celebrations everywhere she could. But, she adds, she doesn't do it alone.
"Birthday Wishes is primarily run by volunteers. We have many schools, clubs, organizations, and individuals across Long Island donating items, baking, wrapping, and coming to our parties to celebrate directly with the children," she says. "It is very moving to see the interaction and joy." Many times, it is the first time a child sees his or her name on a cake, receives a goody bag, or is given a bag of gifts. "Last month, a 9-year-old boy cried when we handed him his gifts. We arrive and often the kids are waiting, looking out the window calling, 'It's the party people!' When we leave they hug us with great big thank yous."
Volunteering with Your Family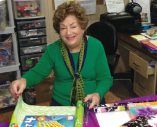 Birthday Wishes is an intergenerational effort. Here, Rapfogel's mother Norma Ehrlich helps out by wrapping presents. Courtesy Jamie Rapfogel
Rapfogel, who works part-time as a social worker, has made Birthday Wishes a family affair. In fact, she was attracted to the program when she learned about it four years ago because she was looking for a volunteer project she could do with her children—twin daughters and a son, now 15 and 19, respectively. She's also enlisted her 76-year-old mother, Norma Ehrlich of Centerport, who delivers the Birthday in a Box packages across Long Island, from Hempstead to the Hamptons. "She even got a bigger car to accommodate the challenge," Rapfogel says.
Twins Jessica and Nicole say they appreciate the intergenerational endeavor. "Our grandmother lives for these parties," says Jessica. "She really creates the party spirit and makes the parties special. This has brought all four of us closer."
As for the parties themselves, Nicole says she likes interacting with the kids, especially the teens. "Recently at a party I talked to a girl who runs track like I do, and I realized that while she has the struggles and stress of being homeless, as teens we have so much in common."
Back at the home where Geanna, the 6-year-old birthday girl lives, the teens from the Tri-M Music Honor Society at the Wheatley School in Old Westbury finally arrive with cupcakes, a colorful basket of party favors, presents, and an elaborate craft for the kids to do. The party begins, and the residents of the shelter swarm around the table, the moms as well as the kids. Though Geanna seems momentarily stunned by all the attention, she soon grins and dives into the activities, just like any birthday girl would.