Introducing...
Melanie Baker, Assistant Editor and Directories Editor
When I was little I kept a flashlight under my pillow. I wasn't afraid of monsters in my closet or scary shadows outside; I was a voracious, avid reader always hungry for the next chapter. I wasn't a total bookworm shut in, of course. While building my ever-expanding library, I played soccer, put on theatrical performances with my friends, went to the beach and learned I was too pale to return too often. I had a relatively normal suburban childhood in Westchester County until age 10 and somehow landed in the "Real Housewives" world of Greenwich, Connecticut (thanks to my dad switching jobs) for the fundamental middle and high school years of my life.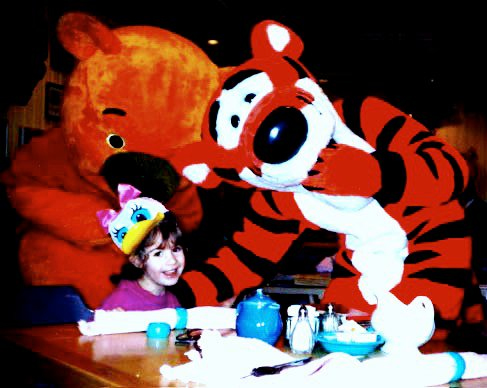 Me, Pooh and Tigger becoming fast friends at Disney World.
I'm guessing I was about 4 years old here.
Flipping through my mental scrapbook, it's clear that age 14 was not my best year. My parents followed suit with statistics and embarked on a divorce that rocked my world in all negative senses of the phrase. As much anger as I felt, I began to take more solace in literature and writing – poetry, non-fiction, novels, and short stories. On days when the split was too much to bear, I'd find myself having filled a quarter of my journal with poems (terrible ones at that), but the creativity began to flow.
Music had always played a significant role in shaping me as a person. I was dreadful (seriously) at piano, but always gave it my best shot. Listening to records and albums, however, had a transformative effect not only on my outlook on life, but had a profound impact on my writing. I distinctly remember when Coldplay released their album X & Y in 2005. I knew Coldplay existed and I knew front man Chris Martin was a demigod in the music world, but when my fingers hit play and the initial swell hit my eardrums, something inside me shifted; I no longer wanted to merely write, I was on a mission to tell stories through my words. I discovered Arcade Fire around the same time and immersed myself in albums and artists who so flawlessly communicated what sounded more like love letters and carefully crafted eulogies than bubble gum mindlessness (fear not, I still break it down to B. Spears on many occasions).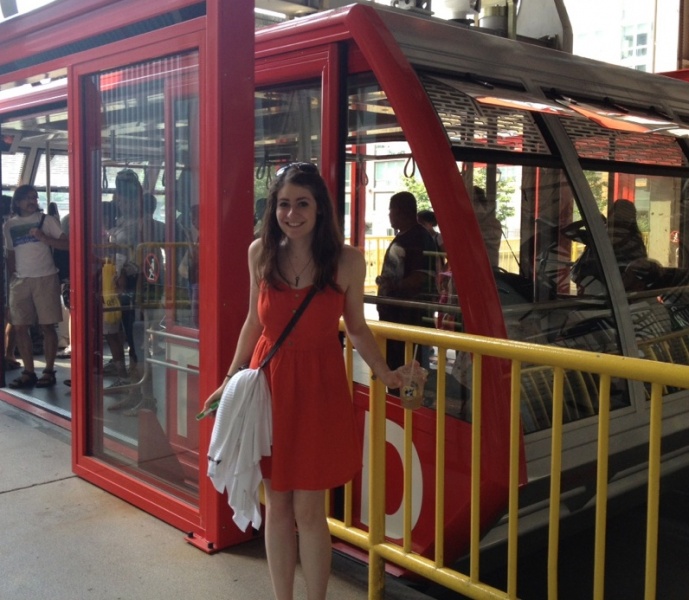 Here I am after adventuring on the Roosevelt Island Tram. Loving on all the spectacular treasures this city has to offer. Iced coffee permanently in hand, a la Mary Louise Parker in Weeds.
High school continued with its stereotypical highs and lows with football games, senior prom, and falling in and out of touch with friends for petty reasons none of us can remember. I took an unexpected path as college rolled around, leaving "Stepford" behind for Alfred University, a rural rural rural (did I say rural?) liberal arts college about 6 hours out of New York City. It came as no surprise that I chose a double major path, focusing on English and Theatre.
In my four years there I soaked up everything my professors had to offer, reported for the college newspaper, joined the English honors society, and constantly wrote. I'd stay up till the sunrise some nights putting finishing touches on literary criticism papers that gave me the same joy as dotting the last period on a poetic sequence. All the while, music was constantly around, seeping through my headphones, playing quietly in the background, and inspiring me. I learned guitar (acoustic and electric) with much greater success than the piano from a woodcarving hippie, who made his own instruments and promoted learning via all the songs I so deeply loved.
After graduating in May 2011, I immediately planted myself in the city that has always been my second home, my cultural playground – New York. While it's entirely apparent I don't have children, or don't foresee any little versions of me running around for quite some time, I love coming to work each day to bring my perspective to the wonderfully chaotic, beautiful and exciting world of parenting in the NY metro area. Here's to loving life, one word and song at a time.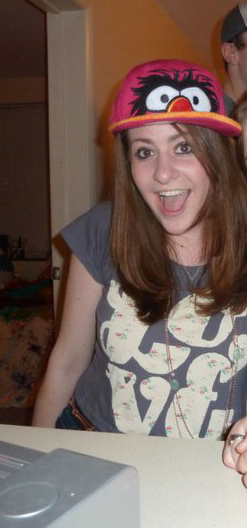 Just for kicks, to prove grownups don't have to be grown up:
My love of animal hats is unwavering, and I'm proud of that!
To keep in touch, follow me on Twitter @melaniejbakes or check out my portfolio at melaniejbaker.weebly.com.