Introducing...
Kara Faulk, Fall 2012 Editorial Intern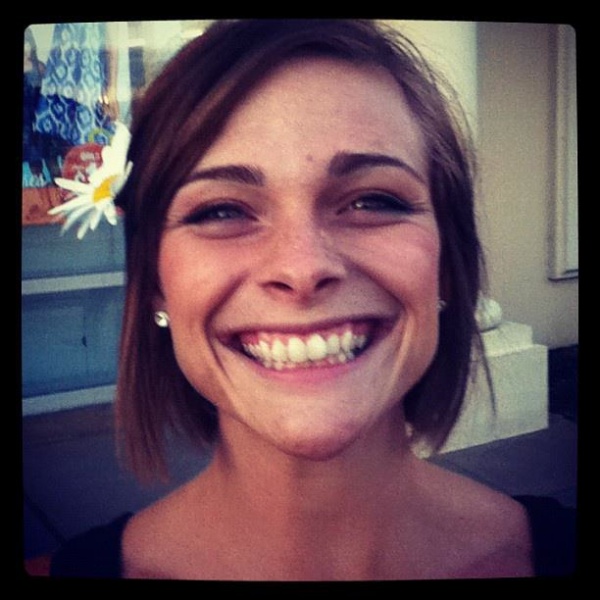 I grew up near Huntsville, Alabama (if you've heard of a city in the vicinity of my hometown, that's the one), in a family that will be sure to make you laugh if nothing else. My dad plays guitar and is incredibly talented at working with horses, and luckily he has the passion it takes to be successful in that sort of work. He taught me what it is to enjoy what you do when he left his secure job of 20 years to pursue the thing he really wanted to do. My mother always had quotes from brilliant, 19th-century authors on the chalkboard in her classroom and began correcting my grammar before I could get more than a few words out (though I fear she regretted that tactic when she began dating again and I corrected the grammar of a man who dropped her off from the movies). They are married now, so I guess it turned out okay. My brother and sister are twins, and I wish that I could express the immensity of my love for them, but I simply cannot; they are my world. It's funny that two kids that seemed so incredibly obnoxious to me at one time now help to keep me sane and contain all of the secrets that I wouldn't dare share with another soul. My mother and her husband love to travel to any place tropical; my father and his wife have seen almost every state through which you can ride a horse. I guess you may safely assume that my zeal to see the world came from my parents. My family is encouraging to say the least, and full of wanderers and free spirits. I will just call them inspiring.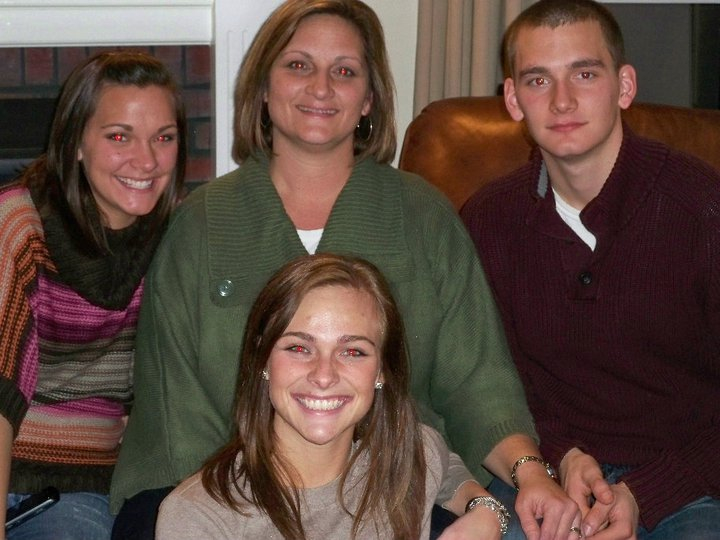 Kara (front, center) with sister Anna Faulk (left),
mom Debbie McMickin (back, center), and brother Jesse Faulk
I graduated from Athens State University in August of 2012 with a Bachelor of Arts degree in English and a minor in gender and multicultural studies, and I wouldn't have it any other way. Dr. Elmore and Dr. Dupre taught me what it is to express creativity, to embrace the difference that consumes me and sets me apart from other writers. For that, I am forever indebted to them. I often have withdrawal from the lectures that seemed more like book-club meetings, and I know that I chose the right field of study though many people told me there was "no money in it." I love classic literature, and I love works of feminism, but I'll read anything once.
You can call it cliché that I always wanted to move to New York City and become a successful editor, but it's true. I can provide old, worn-out journals as proof, if needed. When all my girlfriends were talking engagement rings and babies, I was talking brownstones, books, and all things editorial. When I run in Central Park, read on the subway, or visit the MOMA, I know that I didn't romanticize New York City to be something that it's not; it really is everything that I dreamed it would be. This job reminds me that I chose the right field because, like my father, I understand the importance of waking up and knowing that you are doing something that matters to people, or even just one person, or even only to you. I understand the importance of going to work excited about what the day holds and feeling like you've accomplished something for you and only you. Now, I pity those that chose their field for any reason other than the hope that it would bring sheer happiness and self-fulfillment, and I'm not going to lie—I get some sort of sick satisfaction in knowing that all of those people that said I couldn't were oh-so-very-wrong.
I am a long-distance runner, a writer, a reader, a guitar-player, and a lover of The Beatles, Frank Sinatra, and Audrey Hepburn (call me an old soul). I drink way more coffee than I should, and for that reason, I love cold weather. On any given terrible, no good, very bad day, Sex and the City or Breakfast at Tiffany's can turn it all around. I love to travel, but most of all, I love where I am right at now. When my father left me here in New York City, he said, "You will always know the way back home," but most importantly, he continued, "Be safe, be brave, be you. People will love you if you are just you. You'll be best at that." I haven't forgotten those words, and I probably never will. I plan to be me and let that be something here in "the" city. New York isn't for everyone. My dad was a fish out of water here, but he lives his dream by making a difference in his little corner of the world in the same way that I hope to make a little difference in mine. New York City is where I've always wanted to be, it's where I feel that I belong, and it's where I know that I can make a difference. Twenty years from now, I hope you can find me in Manhattan, a successful editor with a huge apartment and nieces and nephews to visit. Maybe my book will be at Barnes & Noble. Hey, you can't dream too big.
Meet all of the NYMetroParents Editors