Introducing...
Leeann Moreau, Fall 2012 Editorial Intern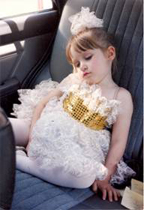 In the car, right after my first dance recital
Hailing from a sleepy coastal town in Massachusetts, I spent the majority of my life in my grandmother's enormous boarding house used exclusively by family members. Although I'm an only child, I grew up with surrogate brothers and sisters that came and went after a few years. I kept busy with ballet, violin lessons, and soccer as a child, but what I really loved was reading. (My bedtime stories were Lord of the Rings, The Chronicles of Narnia, and Harry Potter, so it's no real surprise.) The first novel I really fell in love with was The Secret Garden in fourth grade. It was required reading and I finished before everyone else, leaving me wondering how my classmates could possibly put it down. Once I started, I couldn't stop. The librarians knew me by name and I burnt through two to three books a week. After a healthy diet of novels, I was inspired enough to start writing on my own—journals, poetry, short stories, and I even completed a terrible novel only those closest to me were allowed to see in high school. I like (metaphorically) dipping my fingers into everything, so I also tried my hand at theater, Model UN, and orchestra during that time.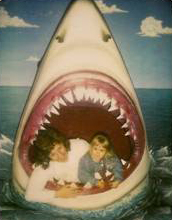 Reliving Jaws with my Mum at a museum
exhibit on the Cape when I was 2.
After high school, I passed up a tempting bribe from my mother for a new car (provided only if I went to the local UMass) and set off for college at Pace University in the bustling underbelly of New York City. I fell in love with everything I came into contact with, from museums to Broadway shows, street fairs, farmers markets, and different music venues. Along the way, I declared myself an English major with the intent of going into the publishing business. My first job in the city was a fulfilling and fitting position with Jumpstart, where I assisted the teacher of an underprivileged preschool in developing learning skills in 3- to 5-year-olds.
I've spent the last four years studying with the intent of becoming a journalist or a publisher, but I have slightly altered my career goals and ideally would like to save the world before it melts. Once I finish up my senior year at Pace University this spring, I'll study biology and math courses for a year before attending grad school for environmental science.
Meet all of the NYMetroParents Editors