Keeping up with holiday family traditions can be harmful to your health and sanity. One mom encourages you to change how you celebrate and make your family traditions more manageable.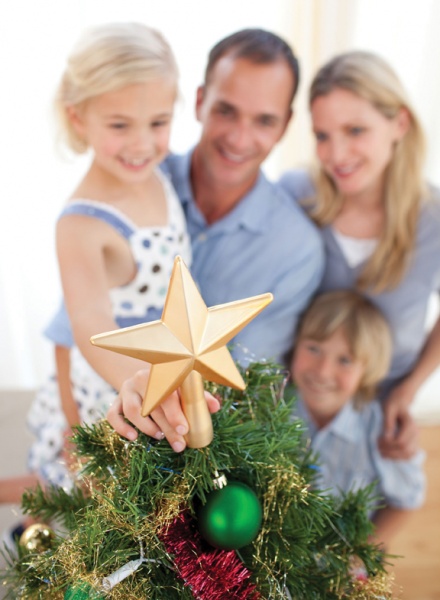 It's not surprising that plays and movies often show family psychodramas bursting out into the open on major holidays like Thanksgiving and Christmas. It's not only that we're often thrust together with more members of our extended families and conflicts can arise, but we also have such high expectations. We've seen all the sentimental movies, magazines, and commercials about family holidays, and most of us have wonderful childhood memories of intense anticipation and excitement. Often, parents have worked very hard ahead of time to create memorable gatherings, and if something goes wrong, we feel crushed. Or exhausted. Or both.
So before getting into fun ideas for celebrating lots of different special holidays, here are a couple of ways to prevent holiday burnout.
Planning Tips
If you are celebrating something for the first time, don't overdo it. Be realistic in the number of activities you plan, the number of people you invite, and the number of new recipes you decide to prepare.
If you're celebrating an occasion you've marked previously, when it is getting close, do a quick evaluation of how it went the last time or last couple of times. Ask other members of the family, too, for their suggestions. If it felt overwhelming, figure out which foods, activities, and decorations were the most fun and rewarding, and skip a couple of the others. Sometimes more is less.
Changing Traditions
Just because something has been a tradition in your family for years doesn't mean it has to be in the future. There are many different reasons for making drastic, as well as minor, changes. Perhaps your children have outgrown the annual Easter egg hunt or are too old to leave cookies and milk for Santa. Maybe the matriarch or patriarch of the family has died, or moved, and you need to change both where and how you celebrate. Or maybe someone who has been doing the heavy lifting tradition-wise is injured or suffering from a chronic illness.
When author and family educator Kathleen Chesto was diagnosed with multiple sclerosis in 1986, she had to make considerable changes to her holiday plans. Her kids were old enough to be able to help with the cooking, so she put this question to them: Would you like to prepare our traditional feast yourselves, or should we pick a new menu that's doable for me? They chose the latter, so the family switched from turkey to roast beef for Thanksgiving. Kathleen says it was a positive exercise because the whole family realized that being together was the centerpiece of their holidays and was more important than what they ate. They revisited the issue later, and when the kids got a little older, they switched back to more elaborate menus: They were ready to do the cooking themselves.
One more example: I know a family that had stopped celebrating Christmas together. Their parents had divorced when the children were young but in later years still insisted on having fancy, formal dinners together for holidays. Everyone was miserable, suffered from indigestion, and began to dread the holidays. When the kids grew up, they all went their separate ways. But when they began to have children of their own, one sibling raised the idea of getting together for Christmas. The response was: only if we can completely reinvent the ritual for our generation. The new tradition is the opposite of their childhood dinners, a completely informal seafood feast. They throw tablecloths on the floor, eat with their hands, drink a lot of wine, and laugh a lot.
Also see:
How Do I Budget For Holiday Gift Shopping?
How to Get Holiday Shopping Done with a Toddler in Tow
How to Avoid Fire Hazards During the Holidays