A local charity in Long Island, Moms Who Kick, is fighting breast cancer by raising money for breast cancer research and increasing awareness about breast cancer.

In the spring of 2010, sisters Nicole and Stephanie Seregos of Long Island were diagnosed with breast cancer just days apart from each other. The two fought the disease together, with the support of their sisters Laura and Marina and Stephanie's infant daughter. After treatments, Nicole recovered, but Stephanie's cancer spread throughout her body, ending her life in April of this year at age 33. But Stephanie's legacy lives on, thanks to Moms Who Kick, an Oyster Bay-based charity that has been raising money for breast cancer research since 2008.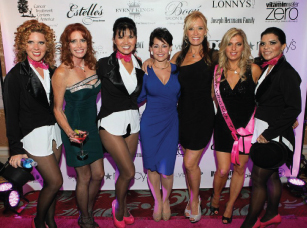 Some members of Moms Who Kick at the group's Hollywood-themed gala at the Garden City Hotel in October. Left to right: Ms. January '14 Allison Koppel; executive vice president Laura Hartman; Ms. November '13 Asia Lee; wellness advisory board member Donna Martini; founder Joanne Hutchins; Ms. February '12 Deborah Adler; and Ms. June '13 Elena Sanchez.
Moms Who Kick sponsors fitness classes and educational seminars throughout the year, but its biggest fundraiser is its annual calendar that features photographs and stories of Long Island moms who have survived or are fighting breast cancer. The cover of the 2013 Moms Who Kick calendar pictures the three surviving Seregos sisters (Laura is a previvor who underwent a mastectomy after being told she was at a high risk for developing breast cancer), with a story about Stephanie included inside. It is a testament to the charity's belief that sharing the stories of ordinary women is both inspirational and a motivating factor in the recovery process.
The first Moms Who Kick calendar, produced in 2008, included only moms older than 40 who were affected by breast cancer and practiced mixed martial arts. The idea came from the group's founder, Joanne Hutchins, whose mother had just been diagnosed with breast cancer. Hutchins was inspired to do something to support breast cancer research, and the answer came in the form of a photograph—specifically, the "after" photo she received when she completed a 90-day mixed martial arts class. In it, Hutchins is clad in a bikini that shows the result of her hard work. She decided a calendar shoot featuring other fit moms would be both fun and motivational, and the profits would benefit breast cancer research. "The easiest way to reduce the risk of cancer is to stay healthy," says Laura Hartman, a long-time friend of Hutchins and executive vice president of Moms Who Kick. "What we do is inspire and motivate moms to choose a healthy lifestyle."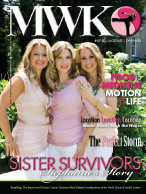 Laura, Marina, and Nicole Seregos appear on the cover of the 2013 Moms Who Kick calendar, which features a story about their sister Stephanie's battle with breast cancer.
For two years, proceeds from the sale of these calendars were donated to the American Cancer Society, and by 2010 Moms Who Kick grew large enough to become incorporated as a public charity. By then, it was donating money to hospitals and research studies throughout Long Island.
Around the same time, Hutchins updated the scope of Moms Who Kick to include women involved in all types of fitness, the goal being to promote the charity's motto: A healthy lifestyle can help prevent cancer and also allow for recovery. "The photo shoot is extremely empowering for a survivor," Hartman says. "It's a way to give back to these women everything they have lost."
Beginning with the 2012 Moms Who Kick calendar, Hartman launched a "Model Mom" contest as a way for mothers of all ages affected by breast cancer to share their stories. To enter, applicants pay a $25 fee and submit photographs and biographies. "Eighty percent of the winners are based on the bios, not [on] their looks," Hartman says. Moms Who Kick is currently accepting entries for its 2014 calendar through Feb. 28.
Moms Who Kick receives sponsorship for its calendar and its year-round fitness-oriented events from individuals, local businesses, and corporate sponsors such as Vitamin Water and Macy's. In light of Hurricane Sandy, the group is working with Island Harvest, Long Island's largest hunger-relief organization. But the organization mostly relies on the help of volunteers, and helping hands come form across the tri-state area, Hartman says. Throughout the year, people reach out to Moms Who Kick to offer event spaces for the group's seminars and teachers for its fitness classes. This high level of community involvement is what helps the organization continue to grow. "The possibilities of where it could go now blows my mind," Hutchins says.
For more information on Moms Who Kick, visit momswhokick.com.

Do you have a story to share of someone on Long Island who is making a difference for families here? We're looking for parents, grandparents, and community leaders who have created a program, project, or event to champion a cause that specifically impacts parents in the often-challenging tasks of raising children. Send your suggestions to [email protected] so we can feature them in Long Islander Spotlight.