One Queens family attended Family Camp at Frost Valley's YMCA in the Catskill Mountains. They discovered new activities and interests. Here's what mom Nancy Johnson-Horn thought about their experience.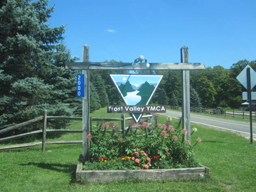 Remember those golden days of summer camp when you could go boating on the lake, take a relaxing hike, or just chill in the arts and crafts room? This year, my husband and I, our three children (ages almost 7, 4 1/2, and 2), and my in-laws were fortunate enough to spend the week at Family Camp at Frost Valley YMCA in the Catskill Mountains of New York, held once a year during the last week of August.
My two older kids had been at a local camp all summer, but this time we would get to join them in activities. Growing up, I spent many summers at camp where I enjoyed water activities, like swimming and boating. I loved being on the lake and in the lake. As parents, my husband and I were ready to throw off our adult responsibilities and just hang out with our kids. I didn't mind that I wouldn't have to cook for the week (or clean). We were excited to go boating and sing around the campfire with our children.
Freedom to Explore
Living in the city, I watch my kids very closely, but we were comfortable giving them a little more freedom at Family Camp, especially during meals. While we didn't let the 2-year-old go off on his own, we let the older kids run around and venture through the dining hall while we finished our meals—something we would never do at home in the city!
Unlike regular summer camp, participation in all activities is voluntary. Boating and archery quickly became faves, with all of us taking turns (someone had to watch the 2-year-old!). My oldest son, in-laws, and husband really liked hiking, while my daughter and I preferred the arts and crafts room. Though they didn't get very high up, my two older kids tried rock climbing for the first time and had fun. Needless to say, my husband had more success with it (and almost got up to the top).
My 4½-year-old and almost 7-year-old were able to do all the activities offered at Frost Valley, but my 2-year-old was not. For example, the available life jackets to go boating were for kids 30 pounds and up, so if you have a child under that (my 2-year-old is 25 lbs), bring your own. Since he's young, he didn't know he was missing out and had plenty to keep him occupied like running around on the grounds, chasing geese, and watching horses—there are 78 horses for riding at Frost Valley!
Nancy's oldest child, 7 years old, rock climbed at Family Camp.
At home in Queens, he is usually one to complain of boredom, says Nancy.
But she didn't hear that even once while at Frost Valley.
Five Nights, Six Days and a Lot of Activities
What's great about Family Camp at Frost Valley is that you can do as little or as much as you want. Here is a snapshot of our routine:
Early Morning: As Frost Valley is a YMCA Camp, which has mentions of Christian-Judeo and is non-denominational, they sing "Grace" at every meal. We're Jewish (as were some of the other campers we met), but it was absolutely fine and we never felt awkward. We made friends with families who have been coming to Frost Valley for 20 years. We prepared for the day and filled a backpack with things we'd need until after lunch. At breakfast (served 8am-9am), each family is assigned a table. We drove from our lodge Kresge (it was too far to walk from our lodge), and since we have a 2-year-old, we always had a stroller with us. Frost Valley provided us with a new booster seat with a tray. Everyone serves themselves and then cleans up after the meal. Frost Valley composts and uses eco-friendly napkins (that can be composted).
Morning: After breakfast, you decide what you want to do, selecting activities from the packed schedule like three days of early morning hikes, two activity periods in the morning, and two more activity periods after lunch.
If you prefer to have some time with your spouse or family members, kids older than 4 can be dropped off with counselors for a couple of hours (this also happens after lunch). This is free and you sign up when you drop them off. My daughter loved being with the other kids, my oldest son wasn't as into it, so he stayed with us.

Lunch, 12-1pm: The food was delicious for dining hall food! As someone who has spent a lot of years at sleepaway camp, I was astonished at how tasty the food was at Frost Valley. There was something for everyone at every meal, and the kitchen used vegetables grown on Frost Valley YMCA's Organic Farm. Two salad bars were offered at every meal; a regular and a dairy-free version.
Post-Lunch: Activities and the Kids Camp resume right after lunch. I used this time to take the baby back for a nap while my older kids would participate in an activity of their choosing. Usually they ended up hiking around the lake or going boating with my husband and in-laws. My oldest child has a lot of energy, so hiking was a great option for him. My middle child is 4½ and can't walk as much as her big brother, so my husband carried her on his shoulders. They always came back happy after their afternoon hikes.
Pre-Dinner: We usually hit the Toddler Room, located in the Wellness Center (which is always open) before heading to the dining room for dinner. Filled with two activity tables, toys, a computer, and blocks, it was great for my kids to let off steam and unwind from the day's activities.
Dinner, 5:30-6:30pm: We noticed there was always a vegan option. There was always a kid-friendly option, like noodles, chicken nuggets, hot dogs (with chili to top it with), etc. Peanut butter and jelly was also always offered. There are no soda machines or vending machines on site. If you want snacks for your cabin, bring your own (and make sure you keep it secured so no critters get to it!). While a dessert was served at lunch and dinner, everything was healthy and fresh (and local if possible).
If you need something off campgrounds, expect to drive 20 minutes to reach the nearest deli or around 35-40 minutes to the nearest supermarket. The nearest Wal-Mart is in Monticello around 45-50 minutes away.
Post Dinner: Frost Valley had various programming at night like the popular World Service Auction and square dancing, but we didn't end up doing any activities after dinner because my kids were tired from the very full day and normally go to bed at 7:30 anyway. The one time we went out after dinner was the Hay Ride, which wasn't as pleasant as we thought it would be. There were too many people stuffed into the wagon and the teenagers next to us were annoyed by my squirmy children. It also lasted much too long for my kids.
Nancy takes her youngest to see and pet the horses.
"If I could do something different I would have liked to go horseback riding!
The kids got to do it, but I was busy watching my 2-year-old."
Details
What to Bring: Warm clothes are a must, as it gets chilly at night, but don't forget a raingear, bathing suits, water shoes or flip-flops, extra socks, cotton T-shirts, and shorts. Bring at least one or two sweatshirts and sweatpants/jeans per person. You'll also need to bring a flashlight, shampoos, body washes, sunscreen, bug spray (a must), sneakers that you won't mind getting dirty, hiking boots (if you plan on hiking a lot), beach towels for swimming, sunglasses, and goggles (if you or your child use them).
There's no television in the cabins, so you may want to bring a laptop or iPad with movies loaded and plenty of books. Don't be surprised if you don't actually watch too much—there's plenty to do, even at night. One family in our lodge brought long wooden sticks for s'mores and built a fire one of the nights, which was pretty cool. Bikes are welcome and it's common to see kids riding all over the campgrounds (kids younger than 14 are required to wear helmets).
Cost:? For a family of 4 (2 adults, 2 kids 6-17) prices begin at $963 for Sunday lunch through Friday breakfast. Practically everything is included in the fee - all meals, lodging, and events. The only charges we found were per pony ride ($10 a child) and Japanese Garden making (another small fee). For more information, contact [email protected]
Nancy Johnson-Horn lives in Queens County with her husband and three children. She is the founder of TheMamaMaven.com and TrumpetingMedia.com. You can also find her on Twitter at @NancyJHorn.
Also see:
Camp Countdown: Friendship Bracelets
Camp Countdown: Get Ready for Summer 2013