The Wikki Stix Birthday Calendar allows children to decorate each month, get excited for friend and family birthdays, and help with birthday planning. It may even inspire them to make homemade birthday cards!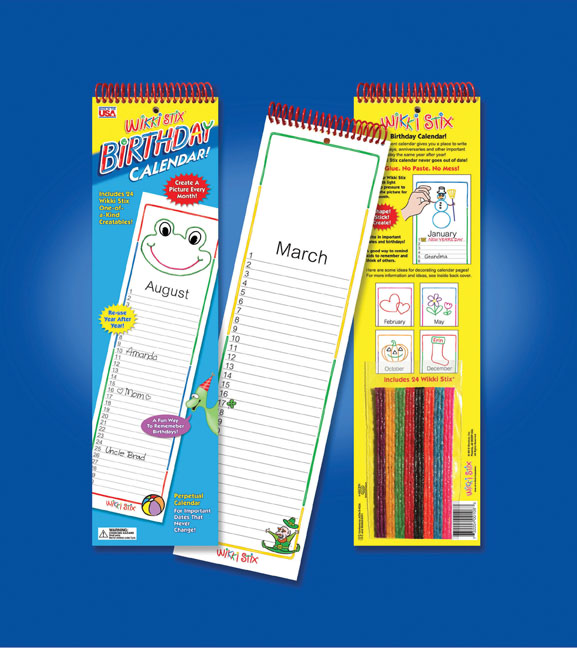 Wikki Stix Birthday Calendar ›› We know your kids anxiously count down the days until their birthday finally arrives each year (hence, the advent of "half" birthdays). Heck, some of us still get antsy when our own birthdays approach. So why not get your child excited about friend and family birthdays, too? Wikki Stix has created the perfect way for your child to remember and think of others on their special day.
The Wikki Stix birthday calendar—a perpetual calendar, so you never have to worry about it going out of date—comes with a pack of 24 Wikki Stix for kids to create their own picture for each month. Made of yarn and nontoxic wax, the allergen-free Wikki Stix are mess-free (no accidental coloring on the table or carpet), glue-free, and stick to just about any smooth surface without leaving any residue. Kids can peel, bend, shape, cut (maybe Mom or Dad should handle the scissors), and stick in whatever shape they want. And when they want to change the picture for the next year, no worries: Wikki Stix easily peel apart so your child can create a new masterpiece. Use the calendar as a prompt to handcraft birthday cards—one more occasion to spend creative time with your child, and undoubtedly a treasure for the lucky birthday recipients (I'll take a construction paper card over a Facebook greeting any day!).
Fun for the young and young at heart, we wouldn't be surprised if you want to get in on the Wikki Stix fun, too. (wikkistix.com; $9.95)
Happy AUGUST Birthday to…

Neil Armstrong, the first man to walk on the moon (Aug. 5) ... Wallace of Wallace & Gromit (Aug. 7) ... Sesame Street's Mr. "Snuffy" Snuffleupagus (Aug. 19) ... Pooh Bear's friend Christopher Robin (Aug. 21) ... Tim Burton, director of
Frankenweenie (Aug. 25)
Your Party Planner
Search our extensive directory of resources including party places, entertainment, and more.
Get ideas: We've got fun party activity ideas, tips (like planning the perfect birthday bash), how to take the best pictures of your kids, and so much more.