This fall, kids in Rockland and Westchester counties will be able to get fit and learn about a healthy lifestyle by participating in a pilot program at Bounce! Trampoline Sports. The kids who participate in the pilot program will help develop a fitness program for kids in the future.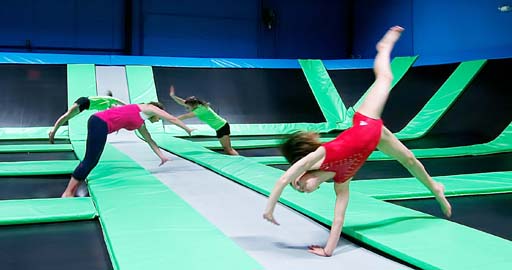 Bounce! Trampoline Sports is introducing a new pilot program for kids 12-15 that will have kids bouncing off the walls, literally. The Get Fit and Feel Great program will introduce kids to organic foods, fun ways to stay in shape, and tips to maintain a healthy lifestyle. Bounce! is partnering with the Rockland County Farm Alliance and nutritionist Dr. Michael Wald of Mt. Kisco to sponsor this program that will ultimately become a regular program at Bounce!.
Bounce! regularly offers fun for all in their 25,000 square foot space of interconnected trampolines along the floor and walls that has kids lining up day and night. With the dodge ball and basketball options in the facility, it is no surprise that kids can't wait to participate in these unbeatable combinations that help kids stay in shape.
Kids participating in the program will meet one on one with Dr. Michael Wald, Director of Nutritional Services at Integrated Medicine of Mount Kisco every week to talk about their goals and weigh in, to talk about which activities the kids enjoy the most, and to suggest healthier food choices.
The Rockland Farm Alliance, based at Cropsey Farm in New City New York, will provide organic and locally grown vegetables for the kids so they can try new foods grown right in the county. A trip to the Farm is also planned during the program to talk about how caring for the earth affects the foods we eat.
Head fitness trainer at Bounce! Trampoline Sports and former Cirque acrobat Victor Byrne, who oversees all classes and gymnastics training at Bounce!, will run each class, working with the participants to develop new activities and programs.
The 25 children in the program will set personal goals and monitor their progress. Feedback will be collected on what is working for them and what they might recommend for future programs. The fee for the pilot program is only $195 and registration starts Aug. 1st.
"This course has to do with self respect, eating right, and having fun. The kids involved are going to learn to take pride in themselves," says Danny Fied, co-owner of Bounce! Trampoline Sports in Valley Cottage. Visit their website for more information on the pilot program.
Bounce! will kick off this pilot program on Sept. 15!
Also see:
Snacking Explained: How Kids Regulate Caloric Intake
A Doctor's Advice on Raising Healthy Children