Two young Long Islanders of Nassau County will head to Washington, D.C. to join nominees for America's top youth volunteers of 2013. The two have been awarded the Prudential Spirit of Community Award for their dedication to volunteering in the Long Island community.
Samuel Lam, 17, of Old Westbury and Cory Nichols, 12, of Oceanside have been named New York's top two youth volunteers of 2013 by the Prudential Spirit of Community Awards, a nationwide program honoring young people for outstanding acts of volunteerism.
Samuel, a senior at Jericho Senior High School, co-founded the End to Cyber Bullying Organization, a nonprofit that is working to educate both young people and adults about cyberbullying and provide support to those who have been victims of online harassment. The project was born out of Samuel's first-hand experience with cyberbullying in eighth grade, when a bully and his friends "plastered my Facebook wall with vitriolic statements and racial slurs," Samuel says. "I had no idea whom to turn to for help."
This experience spurred Samuel to create a website featuring news and statistics about cyberbullying, along with tips on how to prevent it. Then he began enlisting help from classmates, making presentations at middle and high schools and using social media to broaden his audience. So far the campaign has attracted more than 200 volunteers, sparked youth initiatives in numerous states as well as Great Britain, China, and Australia, reaching more than 4.5 million individuals worldwide.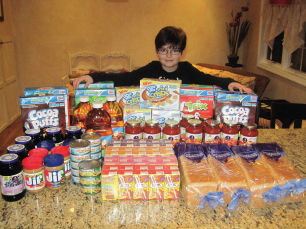 Cory Nichols. Courtesy Prudential
Cory, a seventh-grader, at Oceanside Middle School, has committed to donating $100 worth of food to a local food pantry each month for an entire year and is so far greatly exceeding his goal. In just the first two months of his project, which he dubbed C the Difference: Cory Cares, Cory raised $3,000. Cory knew he had to help feed the hungry after watching an HBO documentary about the hard times many people were going through on Long Island.
"I realized that people all around me, people who I am sure I go to school with, are suffering with hunger," he says. Every month, Cory contacts the food pantry to find out its specific needs, carefully peruses grocery store shelves for bargains, delivers bags of food to the pantry, and even stocks the shelves himself. "It is so rewarding," he says, "seeing the shelves go from empty to not so empty."
As State Honorees, Samuel and Cory each will receive $1,000, an engraved silver medallion, and an all-expenses-paid trip in early May to Washington, D.C., where they will join the top two honorees from each of the other states and the District of Columbia for four days of national recognition events. During the trip, 10 students will be named America's top youth volunteers of 2013.
The awards program, which received 28,000 applications this year, also recognized eight Distinguished Finalists from New York, including Kevin Chaves, 16, of Northport; Stephanie Kaufman, 17, of Westbury; Adam Moss, 17, of Rockville Centre; Steven Trezza, 17, of West Hempstead; and Alec Urbach, 17, of Roslyn Heights.