TIPS TO HANDLE MYSTERIOUS TWEEN BEHAVIOR DURING HALLOWEEN
Related:
tweens trick-or-treating
,
tweens resisting Halloween
,
middle-schoolers heightened self-consciousness
,
tween's fight for independence
,
As children become tweens, they may begin to resist Halloween and trick-or-treating with younger siblings. Middle-schoolers' heightened self-consciousness may cause them to worry about how people perceive them, especially if they are dressed up. A psychology professor shares tips on how parents can handle these behaviors, as well as their tween's fight for independence.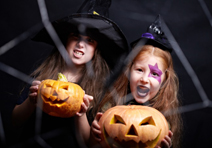 Every Halloween, little princesses, pumpkins, and pirates go door-to-door for the annual candy fest. It's a night for kids to be kids and a great time for family fun.
At some point, however, children reach an age when trick-or-treating can feel juvenile. Moms and dads, accustomed to the yearly ritual of costuming their miniature ghosts and goblins, need not be spooked.
Pam Vincent, Ph.D., a psychology professor at Ashford University, offers insights on understanding children's motivations and parenting tips for transitioning tweens to a more grown-up Halloween. According to Vincent, children usually begin resisting Halloween traditions, especially trick-or-treating, around age 12.
Although they aren't yet full-fledged teenagers, even middle-schoolers may experience what is known as 'adolescent egocentrism,' which is a heightened self-consciousness, leading them to assume that everyone else is as worried about their appearance and behaviors as they are.
"They often feel as though they are on an imaginary stage and that everyone thinks they may look silly in a costume or that they are—gasp!—hanging out with their parents and younger siblings," said Dr. Vincent. "To go out in public—door-to-door—and invite people to look at them can be mortifying at this age."
The fight for independence from their parents' rules and routines is another reason tweens want to stop trick-or-treating. "While they still require parental supervision, they are also more self-aware and begin to realize they can make some of their own decisions," Dr. Vincent said. "They're ready to test their limits to see how far their parents will let them go." She offers these tips on what to do:
1. Communicate: It's essential to communicate with the child and acknowledge their reasons for not wanting to participate. If going door-to-door isn't a big deal for the family unit, let it go and have the child help in handing out candy to others.
2. Reward Good Behavior: If there are younger siblings who still want to trick-or-treat and parents aren't comfortable leaving the older child at home alone, or if there is an event that the whole family is expected to attend, parents should allow their tween as much independence as possible in choosing a costume and acknowledge their cooperation and participation.
3. Other Options: There are plenty of ways older children and pre-teens can get into the Halloween spirit without going door-to-door. If none of their friends have a supervised party planned, families may wish to throw their own! Otherwise, a local library, community center or church youth group often sponsors age appropriate events.
4. A Sweet Alternative: If all else fails, put tweens in charge of candy duty. Even if they don't want to open the door, perhaps they'll be willing to make sure the bowl is always fully stocked, all the while doing a little taste testing for themselves.
Dr. Vincent notes that tweens are just beginning to form their identity, which lacks the stability of an older teenager. Sure, tweens will test their boundaries to see how far they can go, but it doesn't have to be a frightful experience for their parents.
Ashford University is defining the modern college experience by combining the heritage of a traditional campus with the flexibility and effectiveness of online learning. The University offers practical and progressive associates, bachelor's and master's degree programs online, as well as bachelor's degree programs at its Clinton, Iowa, campus. For more information, visit ashford.edu.
Find more Halloween tips, advice, activities, and giveaways at nymetroparents.com/halloween!
---
Get Your FREE Indoor Activity eGuide!
---
More Mental Health & Depression Articles
How to Recognize Depression in Your Child
Q&A with Tina Traster, Mother of an Adopted Child with Reactive Attachment Disorder
Ask the Expert: Braces, Bullying, and Self-Esteem
Study Shows Frequent Facebook Use Linked to Eating Disorder Risk
Child Mind Institute Promotes 'Speak Up Sundays' in May