Victoria Kann, co-creator of the Pinkalicious series, shares several recipes from her new Pinkalicious Cupcake Cookbook, including how to make Pinkalicious cupcakes with buttercream frosting and star wands with royal icing.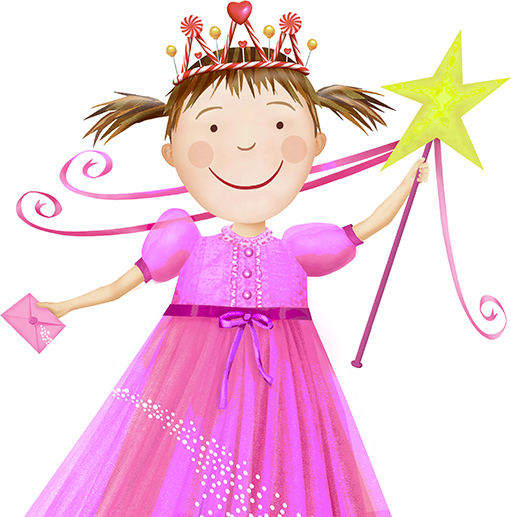 Turn your girl's next birthday into a Pinkalicious celebration with these rosy cupcakes and edible star wands, both inspired by the popular book series and musical.
Pinkalicious Cupcakes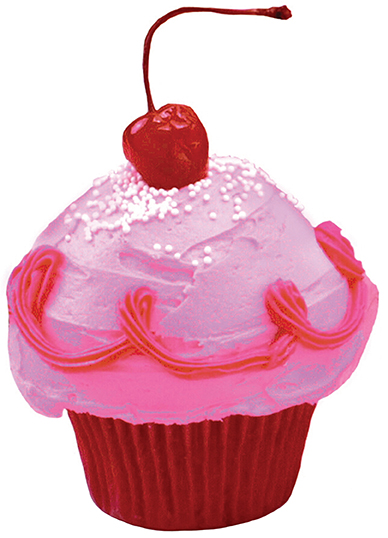 These moist cupcakes are sturdy and will hold up to handling and decorating. A combination of strawberries and food coloring makes them pink. Feel free to omit the strawberries and use only food coloring.
Tip: Kids can help assemble and measure the ingredients before you start.
Makes 18 cupcakes or one 9 x 13-inch cake
Ingredients
3 cups unbleached all-purpose flour
1 tablespoon baking powder
¾ teaspoon salt
1½ cups sugar
6 tablespoons unsalted butter, softened
½ cup vegetable oil
1 tablespoon vanilla extract
5 large egg whites, at room temperature
1 cup whole milk
1½ cups finely chopped strawberries
¼ cup strawberry preserves
A few drops of AmeriColor electric pink gel food coloring (optional)
Directions
1. Preheat the oven to 350º and line one 12-cup cupcake pan and one 6-cup cupcake pan with paper liners.
2. Whisk the flour, baking powder, and salt to­gether in a medium bowl and set aside. Place the sugar, butter, oil, and vanilla into a large mixing bowl (use the paddle attachment if using a stand mixer) and with the mixer on medium speed, beat the ingredi­ents until fully incorporated and slightly fluffy, 3-5 minutes (the oil prevents the batter from getting super fluffy), scraping down the bowl with a rubber spatula, as needed.
3. Add the egg whites and beat until combined, about 1 minute. With the mixer on medium-low, add the flour mixture in three batches, alternating with the milk, and beginning and ending with the flour. Beat until the flour is only just incorporated. Drain the strawberries if necessary. Remove bowl from the mixer and fold in the strawberries. Stir in the straw­berry preserves and squeeze in 1-5 drops of food coloring, if using. Scrape down the bowl until all traces of flour disappear and the strawberries and food coloring are well integrated into the batter, add­ing a drop or two more of color if you desire.
4. Fill each cupcake liner with 4 tablespoons of batter, place the pans in the oven, and bake for 12-14 minutes (rotating the pans halfway through the baking time) or until a toothpick inserted in the center of one of the cupcakes comes out clean. Let the pans cool on a wire rack until the cupcakes can be easily handled. Remove them from the pans and cool them on the wire rack until they reach room temperature.
Buttercream Frosting
Pinkalicious cupcakes can be decorated with store-bought or homemade frosting. While the store-bought frosting can be easier to use because it holds its shape well, homemade frosting tastes better. It's your choice!
Makes about 6 cups
Ingredients
1 cup shortening
¾ cup butter, softened
8 cups confectioners' sugar, sifted
½ teaspoon salt
½ cup whole milk
1 tablespoon vanilla
Directions
Combine shortening and butter in a large mixing bowl and beat on medium speed until fully incorporated. Reduce mixer speed to medium-low, slowly add half the sugar and salt, and mix until well blended. Add milk and vanilla and, slowly, the rest of the sugar. When all sugar is incorporated, increase speed to medium-high and beat until thick and spreadable, 5-7 minutes. Use immediately or store, tightly covered, at room temperature for up to three days. Rewhip before using.
Spreading Tips
• When spreading, always dip your utensil—a small offset spatula or butter knife—into warm water first.
• Place a dollop of frosting on the cupcake. Holding the cup­cake in one hand, gently spread frosting around the top of the cupcake with utensil, rotating as you do so. Do not get frosting on the liner or go past the edge of the cupcake. To remove excess, wipe off your spreading utensil and make a clean swipe around the cupcake.
• For a cupcake with a generous dome of frosting, scoop more frosting onto your cupcake and use your utensil to shape it into a dome with smooth, long strokes.
Using Color with Frosting
While the mixer is running, add food coloring, a drop at a time, to the frosting in the bowl until desired color is reached. Gel and paste provide the most vibrant colors, but liquid coloring from the grocery store will work in a pinch.
Star Wands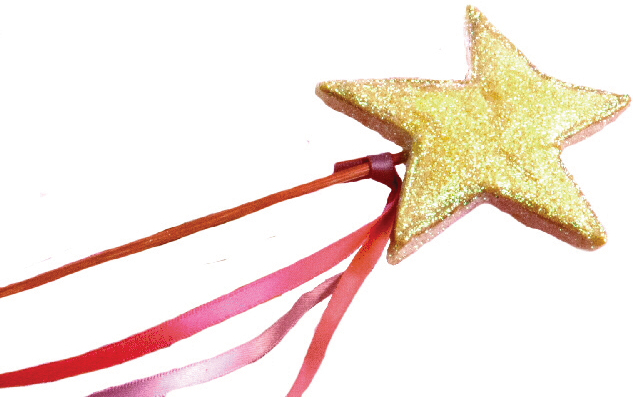 Filling goodie bags? What could be more joyful than Pinkalicious's star wand? It's a frosted sugar cookie covered with disco dust—a perfect party favor!
Tip: Kids can paint the sticks Pinkalicious pink!
Makes 12 wands
Ingredients
12 long wooden skewers or dowels
AmeriColor Soft Gel Paste Food Coloring, electric pink
One 16.5-oz. package of store-bought sugar cookie dough
½ cup all-purpose flour, plus more for dusting the work surface
½ cup royal icing, tinted with electric yellow AmeriColor Soft Gel Paste Food Coloring
AmeriColor Soft Gel Paste Food Coloring, gold
2 teaspoons Wilton meringue powder
CK disco dust, baby green
Twelve 12-inch ribbons, pink
To Make the Wand:
1. Preheat the oven to 350º and line two cookie sheets with parchment paper. Paint the 12 sticks pink with the electric pink food coloring. Let dry.
2. In a medium bowl, combine the sugar cookie dough with the flour, kneading the flour completely into the dough. Roll the dough out to ¼-inch thick on a nonstick surface dusted with flour.
3. Trace a star template onto a piece of cardboard with a black permanent marker and cut it out; use it to cut stars from the rolled-out dough.
4. Insert the sticks into the sides of the stars. Roll gently on the stick to ease it into the cookie at least halfway. Do not break the surface of the cookie.
5. Bake following manufacturer's directions, remove to a wire rack, and let cool.
To Decorate the Stars:
1. Place half of the royal icing in a pastry bag fitted with a #1 tip, or fill a Ziploc bag. Pipe around the edge of the star, as close to the edge as possible. Let set.
2. Flood or thin the rest of the royal icing with water, a teaspoon at a time, to the consistency of paint. Paint the icing on the cookies, up to the piped edge but not over it. Let set.
3. Thin some gold food coloring with half a teaspoon of water, mixing more coloring and/or water to get a light brown color. Lightly brush the edges of the star with the light brown food coloring for shading.
4. Combine the meringue powder and 2 tablespoons of water. Using a pastry brush, brush all over the iced cookie, and blend the brown food color into the yellow. While still wet, sprinkle disco dust on top of the star. Let dry.
5. Tie the ribbons around the sticks right below the stars, and cut the ends of the ribbons into V shapes.
Royal Icing
Makes about 4 cups
Ingredients
¼ cup meringue powder (available in specialty baking stores or online)
4 cups confectioners' sugar, sifted
½ cup warm water
Directions
Combine meringue powder and confectioners' sugar in a large mixing bowl. Beat on medium speed until thoroughly combined. Slowly add water and beat for 7-10 minutes, until icing is glossy, fluffy, and thick. Use immediately or keep in airtight container for up to three days.
Recipes excerpted from Pinkalicious Cupcake Cookbook by Victoria Kann (HarperFestival 2013; $14.99). Photos by Kristen Hess.