Vital Theatre Company's newest staging, Fancy Nancy The Musical, brings popular storybook illustrations to life on an Off Broadway stage. The result is a family-friendly production brimming with style and wit.
You heard it through the grapevine (a fancy word for "Twitter"): A new kids' show inspired by a popular book series is slated to open in the near future. Sounds good. Still, in the "yay or nay" world of mom and dad, a familiar question insists on popping up: How can I parentally predict if it will be fly (or fizzle) with my kids?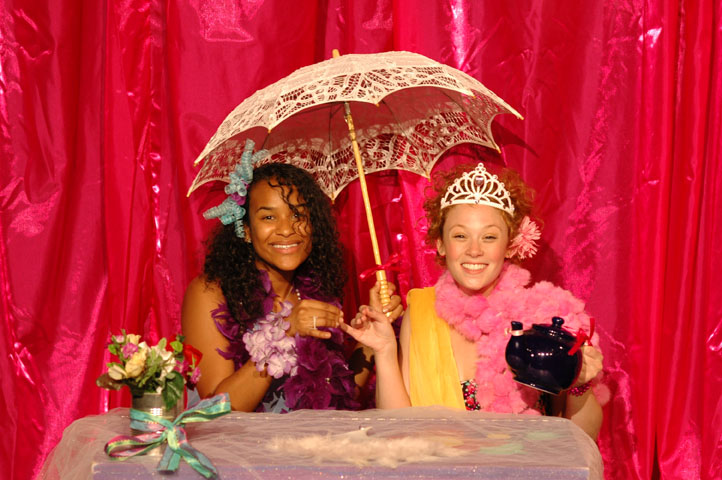 Fancy Nancy (right) and her BFF Bree share tea
Suggestion: Go undercover during the early rehearsal period…Groucho mask, maintenance overalls, or invisibility cloak should do the trick. And while you're swathed in incognito regalia, always remember that if creativity and talent shimmer through the fledgling song, dance, and dialogue learning curve, the show will be a stage triumph (a fancy word for "winner")—like Fancy Nancy, the Vital Theatre Company's newest musical for the small and tall.
Based on the popular children's series by Jane O'Connor, Fancy Nancy The Musical is one of those rare productions that not only manages to translate a storybook storyline into stage-worthy dialogue and lyrics, it also captures the spirit of Robin Preiss Glasser's vivacious drawings, including the look of the characters—which is pretty amazing when you consider that the youngsters in the illustrations are played by fresh-faced adults in the musical.
And it's this visual parallel that inspired veteran director/choreographer Sam Viverito in a major way.
I know this because I was able to sit in on Fancy Nancy's third rehearsal (invisibility cloak uncalled for), after which Viverito—whose professional involvement with Vital includes helming both Angelina Ballerina The Musical and Angelina Ballerina The Very Merry Holiday Musical—showed me his personal stash of Glasser illustrations and explained the impact they had on his creative process.
"What I'm doing with this show is different from any past productions I've worked on," he says. "I've never really used artwork as an inspiration, but Glasser's poses are so amazing and animated I've incorporated several into the show."
Working with the cast on the Vital Theatre stage—barebones set pieces and a smattering of props—Viverito is an arsenal of energy as he demonstrates dance moves, positions his actors, and takes the show's musical numbers from concept to concrete. "I throw things at them and refine as we go along," he explains, adding that prior to rehearsal the cast had never heard the score, an irresistible collection of ingenious tunes by award-winning composer/lyricist Danny Abosch and lyricist Susan DiLallo (who also skillfully adapted the book to the stage).
The Story
Nancy, a little girl with a fancy for all things fancy—tiaras, cloth napkins, costumery (even when it's not Halloween), vocabulary words (a butterfly's not "pretty," it's "exquisite"), French phrases ("suives-moi" for "follow me")—and her friends (including BFF Bree) learn their dance class is putting on a show called "Deep Sea Dances." Naturally, Nancy and Bree are primed to be mermaids—"the fanciest of [sea] creatures"—but are crushed to learn they weren't picked to be the show's one mermaid. Worst of all, Nancy is playing a tree—an ordinary, not-at-all-fancy tree—and Bree gets cast as an oyster.
They're disappointed until Mom reminds them of the importance of making the most of every part we are called on to play in life, and then reminds them of the healing power of tea parties. All is fine until fate steps in and Nancy learns some very important lessons about friendship, jealousy, and just how incredibly fabulous a tree can be.
From Page to Stage
For fans of the books, the script has been culled largely from Fancy Nancy and the Mermaid Ballet, so piscatorial references float, wriggle, and synchronized swim cheerfully throughout the show's second number, "I Wonder What I'll Be":
"…What's the part for me?
I can't wait to see!
A mackerel doin' the Macarena…
A zebra mussel who does the Hustle …
So many dances
So many wishes
So many choices
So many fishes
And soon we're goon see…"
Throwing themselves into the catchy number, four of the show's six actors—Jes Dugger (Rhonda), Tricia Giordano (Wanda), Kyle Motsinger (Lionel), and Darilyn Castillo (Bree)—shimmy from shark to jellyfish to sea horse as they dance the Conga, Samba, and Charleston in rat-a-tat succession. Meanwhile, Vivierto is downstage shouting, "One, two, hup…one, two, hup…one, two, three…one, two, three…fishes center…right…left…right!"
And even though two key cast members—Alyson "Aly" Bloom, who plays the title character and Amanda Savan, who plays her Mom (the only official grown-up character in the show)—weren't present during my "sneak peek," it was a cinch to imagine just how much fun the end result would be. A hit and half, if you will, with lavish (a fancy word for "fancy") sets, costumes, laughter and camaraderie (a fancy word for "friendship") that encourages young theatregoers to take part. In fact, at the end, the audience is invited to take part in a tres fabuleux (that's fancy French for "very fabulous") parade around the theater!
Parting note: Even though on the surface Fancy Nancy may seem all "girly-girly," it's not. The show boasts several moments custom-made for the guys, particularly Lionel's show-stopping solo number "The Shark Rap."
Show Details
What: Fancy Nancy The Musical
Where: Vital Theatre Company, 2162 Broadway at 76th Street
When: Sept. 30 - Nov. 12: Saturdays and Sundays at 11am and 1pm; special school holiday performances take place Oct. 8 and 17 and Nov. 6 and 12, 11am and 1pm.
Tickets: $29.50 for regular seats; $49.50 for premium seats; available at vitaltheatre.org or iseats.net or call 212-579-0528
Recommended Ages: 2-10 (although older kids won't be bored); and parents, there's a lot to amuse adults in this clever musical—really…my personal guarantee!
About Vital Theatre Company
"Vital Theatre Company is a community of artists who believe that a shared theatrical experience profoundly effects people's lives. We create stories that challenge our audience to ask questions, make discoveries, and engage in dialogue. If one adult is inspired, if one child's imagination is awakened, if one student is empowered, our theatre is important and vital."
Vital has an in-depth development process: A creative team is commissioned to write the show and the entire Vital staff is active in its overall development, from the very beginning of the "pink carpet" opening.
High school student interns from partner schools Fordham High School for the Arts and Brooklyn Theatre Arts High School are also involved in the productions, putting in time both backstage and at the front of the house.
In Vital Theatre Company's Junior Performance Camps, participants learn and rehearse during the week-long camp, capped by a performance for family and friends at the end. The winter 2013 camp will include songs and scenes from various Vital productions including, for the first time, Fancy Nancy.