Looking for a personal or group birthday gift that will mean a lot to the recipient? Project Treasure delivers a keepsake box filled with letters from loved ones to the birthday boy or girl on their special day.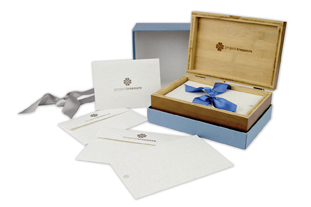 Treasure Trove›› Whether you're looking for a sentimental gift full of memories for Grandpa on his 80th birthday or a box full of love for your child on his 18th, Project Treasure is the answer. This keepsake box looks classic, feels lush, and will be cherished by the recipient of your choosing—and, it's fairly hassle-free for you. Upon opening, your birthday boy (or girl) will discover the treasure within—letters, bits of advice, or just simple memories printed on mini notecards, all bundled in a blue satin ribbon and gathered for safe keeping in a handmade sustainable bamboo chest.
You might think writing and encouraging others to write notes of affection to a loved one might be challenging, especially in our digital age—but it's precisely the technology employed by Project Treasure that helps you coordinate this loving task. Using the convenient contact importer, or by connecting through Facebook, you choose a list of friends and relatives you want to participate—in other words, to write notes to the recipient.
Each box comes with 25 notes with the option to add intervals of 25, up to 200. Notes are printed on archival quality paper with specialized ink that retains its dark pigment and readability over the years, and the wonderful final package is sent to the recipient to arrive on a date of your choosing.
Have writer's block? Project Treasure has a list of prompts, quotes, and thoughts to inspire willing participants who might have trouble getting started.
Kim Fried, mother of five and former president of a large corporate housing company, has been making similar keepsake boxes for loved ones for many years, and in 2010 decided to turn her personal way of spreading love and joy into a business—and we're glad she did. Bonus: $5 from every project purchased goes to the business's featured charity of the month. ($49.99)
Happy MAY Birthday to…

Alice in Wonderland (May 4) … Kermit the Frog (May 9) … J. M. Barrie, creator of Peter Pan (May 9) … The Wonderful Wizard of Oz author L. Frank Baum (May 15) … Sally Ride, the first woman in space (May 26) … 35th U.S. President John F. Kennedy (May 29)
Your Party Planner
Search our extensive directory of resources including party places, entertainment, and more.
Get ideas: We've got tips (like time-saving ideas for planning your child's party), how to throw a great party for any age, and so much more.