Spending the night away from home is an important rite of passage for children with disabilities. There are services to help and tips for making it easier on the child and the parent.
Working in the developmental disability information and referral field for two decades, you hear stories. Some are heartwarming. Some are complicated. Some are tragic. But the hardest stories to hear are the ones in which an unavoidable emergency leads to a second avoidable crisis for a family. Caregivers become unexpectedly ill, they may have to travel to help other loved ones that live far away, or there may be another situation that leaves them unable to temporarily or permanently take care of their child with a disability. Relatives, friends, and agencies scramble to make sure the child is cared for and has a place to stay.
And then a second crisis ensues: If the child has never spent a night away from his or her parents, not only does she experience the upheaval affecting the family, but she is also challenged by the loss of familiar and comforting routines while being away from home in a strange bed for the first time.
It doesn't have to happen this way. Parents are often wary of allowing their child to spend a night away from them or participate in overnight programs. You may worry that your child will be fearful or vulnerable. These are legitimate concerns. The fact remains, though, that your child will likely have to be away from you at some point in time. Why not give her the opportunity to gain skills and become more independent in a positive, planned, and controlled manner?
A Rite of Passage
Remember your first night away from home? Was it at your grandmother's house? With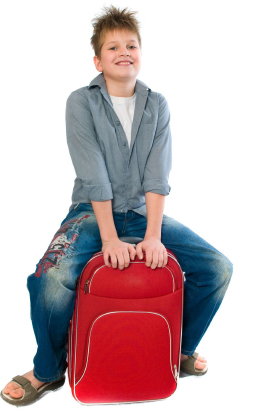 your cousin? Your best friend? While a few people may remember feeling homesick, most recall the excitement and the fun they had, being with people they loved and experiencing new things. It was an important part of maturing and preparing for a future that could include camp and travel and college and eventually living independently. Whether or not your child will be able to experience each of these milestones, he deserves the opportunity to take the first step. You must find the fine line between protecting your child and preparing him.
Starting Simple
Begin with one night. Do you have a friend or a relative whom you trust to care for your child? If you have the financial means, is there a babysitter who might do it? Does your child have a friend with whom he would enjoy having a sleepover? You may feel like it's too much to ask someone, especially if your child has lots of needs and behavior issues; it's a legitimate concern. But if someone offers or agrees to help, take them up on it and prepare them well. If it's another parent of a child with special needs, make sure you reciprocate so that both children get to experience being away from home and both parents get a break. And if it doesn't work the first time, that's okay. As with every skill we learn, we need practice.
Overnight Respite Programs
Depending on the support system you have in your life, you can build up to a weekend, then a week, and possibly a summer away from home. However, you may not have family or friends who can offer that level of support. You may also prefer a professional alternative. There are local programs that can support an overnight stay for children as young as 3 years of age with staff that are trained to care for people with disabilities. Some of these programs may start with a dinner visit, then an overnight visit, and may offer weeklong stays during school holidays or over the summer. They will match children with others of similar age and needs. They offer structured activities and recreational opportunities that provide a fun-filled mini-vacation for the child.
While these programs have extensive eligibility requirements and enrollment procedures, they are usually free and generally have availability. Some even have opportunities for emergency respite if something urgent should come up for a family.
This is a wonderful way to prepare your child for an eventual camping experience. Your child can visit the program and meet the staff beforehand. She can try short stays and feel comfortable knowing that you are close by if needed—and you can feel comfortable knowing that you are only a phone call away. You can also make your child feel more comfortable by sending her with another child or group that she knows well. That familiarity typically helps a reluctant child adapt.
Find a list of overnight respite programs in the NY metro area here.
Camping and Travel
Once your child has been able to stay overnight at someone else's home or in a respite program successfully, you may want to think about camp. So many people, and you may be one, have such treasured memories and lifelong friendships from their summers at sleepaway camp. There are a host of camps that cater to the special needs community.
Sometimes the great outdoors doesn't suit a person. Not everyone loves camp. And not everyone goes on vacation with their parents their entire life. It's nice to know that there are travel programs for individuals with disabilities, beginning in their teen years. One agency takes kids to Washington, D.C. during certain school breaks. Vacations are often exhausting and don't feel like a break for parents who have children with a lot of needs. Travel programs can offer an individual the fullest travel experience possible while sparing parents from returning from vacations more depleted of energy than when they left.
Separation Anxiety, but Whose?
Believe it or not, both YAI's respite and camp programs report that children attending for the first time do well more than 90 percent of the time. Staff are used to helping children get over their anxiety about being away from home, and there are usually so many fun activities planned that the child is often having too good a time to be sad. It's frequently the parents that struggle the most. That's why it's good to start small and start local. Both you and your child will feel better knowing that you're just a phone call away.
A Deserved Gift for You
And by the way, you deserve a break. While your child is learning and experiencing new things, you can rejuvenate and spend time with other loved ones. Once you feel confident that your child is in safe hands and has had successful overnight stays, you may want to take a vacation yourself. You'll return to your child refreshed, with the knowledge that you both gained something from the separation. Then when that emergency comes, you will know that your child has the ability to successfully be away from you and away from home, you'll have resources to call upon to support your child, and with any luck, he will be staying in a familiar place with familiar people that know your child and can provide the best possible support in your stead.