Before you fire up the grill for your next backyard barbecue, check out the top 10 grilling tips from the experts at Omaha Steaks. Follow these best practices to avoid common grilling mistakes, stick to safety guidelines, and make sure your food tastes delicious every time.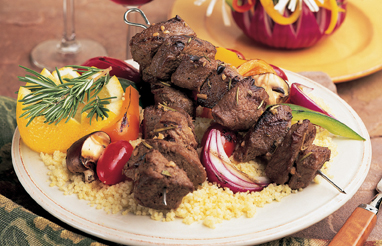 These simple rules of the grill are best applied to cooking the perfect steak, but you can use them as a guideline for just about anything else you want to throw on the barbecue.
1. Clean the grill, then preheat it on high.
2. Lightly oil everything before putting it on the grill. This helps the searing process and prevents sticking.
3. Season food before grilling.
4. Sear the outside of steaks when grilling. This helps with the flavor and juiciness.
5. Use tongs or a spatula to turn meat on the grill. Using a fork can damage the meat.
6. Cover grill as much as possible during the grilling process. This helps to lock in the grilled flavor and will help prevent flare-ups.
7. Keep a spray bottle with water handy to douse any unexpected flare-ups.
8. Use the 60/40 grilling method. Grill for 60 percent of the time on the first side, then grill 40 percent of the time after turning over the food. This will make sure your food is evenly cooked.
9. Place cooked food on a clean plate. Never place cooked food on the plate you used to transport the raw food to the grill without thoroughly washing it first.
10. Allow foods to "rest" for 5 minutes between cooking and eating. This will help it retain moisture when you cut into it.
Also see: