UPDATED NOVEMBER 2013: Looking for performances of The Nutcracker ballet on Long Island in December? Here are details on 10 family-friendly shows in Brookville, East Hampton, Hempstead, Merrick, Old Westbury, Patchogue, Port Washington, Rockville Centre, and Westbury.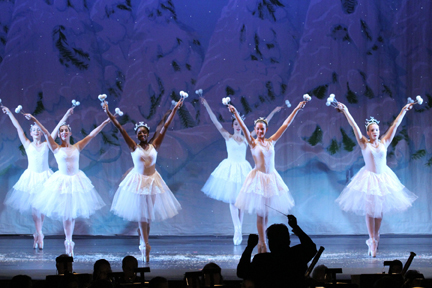 The story of Clara and her Nutcracker Prince exists in numerous versions, all more or less based on the Russian original from the 1890s. This year, Long Island boasts 7 different performances of The Nutcracker ballet, some of which are shortned to be more kid-friendly. Get the details on these shows below:
Patchogue Theatre, Patchogue
Nov. 24
American Dance Theatre of Long Island presents this version of the classic tale.
Jeanne Rimsky Theater at Landmark on Main Street, Port Washington
Nov. 30 - Dec. 1
The Long Island Ballet rings in the holidays with their performance of the classic Tchaivosky production.
The Brookside School, Merrick
Dec. 1
This abridged production of the holiday classic, featuring youth dancers from the Integral Ballet School in Merrick, is an ideal introduction to ballet for young children.
Patchogue Theater for the Performing Arts, Patchogue
Dec. 5-8
This year, the dancers of Ovations Dance Repertory Company will be joined by the Atlantic Wind Symphony. The vision of the glittering dancers and the sounds of the famous Tchaikovsky score will delight your senses and stay with you forever.
South Side High School, Rockville Centre
Dec. 6-8
In this full-length production, the South Shore Symphony summons all its forces to accompany Leggz Dance, a 90-member corps de ballet. In addition to the composer's full score, this magical extravaganza features talented and gifted young dancers from all over the metropolitan area and guest ballet stars of international prestige.
Guild Hall, East Hampton
Dec. 13-15
The Hampton Ballet Theatre School presents its fifth annual production of Tchaikovsky's beloved Nutcracker. The ballet is choreographed by the director of HBTS, Sara Jo Strickland and includes beautiful costumes designed and hand sewn by Yuka Silvera and lighting design by Sean Paczynski. It will feature the students of the Hampton Ballet Theatre School as well as some parents and local actors. Dancing the Sugar Plum and Cavalier Grand Pa De Deux will be special guest artists Adrianna de Svastich and Nick Peregrino of Ballet Fleming.

NYCB Theatre at Westbury, Westbury
Dec. 15
Max and Ruby bring to life a wonderful tradition this holiday season as they take to the stage their most magical performance yet. Inspired by one of the greatest musical scores ever composed, Tchaikovsky's Nutcracker Suite, the beloved bunny siblings star in Koba Entertainment's brand-new musical production.
Hofstra University-John Cranford Adams Playhouse, South Campus, Hempstead
Dec. 20-22
Frank Ohman's New York Dance Theatre presents its 32nd season of The Nutcracker. This production is the largest Nutcracker on Long Island with added music, scenes, and dances, and is the only one performed in the tradition of New York City Ballet's Lincoln Center version. Guest artists from the Dance Theatre of Harlem will join Ohman's troupe in a cast of eighty children, semi-professional and professional dancers in bringing this holiday classic to life.
Tilles Center for the Performing Arts, Brookville
Dec. 20-22
The Eglevsky Ballet's performance of The Nutcracker is a must-see this holiday season. A reception follows the opening night's performance to toast the guest artists. Audiences can meet and greet the dancers after Saturday morning's performance.
Maguire Theater at SUNY Westbury, Old Westbury
Dec. 21-22
The traditional holiday favorite is beautifully rendered at this performance featuring a stellar troupe of dancers.

Can't Make it to the Theater?
Manhasset Public Library, Manhasset
Dec. 31
With its Mouse King, Nutcracker Prince, snowflakes, Spanish hot chocolate, Arabian coffee, Chinese tea, Russian candy canes, Danish marzipan, dewdrops, flowers, and Sugar Plum Fairy, the Nutcracker ballet has something for everybody. Dr. Kolb will read and re-enact the fascinating original story.
Also See:
Where to See The Nutcracker in NYC
Top 10 Holiday Shows in the City
Our full, searchable calendar of events for the NYC area