WIN A HALLOWEEN PARTY GUIDE BY FIONA HAMMOND
Related:
halloween party guide
,
halloween party book
,
fiona hammond
,
halloween giveaway
,
holiday party planner
,
"Halloween: Tricks & Treats & Other Nifty Stuff" by Fiona Hammond is an all-in-one guide to throwing a Halloween bash that includes materials for spooky party games, two dozen recipes, and decoration ideas and instructions.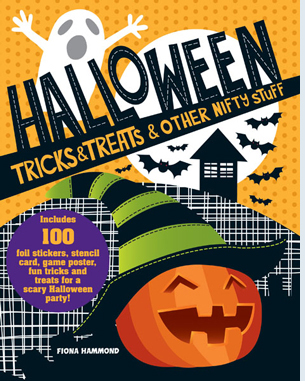 A new book out this year, Halloween: Tricks & Treats & Other Nifty Stuff by Fiona Hammond ($8.99), presents tons of game ideas, food ideas, and decorations to help you throw a fun and just-spooky-enough Halloween party.
Both kids and adults will get into a festive spirit with this color illustrated book that includes a stencil card and foil stickers for spooky party games, two dozen appetizing recipes for party foods and novelties (think spider-web pumpkin soup, chocolate tombstones, and Frankestein fizz), and a giant Halloween pull-out poster for playing Pin the Nose on the Jack-o'-Lantern.
GIVEAWAY
Win one of 5 Halloween prize packages that includes a copy of Hammond's new book, Wikki Stix Trick or Treat Paks, and a Fun Bites food shaper kit.

ENTER TO WIN HERE!
For more Halloween giveaways, activities, and tips, visit nymetroparents.com/halloween.
More PRODUCTS Articles
Holiday Fashions for Boys and Girls
Photographer Behind Humans of New York Releases Children's Book
New Book Encourages Kids to Give Up Halloween Candy
Runnin' Wild Kids Shoes Owner Opens Toy Store
Top 10 Audiobooks for Halloween Season