COOL SPIRITHOOD GREY WOLF FALL OR WINTER ACCESSORY
Related:
spirithood accessories for children
,
wolf hood and scarf for kids
,
spirithood grey wolf fall accessory
,
Furry and cozy, SpiritHoods Kids makes hoods evoking wild animals so your little ones can dress up as their favorite four-legged creature and stay extremely warm.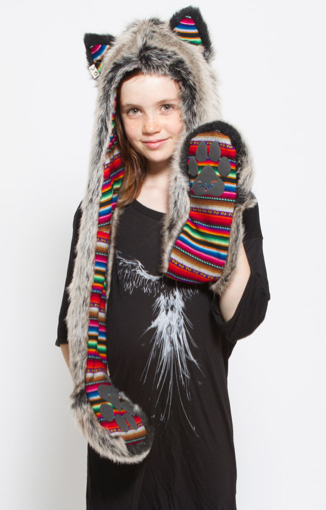 Made with faux fur, SpiritHoods allows kids to dress up as their favorite furry creature, including wolves, bears, tigers, rabbits, and Disney characteres like Simba, Mickey Mouse, and Minnie Mouse.
SpiritHoods feature mitten-like pockets in the scarf to keep your child's hands warm while the hood protects her head and ears from chilly weather. Some SpiritHoods even feature built-in washable speakers that allow your kids to jam to music while wearing this fall accessory.
Made with 100-percent acrylic and a colorful Peruvian-inspired cotton lining, the one-size-fits all Girls Grey Wolf Peruvian is suggested for ages 4-12 and is regularly $79.
GIVEAWAY
Win a furry wolf hat by SpiritHood Kids for your own child to wear as part of his or her animal-inspired Halloween costume this year. We're also giving away a Zooni Mop Top hat. Winners will be selected Monday, Oct. 22.
For more Halloween giveaways, activities, and tips, visit nymetroparents.com/halloween.
---
Get Your FREE Indoor Activity eGuide!
---
More PRODUCTS Articles
Holiday Fashions for Boys and Girls
Photographer Behind Humans of New York Releases Children's Book
New Book Encourages Kids to Give Up Halloween Candy
Runnin' Wild Kids Shoes Owner Opens Toy Store
Top 10 Audiobooks for Halloween Season