by Alison Reiser
Stop by these farmer's markets and street festivals around Rockland County, NY, this spring and summer for fresh local produce and to help out your community.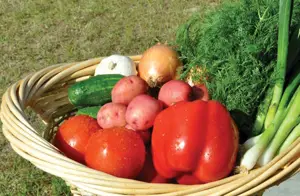 There's nothing wrong with the produce department at my local supermarket, but I still look forward every spring to the opening of seasonal farm markets and the start of street fairs. Farm market prices aren't always the cheapest, but the experience of shopping there has its own value, one that is metaphorically like apples and oranges to shopping indoors. For one thing, farmer's markets often allow us to meet the folks whose fruits, vegetables, and other plants we take home and enjoy. Also, the freshness seems more palpable because it feels we get closer to the actual harvest of the items we purchase.
May marks the seasonal opening of two weekly farmer's markets here in Rockland County as well as the start of street fair season in two of the county's biggest towns. Other weekly markets open in June and July.
Starting May 13, Nyack will hold its weekly farmer's market each Thursday from 8am-2pm. Here, shoppers can find fresh produce, flowers, baked goods, poultry, wine, cheese, pickles, jams, and locally produced hot sauce. The market, which is slated to run this year through November 24, is conveniently held by the town's municipal parking lot, next to Riverspace at 119 Main Street.
On May 16, the town hosts its famous street fair along Main Street and Broadway. Perhaps because Nyack is known for its antique stores, art scene, and restaurants, this event attracts quite a crowd - which makes parking a challenge. But don't be deterred. Once you do park your car, the fair is festive and within easy walking distance of Memorial Park along the Hudson River. Additionally, the various and interesting merchandise vendors are joined by a food court and children's area with amusements. Future dates for 2010 include July 18 and October 20. Hours are from 10am-5pm.
The village of Suffern is also slated to hold its first seasonal street fair on May 16. The fair will be held in the town's downtown business district, including Lafayette Avenue (Route 59), Chestnut Street, Suffern Place, and part of Park Avenue. The event will feature more than 100 vendors, live musical performances, and children's entertainment. Hours are from 10am-5pm. Future dates for 2010 include June 13 and September 5.
Suffern's farm market is expected to open on June 12. The market features locally grown produce, locally made wine, bread, pickles, cheese, natural beauty products, and more. The market is held on Saturdays from 9am-1pm in the commuter parking lot 'A' on Orange Avenue, at the foot of Wayne and Lafayette Avenues. It runs through November 20.
Piermont is slated to start its farmer's market season on May 31. This Monday market runs from 9:30am-3pm through November 22. Shoppers can purchase baked goods, cheese, cut flowers, fruit, herbs, plants, prepared foods, specialty foods, and, of course, vegetables. The market is held in the M & T Bank parking lot at the corner of Piermont Avenue and Ash Street (street address: 527 Piermont).
Finally, Spring Valley will open its weekly farmer's market on July 7. Visitors to this market, which runs through November 10, can find produce, breads, pastries, honey, preserves, pickles, cider, and other goods. The market is held at the corner of Route 45 and North Church Street from 8:30am-3pm.
The town of Haverstraw has suspended its weekly farmer's market this year for a variety of reasons, according to town officials. As of press time, there were rumors that Stony Point might pick up the slack for the northern part of the county. We'll keep you posted if we hear anything.
For more family activities and events in Rockland County, visit our Online Calendar.
---
Alison Reiser is the calendar editor of Rockland Parent. She lives in Rockland County, NY with her husband and their two daughters. At night, she can be found working the front desk at the Valley Cottage Animal Hospital.