---
Further Music Studio Moves to New Location
by Alex Hoeft - April 14, 2014

Further Music Studio, which offers music lessons in Queens, recently moved to a new location in Forest Hills. The studio offers piano, violin, and guitar lessons, as well as voice lessons. The studio also boasts the most affordable music lessons in New York City.
---
The Glass House Offers After-School Tours for Children
by Alex Hoeft - April 14, 2014

The Glass House, built by architect Philip Johnson in New Canaan, now offers after-school tours for children in fifth through eighth grades. The tours aim to introduce kids to architecture in a fun and easy way to understand.
---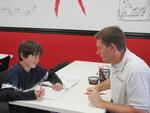 Math-Only Learning Center Opens Astoria Location
by Alex Hoeft - April 14, 2014

Mathnasium, an international chain of year-round math learning centers, recently opened a location in Astoria. The center creates individualized learning plans for students to build a strong foundation in math, and aims to "make math make sense." Tutors utilize the Mathnasium Method to teach children with various tactics.
---
Tanning Salon Offers Express Organic, Sunless Solution
by Alex Hoeft - February 12, 2014

A new sunless tanning option is available in Fairfield County. Zen Bronze, an organic spray tan studio whose water-based tanning solutions are made with olive oil and coffee beans, recently began offering an express airbrush tanning option.
---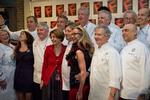 French Organization Hosting 10th Anniversary of French Cinema
by Alex Hoeft - February 12, 2014

Alliance Francaise of Greenwich has partnered with Focus on French Cinema to host the 10th anniversary of the French film festival in Greenwich this year. Festivalgoers can screen French films, meet French celebrities, attend Q-and-A sessions with film stars and directors, and attend an opening night gala.
---
Community Jewish Center Adds Full-Day Early Childhood Program
by Alex Hoeft - February 11, 2014

JCC Rockland recently announced a full-day early childhood program that it plans to offer beginning in the fall. The early childhood program is now accepting applications. Enrolled children learn Jewish values through a whole-child approach to teaching.
---
Hillsdale Art Studio Adds Parent-Child Art Club
by Alex Hoeft - February 11, 2014

Abrakadoodle, which offers art classes, camps, and parties for children in Hillsdale, recently began offering Art Club. The club offers children and parents the opportunity to work in different art media together. The 90-minute parent and child art session is offered eight times a week for children age 20 months to 5 years.
---
Summer Adventure Camp Expands Activities
by Alex Hoeft - January 28, 2014

The Knox School Summer Adventure, a summer day camp at The Knox School in St. James, will offer stand up paddle boarding, a marine science program, and Lego robotics this summer.
---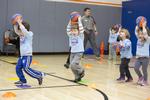 New Facility for Youth Boasts 'Teacher of Team Sports'
by Alex Hoeft - January 28, 2014

FastBreak Sports, a sports and athletic training facility on the Upper East Side, now offers a program for preschoolers ages 2-5. The preschool program FastBreak Kids teaches youngsters a variety of age-appropriate sports and skills including baseball, basketball, and flag football. The facility also offers teams and leagues for children in Manhattan to improve athletic ability and inspire self-confidence.
---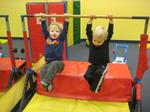 Music and Theater Programs Added to Local Kids' Gym
by Alex Hoeft - January 27, 2014

M.A.T.S.S. Kids' Gym now offers music and theater classes for children in Syosset. The music classes are offered by Long Island Aardvarks and the theater classes are offered by New Artist Theater, a division of The AMF Studio.
---
Program Offers Children a Creative Way to Learn
by Alex Hoeft - January 27, 2014

Challenge Island, an academic enrichment program, recently opened in Syosset. The program, which offers after-school programs, in-school field trips, summer camps, and birthday parties, helps children build problem-solving skills and engages imagination through creative lessons and activities.
---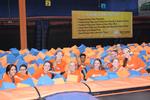 Indoor Trampoline Center Opens Deer Park Facility
by Alex Hoeft - January 27, 2014

Sky Zone, an indoor trampoline center, recently opened a Deer Park location. The trampoline center hosts birthday parties and fitness classes, and houses 21,000 square feet of trampolines.
---
Book Club for Young Girls Inspires a Love to Read
by Alex Hoeft - January 27, 2014

Sweet Jenny's Book Club for girls inspires a love of reading in girls ages 7-11. The Upper East Side book club is meant to act as a reading enrichment program that picks up where school leaves off.
---