Alice Currah is the internationally recognized blogger behind SavorySweetLife.com, where she shares simple, shareable recipes gleaned from her everyday life as a stay-at-home mom of three. This article was excerpted from Currah's cookbook, "Savory Sweet Life: 100 Simply Delicious Recipes for Every Family Occasion" (William Morrow Cookbooks, 2012; $24.99).
Email Alice Currah
---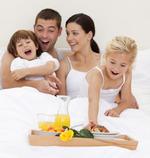 What Mom Really Wants for Mother's Day
by Alice Currah - April 26, 2013

Alice Currah, a mom of three and celebrated food blogger, petitions her husband for a day off this Mother's Day. Follow her lead for a relaxing day that starts with a delicious breakfast in bed.
---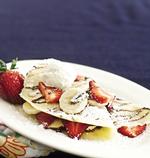 Recipe: Nutella, Strawberry, and Banana Crepes
by Alice Currah - April 26, 2013

These sweet vanilla crepes filled with Nutella, bananas, and strawberries are best enjoyed with a dollop of whipped cream or vanilla ice cream. Serve them for brunch, dessert, or a special Mother's Day breakfast in bed. Recipe by Alice Currah.
---