---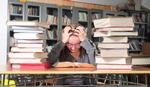 5 Tips to Manage Your Child's Busy After-School Schedule
by Ann K. Dolin, M.Ed. - July 18, 2012

Does your child sign up for every after-school activity he finds interesting? Do you worry that your child's busy extracurricular schedule is taking up all of her free time? Here are five tips to help manage stress they may feel due to their hectic schedule.
---

How to Prevent a Homework Meltdown
by Ann K. Dolin, M.Ed. - April 14, 2011

Is your child easily frustrated, making homework time a nightmare for all involved? Try our four simple solutions to break the cycle of negativity and make homework more manageable.
---
---