---
---
How to Choose a Charter School for Your Child in Connecticut
by Jeri Dayle - March 16, 2010

Charter schools, also known as "magnet schools" or "schools of choice," have grown in popularity over the past few years, both in Connecticut and throughout the country. Find out how charter schools measure up against public schools, what school choices are available in the Fairfield County, CT, area, and if one of these schools might be the right fit for your child.
---
New York State Standardized Assessment Tests: Are They Working for Our Children?
by Jeri Dayle - March 16, 2010

Standardized assessment tests have become make-it-or-break-it measures for both students and schools in New York state. We took a look at how these tests, along with the No Child Left Behind Act, are affecting our children's overall education. Plus, see our tips on taking standardized assessment tests, for students and their parents.
---
Is It Time for Preschool?
by Jeri Dayle - January 15, 2010

Study results indicate that attending preschool not only influences a child's developing mind, but can also set the pace for his or her success in subsequent school experiences. Read on for tips on how to tell when the time is right for your child.
---
Report Cards and the Midyear Slump
by Jeri Dayle - December 22, 2009

How to help your child avoid the mid-schoolyear slump and keep his education motivation after the holidays.
---
What to Do When Your Child Says, 'I Hate School!'
by Jeri Dayle - December 02, 2009

Just about every parent will hear their child bemoan homework, tests, friend problems, and other school-related issues at some point. Read on for tips on how to cope with those "I hate school blues."
---
---
---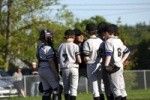 Are You Ready for a Travel Team?
by Jeri Dayle - May 12, 2009

When families commit to youth sports teams, in particular to one in an organization that travels, the result can be anything but child's play.
---
---
Will Your Kids Be Ready To Tackle Life?
by Jeri Dayle - February 21, 2005

That tale of a new adult with dreams derailed is a personal one, but it could have come right from the pages of the latest book by nationally acclaimed learning expert Dr. Mel Levine. Every family will likely recognize one of its own in Ready or Not, Here Life Comes (Simon & Schuster, $26).
---
Bridging the Gap Between Classics and Classroom
by Jeri Dayle - October 21, 2003

As city students began the new school year last month, the curtain went up for another year of Theater for a New Audience — known best by its acronym TFANA — and the educational programs it runs throughout the boroughs, especially those in Queens (former Districts 24, 25 and 30).
---
For hospitalized children, The Real White Glove Treatment
by Jeri Dayle - July 21, 2003

Tiffany is 14 now, and her blood condition has been stable for over a year. Yet, visiting the Outpatient Hematology/Oncology Clinic means revisiting the pain and chills of the chemotherapy treatments coursing through her veins; it means staring back into the sad eyes of little kids ravaged by leukemia. But not this time. Today there is something different in the air: a hint of levity.
---
Buttons and Bows Boost City Kids
by Jeri Dayle - April 21, 1999

As parents, we're often asked to contribute not only art staples like markers, glue and crayons; but also paper bags, plates and various materials for classroom projects. When that happened to Barbara Randall, it inspired her to help develop a unique solution to the lack of art supplies in our city's schools.
---
---
The Pokemon Invasion: How Bad Is It Really?
by Jeri Dayle - June 21, 1999

Magicarp. Kadabra. Jigglypuff. Snorlax. If these names aren¹t familiar to you, you might just be lucky that Pokemon hasn¹t invaded your home. That¹s because the Pokemon invasion is even scarier than the thought that Furbys might be Chinese spies.
---
A Resounding Commitment to Queens
by Jeri Dayle - January 21, 1995

The minute I walk in the door, I feel a peace descend, perhaps inspired by the cool minted colors of the walls and doors. Then I look up and notice the names of musical legends - from every era and every walk-of-life - splashed around the perimeter of the ceiling in music note-like waves. All of a sudden, something new breaks my reverie.
---
---
Autism: a local support network
by Jeri Dayle - January 21, 1995

Autism is a developmental disability which appears during the first three years of a child's life. It interferes with the areas of the brain which control verbal/non-verbal communication, social interaction and sensory development. It is estimated that 400,000 people in the U.S. have some form of autism, making it one of the most prevalent developmental disabilities, surprisingly even more common than Down Syndrome.
---
Queens Teen Exits Stage Left
by Jeri Dayle - August 21, 2001

Queens has given birth to many an honored celebrity - Paul Simon, Jerry Seinfeld and "Nanny" Fran Drescher, to name a few. Now, a Queens resident, 14-year-old Duane McLaughlin of St. Albans, has shown the potential to outshine all those other stars.
---
Art Renaissance in Queens Schools
by Jeri Dayle - April 21, 1999

When "Mr. Holland's Opus" aired on the Sunday Disney movie in February, I cried at the end. My kids thought it was human sentimentality and didn't understand the deeper meaning: I was mourning over the early '80s slaughter of arts programs, a loss which affects us still. So you can imagine how heartening it was to learn that others shared my grief, but had done something about it. I discovered Project ARTS (Art Restoration Throughout the Schools), a city-wide endeavor to restore arts programming to our public schools.
---
New Light Focuses on Leukemia: Can you walk, or sponsor a walker?
by Jeri Dayle - October 21, 2002

When the 4th Annual Light the Night event takes place in Queens on October 5, participants won't be just walking through Flushing Meadows Park; they'll be taking steps towards greater awareness of leukemia and blood-related cancers.
---