---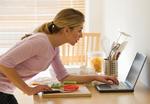 How to Tell if a Recipe Is Worth Making
by Julie Negrin, M.S. - November 26, 2012

How do you know when a recipe is worth making? Online, you have millions of recipes at your fingertips, but they're not all winners. Here are 6 tips for choosing a recipe, including what to look for in a good recipe and how to know when a recipe is not worth trying.
---
Pumpkin Pie Pasta Recipe
by Julie Negrin, M.S. - October 02, 2012

Approved by a certified nutritionist and kids' cooking instructor, this recipe for pumpkin pie pasta is a simple and fun fall dinner idea that the whole family will love.
---
---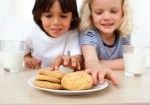 To Snack or Not to Snack
by Julie Negrin, M.S. - January 27, 2012

Children, in particular, require several small meals per day, and snacks can help make up for nutrients they don't get during meals. Snacking at any age is perfectly normal, and carefully chosen snacks can add to good dietary habits. Most Americans, however, do not snack wisely.
---
Bye, Bye, Bake Sales
by Julie Negrin, M.S. - December 20, 2011

Traditional bake sales have been banned at most NYC-area schools due to the rise in food allergies, childhood obesity, and foodborne illnesses, limiting fundraising opportunities. In an effort to evolve with the times, here are 10 inventive fundraising ideas for your school that don't involve baked goods.
---