---
Life Insurance: What Does Your Family Need?
by Kirsten Denker - March 17, 2010

The death of a parent can leave families in financial turmoil. Read our tips for selecting a life insurance plan that's right for your family.
---
How to Manage Your Money in the New Year
by Kirsten Denker - January 08, 2010

Make 2010 the year to get your finances in shape - check out these tips from finance writer Kirsten Denker on how to manage your money in the year ahead.
---
Smart Money for Single Parents
by Kirsten Denker - December 21, 2009

Check out these tips from finance guru Kara Stefan, single mom and author of "Head of Household: Money Management for Single Parents."
---
---
---
---
Back to School Shopping on a Budget
by Kirsten Denker - August 07, 2009

How about turning back-to-school shopping into a teachable moment — a real-life exercise for your kids in wants vs. needs and sticking to a budget?
---
---
For Teens, the Prepaid Credit Card
by Kirsten Denker - June 15, 2009

One in five teens use a credit card. It's more important than ever for families to eliminate rash spending.
---
Money Lessons: Teach Your Children Well
by Kirsten Denker - April 17, 2009

A Consumer Reports survey of 12-year-olds found that 28% didn't know that credit cards are a form of borrowing, 40% didn't know that banks charge interest on loans, and 34% didn't know that you can't tell how good a product is by how much it is advertised.
---
A Plus for Children's Healthcare
by Kirsten Denker - March 12, 2009

New York State's subsidized healthcare plan, Child Health Plus, was expanded in the fall of 2008, raising the income threshold for eligibility from $44,000 (for a family of 3) to $70,000, & offers regular checkups, vaccinations, prescriptions, dental & vision care, hospital & emergency care, & more.
---
Allowing for Allowances
by Kirsten Denker - February 06, 2009

When are children ready for an allowance? How much should it be?
---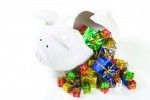 Paying Down Holiday Debt
by Kirsten Denker - January 06, 2009

You splurged on presents and treats for the family over the holidays and now the bills are coming in. What do you do?
---
Preventing the Flu in Your Family
by Kirsten Denker - November 18, 2008

With the fall and winter seasons comes influenza, also known as the flu. No parent wants their children or any member of their family to get sick.
---
Stocks as Stocking Stuffers for Christmas and Hanukah?
by Kirsten Denker - November 20, 2008

Many parents and grandparents are looking for ways to give their children something a bit more practical and enduring than the latest battery-operated toy. Strange as it may sound, the answer might lie, not in the aisles of Toys R Us, but in the stock market.
---
Summer Museum Fun in the City
by Kirsten Denker - June 03, 2008

Gone are the old days when museums were stuffy, boring places for children. This summer, many city museums and a zoo are offering outdoor events, concerts, play spaces, and exhibits.
---
The Great TV Debate
by Kirsten Denker - February 26, 2008

Dr T. Berry Brazelton, the child development expert and co-author of Touchpoints Three to Six, agrees with the American Academy of Pediatrics' advice restricting children under 2 from watching TV.
---