---
Uncle's Suffolk Soda Shop Taught This Writer Life Lessons
by Marcelle Soviero - July 31, 2012

Once a week, Marcelle Soviero's mother took her to Uncle Joe's soda shop, Soviero's Luncheonette. This family-owned restaurant became Marcelle's safe haven, where she learned compassion and acceptance from her family and the patrons who frequented.
---
Blended
by Marcelle Soviero - February 17, 2012

With some of the most important wedding guests delayed on a bus (the kids!), a local mom, about to remarry, felt lost. But their arrival turned things around, and made a magical day into a real "family wedding."
---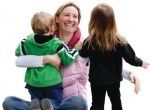 Tips from a Divorcee on Successful Co-Parenting
by Marcelle Soviero - December 01, 2011

A local mom deals with the pangs of guilt when her kids visit their dad, from whom she is divorced, and shares what helps her get through the tough times.
---

Decoding the Teenage Brain
by Marcelle Soviero - March 10, 2011

From wearing shorts in winter to procrastinating beyond reason, teenage behavior is puzzling and often infuriating. In this personal essay, one mom tries to crack the mystery of her teen daughter's behavior and offers advice to other parents of adolescents.
---