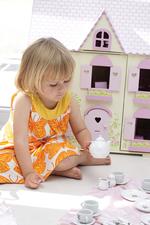 Imaginary Friends: Should I Be Worried?
by Maria Maiurro - November 26, 2012

Your child and her imaginary friend are inseparable, but, most likely, you shouldn't worry about the invisible companion. Imaginary play is important for children's development, and those who had imaginary friends are shown to have more creative problem-solving skills.