---
---
---
---
---
---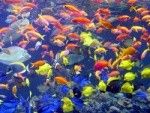 Atlantis Marine World Aquarium on Long Island
by Marie Wolf - June 17, 2009

Contemplating a day trip with the family that's not too distant, yet far enough away to make the kids feel like they are out of their element? Consider Atlantis Marine World in Riverhead, where nature and science, blend with legend and entertainment for a fun, under the sea adventure.
---
---
---
---
---
---
Mini Museum for Kids in Long Island
by Marie Wolf - April 17, 2009

The Nassau County Museum of Art in Roslyn welcomes families with young children to enjoy the new, kid-friendly, culturally appealing Ridder MiniArtMuseum.
---
---
Snow Balls & Sunshine....A Museum & a 'Camp' in Suffolk
by Marie Wolf - April 09, 2009

East End residents gathered for cocktails, finger foods & frosty treats at the Snow Ball Benefit hosted by the Children's Museum of the East End (CMEE)in Bridghampton, while some Long Islanders with big hearts plunged into the icy waters of the Great South Bay for the 2009 "Freezin' for a Reason" Long Island Polar Dip.
---
Roberta Perry of Plainview: Scrubz Body Scrub
by Marie Wolf - March 30, 2009

A few years ago, Roberta Perry decided to formulate her own scrub. "I had to do this for myself. I wasn't even thinking about it as a business." Now she books home parties and gives product demonstrations...
---
Lisa Basini: The Baking Coach, Inc. in Smithtown
by Marie Wolf - March 30, 2009

Her innovative spirit and business know-how began to blossom at the mere age of eight, as Lisa Basini recalls "turning one dollar into four" with just one box of cake mix and a can of frosting.
---