---
Holiday Traditions: Our Children Need Them Now
by Paula Court - December 21, 2001

As rational adults we know it really doesn't make a difference if we change the way we do things from one year to the next, but to children it can mean everything. In today's unstable and changing world, our children need every source of comfort we can give them. Holiday traditions instill a sense of security in children and provide a source of strength for the entire family.
---
Going on a family reunion vacation?SURVIVAL TIPS
by Paula Court - August 21, 2002

Last year, my extended family, ranging from age 2 to 80, embarked on our first family reunion vacation. Even though we all returned home with cherished memories, there were several things I would definitely do differently the next time. Like, discussing in advance how to distribute the cooking and childcare responsibilities. Or perhaps renting one more car than we thought we needed — to prevent some family members from being stranded, while others went off on day-trips.
---
BIRTHDAY PARTIES for all ages
by Paula Court - April 21, 2002

Just when you think you've finally figured out the trick to birthday parties … your child jumps to the next stage of maturity and you have to start from scratch all over again.
---
Sleep disorders:When things go bump and grind in the night
by Paula Court - March 21, 2003

The sight of a sleepwalking child can be a frightening experience for any parent. Your first instinct may be to contact your pediatrician or child psychologist. But you may want to wait before you make that call.
---
Surviving the Holiday Merry-Go-Round
by Paula Court - December 21, 2002

Last year, I could barely wait for January 2 to roll around. After two months of frenzied baking, shopping and decorating, it was such a relief to finally be able to relax and catch my breath. I love the holidays, but like most mothers, I sometimes get caught up in my own expectations of how things should be and in the process manage to become exhausted, cranky and exactly the opposite of how I want to be.
---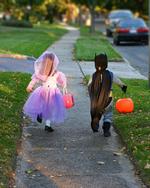 A Happy Halloween Safety Guide
by Paula Court - October 02, 2007

It's easy to become overconfident about Halloween safety. In fact, I'm guilty of it myself. We feel safe in our neighborhood. The children trick-or-treat as a group and are always accompanied by several adults. We hold their hands when they cross the street and at all times the adults are just a few feet away. What could happen, right?
---
"How will I find my classroom?"Preschoolers' Top 5 Concerns
by Paula Court - September 21, 2002

The first day of kindergarten can be an exciting but stressful day for both you and your child. Many parents try to prepare their child academically for kindergarten but sometimes forget to teach the really simple things that can make the difference between the first day of school being a success or a disaster.
---