Dr. Primason holds a monthly parents' meeting at Java Babies in Hastings-on-Hudson where a topical subject and Choice Parenting techniques are discussed. Usually held the first Monday of the month, the free meetings are open to all. To learn more about Choice Psychology or the parenting meetings, call (914) 478-2146 or visit www.choicepsychology.com.
Email Renee Cho
---
ClassWish.org Helps Get Needed Supplies to Classrooms
by Renee Cho - August 20, 2010

At ClassWish.org, teachers can create an online Wish List of the supplies they need for their classrooms. Members of the community can visit the site and make a tax-deductible donation to help bring these much needed supplies to local schools.
---
---
---
The Great River Row
by Renee Cho - July 11, 2007

Twelve high school students will soon be hiking, rowing and canoeing their way from the Catskills all the way to New York City, tracing the journey of the city's first-rate drinking water to their own taps.
---
At the Crossroads
by Renee Cho - September 13, 2006

I just received the high school information packet for my son's fall semester. In it is a detailed Indian Point Radiological Emergency Evacuation Plan.
---
A World of Learning
by Renee Cho - September 07, 2006

As the school year begins once again, it's a good time to think about what it is our children really need to be learning.
---
Going Green
by Renee Cho - July 24, 2006

This past Earth Day marked a sea change for a lot of people, myself included. After reading everywhere about global warming and the resulting environmental crisis our planet faces and taking my son to see Al Gore's 'An Inconvenient Truth', I'm committed.
---
SEEING THE WHOLE CHILD
by Renee Cho - July 18, 2006

Kids are more than the sum of the concerns we have about them. It's so easy for us to get caught up in managing their disabilities, problems or issues — and forget to look at the whole child.
---
All Aboard The State Train
by Renee Cho - May 31, 2006

Kids who love trains are in for a special treat starting this month when multiple award-winning illustrator and author Peter Sis will exhibit original drawings from his children's book, The Train of States at the Children's Learning Center of the Katonah Museum of Art.
---

Sports: Surviving Little League
by Renee Cho - May 02, 2006

Every spring, during Little League season, the parks and ballfields of Westchester County are crowded with kids in bright baseball uniforms, parents cheering them on from the bleachers.
---
---
Editorial: Good Practice
by Renee Cho - March 09, 2006

I'm a great believer in the importance of having music in one's life. This month, music educator Michael Barry explains what music can do for kids in "Be-Bop Babies".
---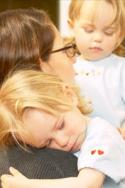 Parenting Bookshelf: Choice Parenting by Richard Primason, Ph.D.
by Renee Cho - March 09, 2006

Ten-year-old Tim Patton* is having trouble in fifth grade — he's not doing his homework. His parents are concerned because he also has some learning issues, and the school is recommending that Tim be evaluated, and perhaps begin taking medication. The Pattons* are getting very anxious, but are not sure what to do next.
---
---
HOW TO PREPARE FOR A DRAFT- What Parents and Young People Can Do
by Renee Cho - September 21, 2004

According to a CBS News poll conducted on April 1, 70 percent of Americans oppose a reinstatement of the draft. A May Newsweek poll of 18- to 29-year-olds revealed that 36 percent of respondents would not serve. If you or your child has strong feelings about military service and the draft, what should you know, and what can you do? Big Apple Parent talked with Mary-Ann Greanier, a writer and activist with United For Justice with Peace and American Freedoms.org, who counsels young people about the draft.
---
The Marginalization of Dads
by Renee Cho - May 21, 2004

When Tim* and Julianne Penn*'s daughters were young, Tim tucked them into bed and told them stories each night. With both parents working, as the girls got older, Julianne took care of the domestic chores and the nurturing and daily care of the girls, while Tim managed the household finances, mowed the lawn, coached the girls' soccer teams, and sat on the school board.
---
Get 'Em Up and Moving!Kids need at least an hour of exercise a day, according to new guidelines
by Renee Cho - April 21, 2004

Fifteen percent of all children ages 6-19 are classified as overweight or at risk of becoming overweight, according to the Centers for Disease Control and Prevention, and the percentage of overweight children in the United States has risen 200 percent over the last 30 years.Sedentary living is a known contributor to the obesity epidemic. As a result of the escalating obesity and physical inactivity of children, the National Association for Sport and Physical Education (NASPE) has just increased its physical activity guidelines for children ages 5-12, recommending that children now get at least 60 minutes, and up to several hours of physical activity each day. The authors of the revised guidelines, Dr. Charles B. Corbin and Dr. Robert P. Pangrazi of Arizona State University, advise the following:
---
O Canada!
by Renee Cho - October 21, 2003

The first time I saw a photograph of Chateau Lake Louise sitting at the edge of an unimaginably turquoise lake and surrounded by the snow-covered Canadian Rockies, I knew I had to go there. My husband, our two sons (ages 16 and 13), and I finally made the trip last summer and discovered that the region is even more spectacular than we had imagined because no mere photograph can possibly capture its grandeur.
---
40 COLLEGE HUNTING TIPS from parents who've Been There. Done That
by Renee Cho - September 21, 2003

Many families of high school juniors and seniors will be embarking on college visits this fall. For parents just beginning the process of college hunting, it can feel daunting. There are numerous books on the subject, but we've compiled 40 tips about the college search gathered from parents who have recently gone through the process with their own children. These are suggestions, not necessarily found in books, that have been gleaned from the actual doing:
---
The Quiet Undoing of Our Right to Choose
by Renee Cho - July 21, 2003

The 30th anniversary of Roe v. Wade came and went on January 24 of this year. Distracted by the impending war in Iraq and a flagging economy at home, most women I know didn't pay much attention to the day. But perhaps they should have, instead of taking for granted our guaranteed right to have an abortion.
---
---
Oh, to be in England...With the Kids!
by Renee Cho - February 21, 2001

When our sons turned 10 and 13, my husband and I realized that our family summer vacations might be numbered - would our kids still want to travel with us once they hit the full-blown teen years? We decided to take them to Europe, and we chose England because it's the most accessible foreign country.
---
---
Little Italy in the Bronx
by Renee Cho - December 21, 2001

After a day at the Bronx Botanical Garden or the Bronx Zoo, you might be looking for a place to pick up a few groceries or have a good dinner before heading home. Travel only a few minutes southwest to Arthur Avenue and 186th Street, the "Little Italy of the Bronx".
---
---
| | |
| --- | --- |
| Articles Found: 33 | Result Page: ( 1 2) Next » |